1958 Corvette Tail Lights, Coves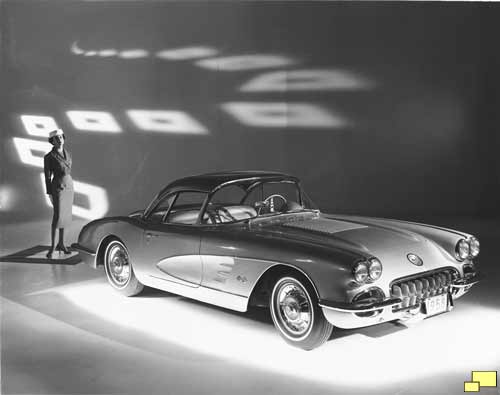 1958 Corvette: Official GM Photo.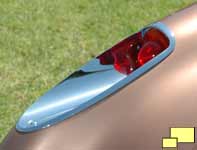 The 1957 Corvette tail light (right) was stylish but it did possess a functional flaw: when viewed from the sides, illumination was a problem. For 1958 (below) the lens was nicely integrated into the contour of the fender. This solved the side visibility situation and also resulted in one of the best looking tail light designs in the history of the automobile.
---
1958 Corvette For Sale

1958 Corvette Roman Red, Black
Price: $55,000
Exterior: 0
Interior: 0
Miles: 0
Location: Costa Mesa, CA

Click Here for more info

1958 Corvette VIN J58S105799 NOM 350/300 hp. 5 speed manual transmission. Power steering. Detailed engine compartment (more)
---

The coves remained as part of the styling, gaining a side vent accented with three horizontal spears.
---
Note: Clicking on an image with this symbol (

) will lead to a larger image.
---
Comments
(2)
Topic
:
1958 Corvette Part Two
Fred Ray
says...
My first corvette was a 1960. It was in 1970 that I bought it. the original 283 was replaced with a 327 350 hp. It had a hole cut in the hood to make clearance for the 750 holly that sat on the high rise intake. It was a 4 speed . it had the hardtop. I replaced the carb with an original and replaced the hood with an original. I bought a convertible top frame for it too. It was a work in progress, but, I started having electrical problems with it. so, I parked it and for a couple years then sold
... Read More
6th April 2017 11:47am
Dean Sample
says...
My first Vette. Great when you are 21 years old. Now that I am a lot oder they are were not as the same as newer moldes.
28th June 2016 5:48pm
RSS Alerts
Add Comment
Powered by Commentics
---