1959 Chevrolet Corvette Part 2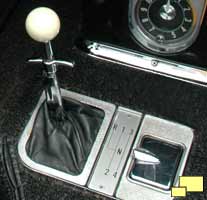 The 1959 Corvette featured a "T" handle shifter with the close ratio four speed transmission. Pulling it up was required to select reverse, preventing accidental reverse engagement while shifting the forward gears. The four speed was a $188.30 option; base Corvettes were equipped with a three speed manual.
---
Below: Interior, in person (left) and per the brochure (right). 1959 was the first year a black interior was available in the Corvette. The door panel was redesigned for more elbow room. Note the transverse (door panel to door panel) seat stitching. This is one of the ways to differentiate the 1959 and 1960 Corvettes; another is that 1960 Corvettes featured body colored wheels. The '60 vettes had front to back seat stitching.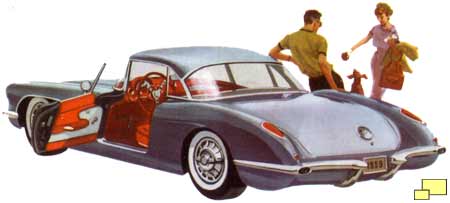 ---
Note: Clicking on an image with this symbol (

) will lead to a larger image.
---
Comments
No comments yet.
Add Comment
Powered by Commentics
---