1967 Corvette Stingray Style

Nobody will argue that the mid years Corvettes is one of the most successful automotive designs of all time. Adding to the legend is that nothing - before or since - looks quite like the 1963 thru 1967 Corvette. But there was a downside.
That awesome horizontal crease which ran the circumference of the car and the four fender blips restricted the wheel size. This became a problem for racers such as the '63 Grand Sport (below). Wider tires, necessary for increased cornering forces in competition, could only be accommodated with fender flares that significantly altered the Corvettes' look.

There was another issue. Big block engines debuted in 1965 and the increased horsepower caused traction problems with mid year Corvettes, which were restricted to a maximum 15 inch x 6 inch wheel. The obvious solution was more rubber on the road but there was no way a larger wheel could be used and still retain the classic look. The C3 'vette solved the problem nicely with a fender flare that could be increased and still be faithful to the original design.

Below: C3 race car shows how wider tires were possible without changing the styling look.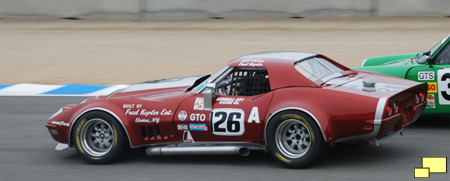 ---