1996 Corvette Grand Sport

As with the C3 generation, the last of the C4 offered something unique. A special run of 1,000 Grand Sport Corvettes (RPO Z16; $3,250 - $2,880 for the convertible) with Admiral Blue paint and a distinctive white stripe (affectionately known as the "skunk strip") were offered. The option included the LT4 motor and a separate serial number sequence. It was a tribute to a series of five 1963 racing Corvettes that were the brainchild of Zora Arkus-Duntov. Zora produced the Grand Sports on the sly but when his bosses learned of their existence, the program was axed since it violated corporate policy.
The livery is distinctive but it more than looks good however - the colors have a basis in motorsports history. For many years the nationality of a racing team could be determined by the car colors. The British featured British Racing Green, the Germans had silver, the Italians were red and so on. American cars had a choice of blue with a white strip or white with a blue stripe. The 1996 Corvette Grand Sport was a nod to that tradition.
Below left: fuel filler door emblem; right: brief red stripes located only above the left front wheel, as seen on one of the original Grand Sport race cars.
---
1996 Corvette For Sale

1996 Chevrolet Corvette (LT-1,
Price: $9,900 obo (Trades Considered)
Exterior: BLUE
Interior: BLACK
Miles: 85,605
Location: SPRINGFIELD MO

Click Here for more info

I have had this car for three years and never drive it. The cost of tags, taxes, storage, and insurance are exceeding the pleasure of owning it (more)
---
The Grand Sport featured ZR-1 wheels painted black; Corvette lore has it that when ZR-1 production ended, GM found themselves with a surplus of wheels that found a home on the Grand Sports. Above left: Front wheel. Middle: Coupe rear wheel, with fender extension. As with the ZR-1, the rear wheel was 11" wide. Since the Grand Sport did not have the ZR-1's 3" wider rear bodywork, the fender extension was necessary. Right: Due to convertible top intrusion into the trunk area, the convertible Grand Sports were equipped with 9.5" wide rear wheels so the additional flare was not included. 190 of the 1,000 1996 Corvette Grand Sports were convertibles.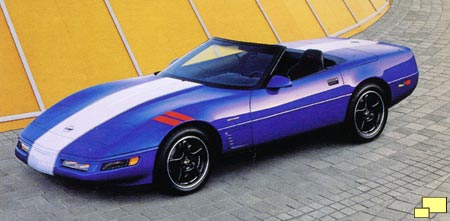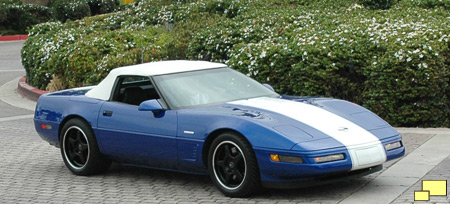 ---
---

Note: Clicking on an image with this symbol (

) will lead to a larger image.
---
Comments
No comments yet.
Add Comment
Powered by Commentics
---