2004 Corvette
Z06 Carbon Fiber Hood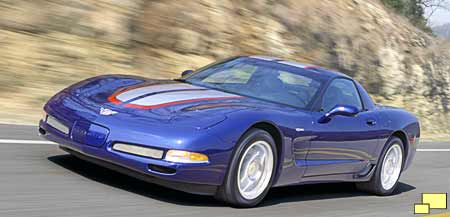 The hood for the Z06 Commemorative Edition was carbon fiber. It was the first use of the exotic material for a painted exterior panel on a car built in North America and was an experiment of sorts for GM. The carbon fiber advantage of high strength with less weight was realized with a 10.6 pounds weight saving. The inside hood panel is a hybrid of carbon fiber and Sheet Molded Compound (SMC).
Specifically developed for the Corvette, the Commemorative Edition Z06 hood achieves a higher level of exterior finish quality than previous automotive applications of carbon fiber. On most carbon fiber parts, the woven pattern of the material is easily seen beneath the exterior finish. To diminish that effect and preserve the rich LeMans Blue paint finish, on the Commemorative Edition Z06 the carbon fibers are aligned in a single direction.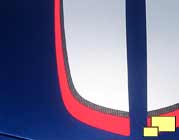 The only visual cue that the hood is made from carbon fiber is in the red border surrounding the silver graphic on the car, which is arranged in a woven pattern signifying the material that lies underneath. The overall result is a finish consistent with the rest of the car that gives just a slight hint at the carbon fiber construction.

For the sixth time a Corvette was chosen to pace the Indy 500, with actor Morgan Freeman assigned the driving honors.
---