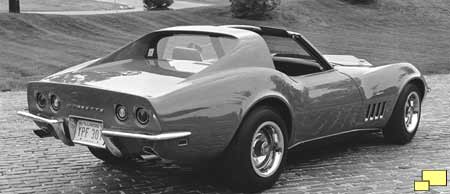 1969 Corvette: Official GM Photo.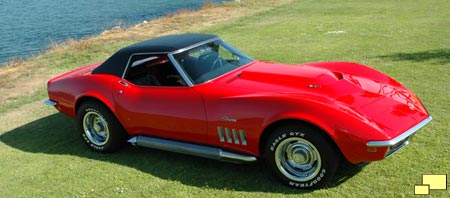 1969 Corvette convertible with vinyl covered (RPO C08; $57.95) hardtop (RPO C07; $252.80).
---
Aspiring musicians who were used to carrying their gear with the mid years Corvette coupes were in for a shock when the C3 generation appeared. Cargo volume did a nose dive; an area where nice sized amplifiers once occupied was now suitable for not much more than a tambourine. The solution for many owners was a aftermarket luggage rack. While it may not have done much for the aesthetics or aerodynamics of the Corvette, it made sense for road trips.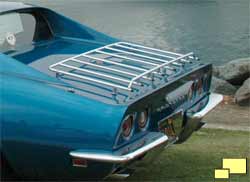 ---
---
1969 Corvette Stingray For Sale

Pro Touring stingray
Price: $38,500 obo
Exterior: black with a white stripe
Interior: black
Miles: 14,900
Location: Kentucky

Click Here for more info

1969 Corvette convertible 496 big block full roller engine Tremec 5 speed fiberglass high performance suspension, power steering, tilt telescopic,turns heads everywhere it goes (more)
---

The side exhaust, which had been an integral part of the Corvette "bad boy" image since 1965, went on hiatus for 1968 but returned in 1969 (RPO N14; $147.45).

Back up lights were integrated into the tail lights in 1969.
---
---

Apollo 12 astronauts (L-R) Charles 'Pete' Conrad Jr., Richard Francis Gordon Jr., and Alan LaVern Bean with their identical 1969 Corvette Stingray coupes. The coupes featured a 390 horsepower, 427 L36 V8 engines and black-accented Riverside Gold color scheme designed by Bean. Location: Cocoa Beach, Florida September 23, 1969.
---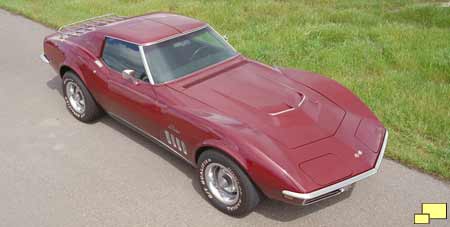 Note: Clicking on an image with this symbol (

) will lead to a larger image.
---
Comments
No comments yet.
Add Comment
Powered by Commentics
---