2009 Corvette: Minimal Changes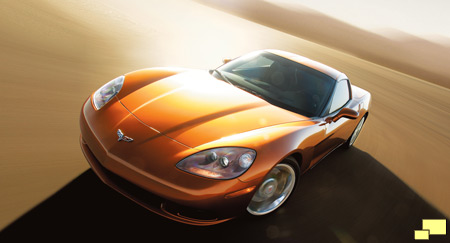 With the introduction of the ZR1 - arguably one of the most significant announcements in Corvette history - the changes in the rest of the Corvette lineup, which now included four distinct models, were minimal. Two new exterior colors - Cyber Gray Metallic and Blade Silver Metallic were added, with Machine Silver Metallic discontinued. Two leather wrapped interiors (Dark Titanium and Ebony) became available. The MSRP for the convertible was effectively lowered with the 1LT Equipment Group package. The Power Hatch pull-down, previously an option, became standard equipment on the coupe and Z06. Bluetooth became an option. The Z06 was upgraded with a larger capacity oil sump inherited from the ZR1. The new system accommodated eight quarts; previously it held 7.5 quarts. The acoustic package became standard equipment.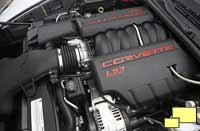 The LS3 Engine was unchanged for 2009. Displacement is still 6.2 liters (376 cubic inches) with horsepower rated at 430 horsepower. The dual mode exhaust (RPO NPP; $1195) bypasses the muffler and results in 436 horsepower along with a very aggressive sound.
---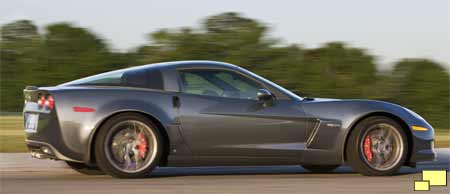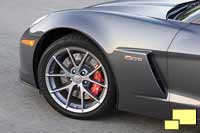 The Z06 remained mostly unchanged for 2009. Improvements included a larger capacity oil sump and 10 spoke "Spider" wheels (right).
---
Another Corvette Le Mans Podium Finish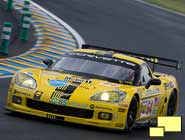 The Corvette team continued its consistency streak with a second and third place GT1 class finish at the 2008 Le Mans 24 hour endurance race. This represents the 15th consecutive podium finish (top three positions) for a Corvette. Above: Number 63, which finished in second place in the GT1 class, was driven by Johnny O'Connell, Jan Magnussen, and Ron Fellows. Right: Number 64, the third place finisher, was driven by Oliver Gavin, Olivier Beretta, and Max Papis. First place for GT1 was captured by a Aston Martin DBR9.
---
All Photographs Courtesy GM
Note: Clicking on an image with this symbol (

) will lead to a larger image.
---
Comments
No comments yet.
Add Comment
Powered by Commentics
---