1997 Corvette C5 Chassis,
Suspension and Transaxle Progress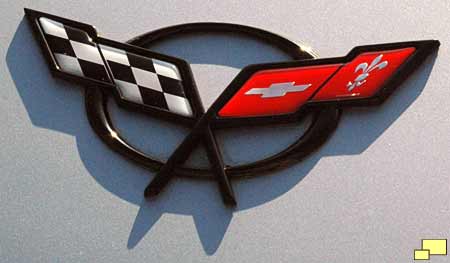 Like the C4, the suspension on the C5 used transverse composite leaf springs on both the front (above left) and rear (right) suspension. The C5 however featured an all new design; none of the suspension parts were carried over from the C4. The system was fully independent and used unequal length A-arms at all four corners, a common race car configuration. Both front and rear suspensions featured anti-sway bars.
The C5 Corvette's floor is constructed using two layers of an aircraft type composite material wrapped around a balsa wood core. The balsa wood helps filter out noise and vibration, and makes the floor 10 times stiffer than the use of composites alone. Numerous "high tech" synthetic fillers were tried, but none matched the stiffness, light weight and damping performance of natural balsa wood.
The chassis side rails were shaped through a process called hydroforming, as opposed to the multiple stampings and welding of the C4 Corvette. The new design was part of the reason why the designers were able to lower the door sill by about four inches. Using seamless tubular steel contributed to the strength of the chassis.

---