2005 Corvette C6
Chassis - Suspension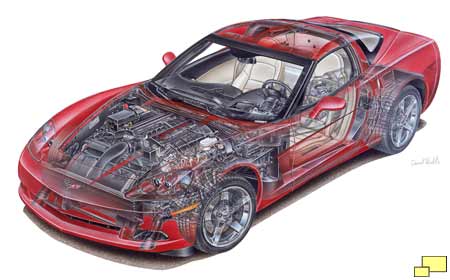 David Kimble cutaway drawings courtesy of GM
The C6 was more evolutionary than revolutionary. The suspension was mostly the same, with some tweaking that resulted in better on-center steering feel. Chassis specs were similar, with C5 advances like the transverse leaf springs, balsa wood floor construction and hydroformed side rails also part of the C6.
---
2005 Corvette For Sale

SCCA/NASA Race Car
Price: $36,990 obo (Trades Considered)
Exterior: Black
Interior: Black
Miles: 15,000
Location: Palm Beach, FL

Click Here for more info

SCCA/NASA Log books. Full cage with NASCAR bars, Built LS2, fast 102 intake, fast fuel rail, 102 TB, CAM, MSD plug wires, SS headers and X-pipe, E2 tunnel plate, bilstein coilovers, T1 sway bars & A-arms, accusump, trans cooler, AP Racing T1 caliper and 2pice rotor front, fire suppression, current sparco seat and belts, kill switch, GS wide body (more)
---
Below Left: C6 chassis. Middle: Rear suspension. Right: Front suspension. A similar setup was previewed in the 2004 Cadillac XLR. The C6 was essentially the same highly regarded suspension as found on the C5.
---
2005 Corvette C6 Z51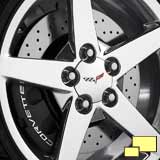 The famous Z51 suspension was packaged differently starting with the 2005 C6. In 2004 it was known as the "Performance Handling Package" (RPO Z51; $395.00) but in 2005 was promoted to "Performance Package" (RPO Z51; $1,495.00). Along with different springs, shocks and anti-sway bars, it included larger cross drilled brake rotors (right), power steering and transmission fluid coolers, special gear ratios and Goodyear Eagle F1 SC Extended Mobility Asymmetric Tread tires. This would be the option to get if race track duty was your intention; think of it as a 2005 Corvette Z06. The F55 Magnetic Selective Ride Control was not available with the Z51.
---
Note: Clicking on an image with this symbol (

) will lead to a larger image.
---
Comments
No comments yet.
Add Comment
Powered by Commentics
---