2003 Corvette 50th Anniversary Edition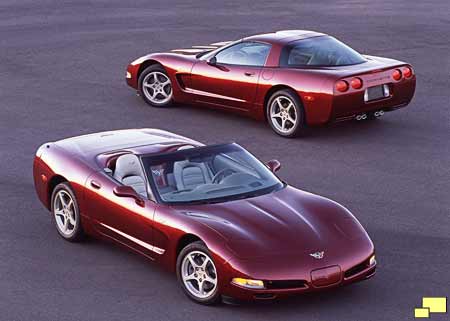 A 50th Anniversary Edition Corvette (RPO 1SC; $5,000) was available for 2003. It included an Anniversary Red exterior paint along with a Shale interior (below) and convertible top. RPO 1SC was not available with the Z06.
2003 50th Anniversary Corvette interiors were shale which was a gray / beige combination. Right: For the first time, a C5 interior was available in a color other than black.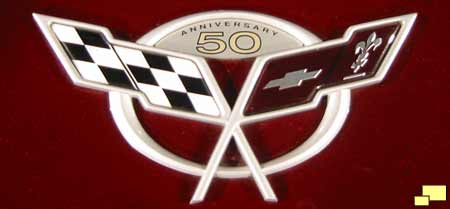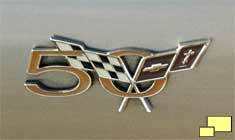 All 2003 Corvettes, including the Z06, were treated to 50th Anniversary emblems on the nose (above) and front fender (right).
---
2003 Corvette For Sale

50th Anniversary Edition
Price: $12,500
Exterior: Anniversary Red
Interior: Shell
Miles: 67,000
Location: San Leandro California

Click Here for more info

50th Anniversary Edition C5 67,000 miles Clean Title Priced for Quick Sale $12,500.00 510-563-0887 (more)
---
---
Active Suspension Arrives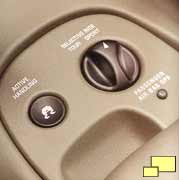 Corvette engineers got a lot closer to active suspension nirvana with the introduction of the MSRC (Magnetic Selective Ride Control) (RPO F55; $1,695.00) introduced in 2003. It was miles ahead of the previous Selective Real Time Damping (RPO F45; $1,695.00) which also adjusted the suspension but was slow doing so. The Magnetic Selective Ride Control (MSRC) equipped Corvettes had an advanced shock absorber system which featured a fluid with tiny iron particles. An electronically controlled magnet changed the fluid in a way that caused it to flow through the orifices at a controlled rate. This had the effect of making the shock absorbers quickly adjustable for all driving conditions. The system had two modes: Active and Sport.
Left: without MSRC; Right: with MSRC. The difference is obvious; with all tires contacting the ground handling is greatly improved.
Ride quality was excellent with the MSRC, which is where the advantage of being able to quickly adjust the shocks really comes into its own. MSRC was not available with the Z06 which is probably a reflection of its pure performance intentions.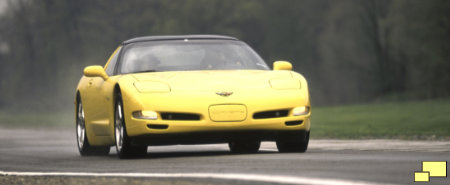 Note: Clicking on an image with this symbol (

) will lead to a larger image.
---
Comments
No comments yet. Be the first!
---