1964 Corvette Stingray C2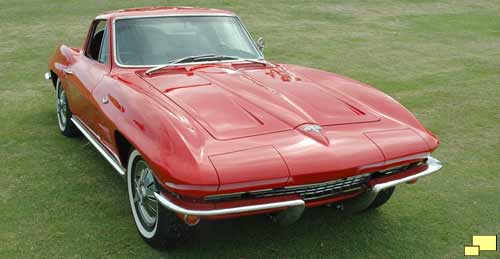 People were still catching their breath after the amazing changes in the 1963 Corvette Stingray, so updates for 1964 were minimal. The biggest development was the elimination of the split rear window.
Below Left: Even those who advocated the split window concept admitted that it had drawbacks. Confirming that opinion were the many owners of 1963 Corvettes who proceeded to install the single rear window as soon as the parts became available. You will not find the owner of a 1963 Corvette Stingray making the modification as the cars' value would plummet. But in 1964 it looked like the smart thing to do.
Above right: Also gone for 1964 were the fake hood vents. The hood indentations remained however although word is that the 1963 faux vents will not fit on the 1964 hood. Perhaps GM figured that the incredible performance the Corvette Stingray offered made enough of a statement.
Another change was the added functionality of the air outlet to the right of the driver's door on the coupe. For 1963 they were closed off, represented by a small indentation. A small fan was added to boost airflow but it was only minimally effective and the whole idea was dropped by 1966. Updated body mounting methods and other changes improved interior noise. The overall build quality, long a legitimate Corvette complaint, was improved.

---
There were engine improvements for 1964. The base motor (250 hp) and the upgrade L75 mill (300 hp) were unchanged but the L76 went to 365 hp (previously 340 hp) and the top dog L84 fuel injected model was now 375 hp, up from 360 hp due to revised heads, camshaft and bigger valves. All 1964 motors were 327 cubic inchers.
Above left: The Corvette had not had a conventional trunk since 1962. The coupe did have a fair amount of storage space and so did the convertible - as long as the top was up! A popular way to go for ragtop Corvette owners was to remove the soft top completely and take long trips with a hardtop. The hardtop could be removed easily and stowed (in a hotel room, for example) when open motoring was the way to go. Right: A new M20 four speed manual transmission. Built in Muncie IN. and a mid-year update in 1963, the "Muncie four speed" was a welcomed improvement.
A replacement for the conventional points / condenser system arrived in the form of a transistorized ignition system available as RPO K66.
---
1964 Corvette StingRay For Sale

Vintage 1964 Silver Corvette
Price: $55,900 obo
Exterior: Satin Silver
Interior: Black
Miles: 7,866
Location: Sacramento

Click Here for more info

This is an excellent driving car. Great condition and with zero mechanical problems. This 1964 Corvette started assembly on December 26th 1963, the day after Christmas (more)
---
The Z06 may not have been available as a Corvette Sting Ray package in 1964 but close examination of the order form revealed that most of the parts were. Competition brakes were available as RPO J56 and featured cerametalix linings, drum cooling fans, finned drums cooling ducting and a special power assist dual action master cylinder. A heavy duty suspension (RPO F40) featured stiffer springs and shocks and a thicker front stabilizer bar.

1964 Corvette: Official GM Photo.
---
1964 Corvette Options, Prices
RPO
Description
Production
Price
Genuine Leather Seats
1,334 (6.00%)
$80.70
A01
Soft Ray Tiknted Glass, all windows
6,031 (27.13%)
$16.15
A02
Soft Ray Tinted Glass, windshield
6,387 (28.73%)
$10.80
A31
Power Windows
3,706 (16.67%)
$59.20
C07
Auxiliary Hardtop (for convertible)
7,023 (31.59%)
$236.75
C48
Heater and Defroster Deletion (credit)
60 (0.27%)
n/a
C60
Air Conditioning
1,988 (8.94%)
$421.80
F40
Special Front and Rear Suspension
82 (0.37%)
$37.70
G81
Positraction Rear Axle, all ratios
18,279 (82.23%)
$43.05
G91
Special Highway Axle, 3.08:1 ratio
2,310 (10.39%)
$2.20
J50
Power Brakes
2,270 (10.21%)
$43.05
J56*
Special Sintered Metallic Brake Package
29 (0.13%)
$629.50
J65
Sintered Metallic Brakes, power
4,780 (21.50%)
$53.80
K66
Transistor Ignition System
552 (2.48%)
$75.35
L75
327 cu. in. 300hp Engine
4,780 (21.50%)
$53.80
L76
327 cu. in. 365hp Engine
7,171 (32.26%)
$107.60
L84
327 cu. in. 375hp Engine (fuel injection)
1,325 (5.96%)
$538.00
M20
4-Speed Manual Transmission
19,034 (85.63%)
$188.30
M35
Powerglide Automatic Transmission
2,480 (11.16%)
$199.10
N03
36 Gallon Fuel Tank (Coupe only)
38 (0.17%)
$202.30
N11
Off Road Exhaust System
1,953 (8.79%)
$37.70
N40
Power Steering
3,126 (14.06%)
$75.35
P48
Cast Aluminum Knock-Off Wheels (5)
806 (3.63%)
$322.80
P91
Blackwall Tires, 6.70x15 (nylon cord)
372 (1.67%)
$15.07
P92
Whitewall Tires, 6.70x15 (rayon cord)
19,977 (89.87%)
$31.85
T86
Back-up Lamps
11,085 (49.87%)
$10.80
U69
AM-FM Radio
20,934 (94.17%)
$176.50

Total Production: 22,229
Coupe: 8,304 (37.36%)
Convertible: 13,925 (62.64%)


Notes: Base Corvette Coupe with 327 cu. in. 250 hp engine and three speed manual transmission: $4,252.00.
Base Corvette Convertible with 327 cu. in. 250 hp engine and three speed manual transmission: $4,037.00.
Colors
Code
Exterior
Quantity
Interior
Soft Top
Wheels
900
Tuxedo Black
1,897 (8.53%)
Black / Red / Silver / White
Black / White / Beige
Black
912
Silver Blue
3,121 (14.04%)
Black / Blue / White
Black / White / Beige
Black
916
Daytona Blue
3,454 (15.54%)
Blue / Silver / White
Black / White / Beige
Black
923
Riverside Red
5,274 (23.73%)
Black / Red / White
Black / White / Beige
Black
932
Saddle Tan
1,765 (7.94%)
Saddle / White
Black / White / Beige
Black
936
Ermine White
3,909 (17.59%)
Black / Blue / Red / Saddle / Silver / White
Black / White / Beige
Black
940
Satin Silver
2,785 (12.53%)
Black / Blue / Red / Silver / White
Black / White / Beige
Black
---
Note: Clicking on an image with this symbol (

) will lead to a larger image.
---
Comments (2)
Topic:
1964 Corvette Part One
New
The Corvette Story
Probably the reason why you have a 1965 motor in your 1964 Corvette is that \"back in the day\" somebody blew the motor up. They decided to put in a remanufactured engine instead of rebuilding the blown up engine because that was the quicker, easier and cheapest solution. Happened often in those days. See part IV of our buying tips article for more information.
New
Harmon Biehl
Hi!, I have a 1964 Corvette coupe and it has been stored for 20 years in Pennsylvania and then stored 18 years in Alabama. I purchased the car from a well known broker the family contracted to sell the car that says the car is 100 percent stock except for the original looking radio and the 327/350 hp motor, and the Mallory DPD. This car is one of the last 64 Corvettes built and am wondering why a 1965 motor is put into the car. I like the car just as it is but would like an answer to that question if there is one.
Thanks for any comments.....Dave
Are you sure you want to report it?
Share a link to this comment
---