1997 C5 Corvette
A Brave New Corvette World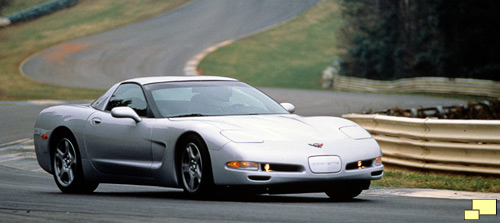 The automotive world changed significantly during the reign of the C4 Corvette. Computers had not only become part of the cars but perhaps more importantly were being used extensively in the design and engineering process.
Performance car standards, along with customer's expectations, had changed. Until recently high performance meant comfort sacrifices. Bone rattling, noisy and uncomfortable rides was the price of speed and there was no getting around it. But technology had changed and when the latter part of the 1990s arrived, going fast did not require self imposed torture.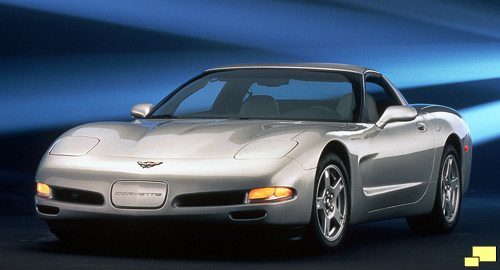 ---
---
1997 Corvette For Sale

go anywhere
Price: $25,000
Exterior: black
Interior: black
Miles: 130,000
Location: texas

Click Here for more info

this car has many performance upgrades as well as sound system modifications. The motor is a MTI 347 Forged with 12,000 miles and 368 WHP (have dyno sheet) (more)
---
The C5 was introduced in 1997. It was an entirely new car; more so than any other Corvette generation in that all major elements - the drivetrain, the chassis and the body - had not appeared before.
Something else was new: when describing the C5, road testers used the word "refined", which was not how previous Corvettes were labeled. It's not that the Corvette was going soft in its later years; the difference was in the state of the automotive art.
For Corvette fans, the C5 represents a watershed moment in Corvette development. The C5 chassis and drivetrain layout would be essentially the same through the C6 and C7 generations or 23 model years. Consequential changes only appeared with the C8 mid-engine layout - a testimony to the soundness of the C5 chassis design.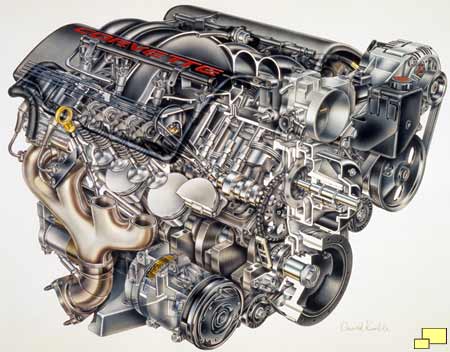 Although still classified as a "small block" about the only thing still in common with the original small block V8 installed in the 1955 Corvettes was the 4.40" bore centers and the fact that both were a two valve pushrod design. The new motor was aluminum with cast-in cylinder liners. The LS1 was designed to go 100,000 miles between major servicing - try that in 1957! It also featured a "throttle by wire" design. This meant that the customary throttle cable was eliminated and pressing what was usually known as the gas pedal actually moved a sensor that was part of the engine management computer. As of 1997, only BMW had sold a car in the US with similar technology.
The output of the LS1 was 345 hp - only 30 hp less than the ZR-1 as introduced in 1990. Engine RPM was limited to 6,000 RPM
---
1997 Corvette Options, Prices
RPO
Description
Production
Price
AAB
Memory Package
6,186 (63.43%)
$150.00
AG2
Power Passenger Seat
8,951 (91.79%)
$305.00
AQ9
Sport Seats
6,711 (68.82%)
$625.00
B34
Floor Mats
9,371 (96.09%)
$25.00
B84
Body Side Moldings
4,366 (44.77%)
$75.00
C2L
Dual Removable Roof Panels
416 (4.27%)
$950.00
CC3
Removable Roof Panel, blue tint (coupe)
7,213 (73.96%)
$650.00
CJ2
Electronic Dual Zone Air Conditioning
7,999 (82.02%)
$365.00
D42
Luggage Shade and Parcel Net
8,315 (85.26%)
$50.00
F45
Selective Real Time Damping, electronic
3,094 (31.73%)
$1,695.00
G92
Performance Axle Ratio (Automatic only)
2,739 (28.09%)
$100.00
MN6
6-Speed Manual Transmission
2,809 (28.80%)
$815.00
NG1
Massachusetts / New York Emissions
677 (6.94%)
$170.00
T96
Fog Lamps
8,829 (90.54%)
$69.00
U1S
Remote Compact 12-Disc Changer
4,496 (46.10%)
$600.00
UN0
Delco Stereo System with CD
6,282 (64.42%)
$100.00
V49
Front License Plate Frame
2,258 (23.15%)
$15.00
YF5
California Emissions
885 (9.08%)
$170.00
Z51
Performance Handling Package
1,077 (11.04%)
$350.00

Total Production: 9,752
Coupe: 9,752 (100.00%)


Notes: Base Corvette Coupe with 346 cu. in. 345 hp engine and four speed automatic transmission: $37,495.00.
Colors
Code
Exterior
Quantity
Interior
10
Arctic White
1,341 (13.75%)
Black / Light Gray / Red
13
Sebring Silver Metallic
2,164 (22.19%)
Black / Light Gray / Red
23
Nassau Blue Metallic
292 (2.99%)
Black / Light Gray / Red
41
Black
2,393 (24.54%)
Black / Light Gray / Red
53
Light Carmine Red Metalli
381 (3.91%)
Black / Light Gray
70
Torch Red
3,026 (31.03%)
Black / Light Gray / Red
87
Fairway Green Metallic
155 (1.59%)
Black / Light Gray / Red

Notes: Listed are recommended color combinations but any combination was possible.
---
Note: Clicking on an image with this symbol (

) will lead to a larger image.
---
Comments
No comments yet. Be the first!
---