The Corvette Future
Chevrolet Small Block V8 Power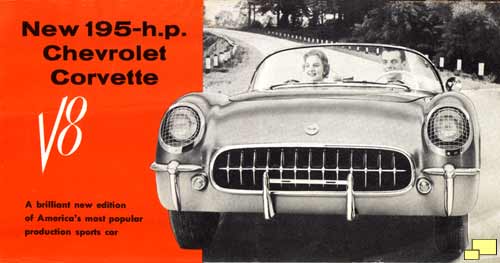 A new focus for the Corvette arrived in the form of a thoroughly new V8 engine which would be known and loved as the "Chevy small block". More than what the Corvette needed, it was also a major milestone in automotive engines. The engineering was advanced and featured a compact design, overhead valves and low production costs. Whenever a list of the worlds most significant automobile engines is compiled, the Chevrolet small block is always included.
Left: Cutaway drawing by David Kimble of the new small block engine. Below: As installed in a 1955 Corvette. Its weight of 531 pounds was 41 pounds less than the six cylinder, which aided handling.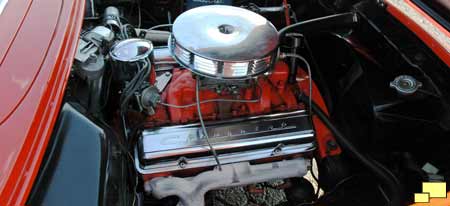 ---
All but seven of the 1955 Corvettes received this wonderful new engine; the remaining very rare cars were delivered with six cylinder engines.
Additional colors were available. A few "Corvette Copper" (kind of a bronze) Corvettes were built along with Gypsy Red and a Harvest Gold. V8 engined cars would get a 12 volt electrical system; six cylinder Corvettes made do with a six volt system. An electric windshield wiper was also part of the V8 package.
700 Corvettes were produced in 1955. Chevrolet wisely did not repeat the overproduction mistake of 1954 and instead produced only what could be sold.
---
1955 Corvette For Sale

1955 Corvette, VIN, #44
Price: $160,000 (Trades Considered)
Exterior: Blue
Interior: Beige
Miles: 0
Location: Napoleon, Ohio

Click Here for more info

1955 Corvette Convertible, VIN #44 of 700 produced, 265-195 hp, powerglide, numbers match. Pennant Blue paint with Tan Beige interior and Beige soft top (more)
---
1955 Corvette Options, Prices
RPO
Description
Production
Price
100
Directional Signal
700 (100.00%)
$16.75
101
Heater
700 (100.00%)
$91.40
102A
AM Radio, Signal Seeking
700 (100.00%)
$145.15
290B
Whitewall Tires, 6.70x15
n/a
$26.90
313
Powerglide Automatic Transmission
n/a
$178.35
420A
Parking Brake Alarm
700 (100.00%)
$5.65
421A
Courtesy Lights
700 (100.00%)
$4.05
422A
Windshield Washers
700 (100.00%)
$11.85

Total Production: 700
Convertible: 700 (100.00%)


Notes: Base Corvette with six cylinder engine: $2,774.00. Qty: 7 | Base Corvette with 265 cu. in. 195 hp V8 engine: $2,909.00. Qty: 693 | All six cylinder 1955 Corvettes came with the Powerglide automatic transmission. Most of the 1955 V8 Corvettes also came with the automatic; towards the end of the model run a three speed manual transmission was available and approximately 75 1955 Corvettes were so equipped.
Colors
Code
Exterior
Quantity
Interior
Soft Top
Wheels
Polo White
325 (46.43%)
Red
White/Beige
Red
Pennant Blue
45 (6.43%)
Dark Beige
Beige
Red
Corvette Copper
15 (2.14%)
Dark Beige
White
Bronze
Gypsy Red
180 (25.71%)
Light Beige
White/Beige
Red
Harvest Gold
120 (17.14%)
Yellow
Dark Green
Yellow

Notes: Color quantities are estimates as reliable GM records are not available.
Note: Clicking on an image with this symbol (

) will lead to a larger image.
---
Add Comment
{"commentics_url":"\/\/corvettestory.com\/commentics\/","page_id":77,"enabled_country":true,"country_id":0,"enabled_state":true,"state_id":0,"enabled_upload":false,"maximum_upload_amount":3,"maximum_upload_size":5,"maximum_upload_total":5,"captcha":true,"captcha_url":"http:\/\/corvettestory.com\/commentics\/frontend\/index.php?route=main\/form\/captcha&page_id=77","cmtx_wait_for_comment":"cmtx_wait_for_comment","lang_error_file_num":"A maximum of %d files are allowed to be uploaded","lang_error_file_size":"Please upload files no bigger than %.1f MB in size","lang_error_file_total":"The total size of all files must be less than %.1f MB","lang_error_file_type":"Only image file types are allowed to be uploaded","lang_text_loading":"Loading ..","lang_placeholder_country":"Country","lang_placeholder_state":"State","lang_text_country_first":"Please select a country first","lang_button_submit":"Add Comment","lang_button_preview":"Preview","lang_button_remove":"Remove","lang_button_processing":"Please Wait.."}
Comments (2)
{"commentics_url":"\/\/corvettestory.com\/commentics\/","page_id":77,"is_permalink":false,"lang_text_view":"View","lang_text_reply":"reply","lang_text_replies":"replies","lang_text_replying_to":"You are replying to","lang_title_cancel_reply":"Cancel this reply","lang_link_cancel":"[Cancel]","lang_text_privacy":"Privacy","lang_text_terms":"Terms","lang_text_agree":"[1] \/ [2]","lang_text_not_replying":"You are not replying to anyone","lang_button_loading":"Loading..","lang_button_more":"More Comments","lang_button_edit":"Edit Comment","lang_button_reply":"Add Reply","lang_link_reply":"Switch to full reply","lang_link_refresh":"[Refresh]","date_auto":true,"show_pagination":true,"quick_reply":false,"pagination_type":"multiple","timeago_suffixAgo":"ago","timeago_inPast":"a moment","timeago_seconds":"less than a minute","timeago_minute":"a minute","timeago_minutes":"%d minutes","timeago_hour":"an hour","timeago_hours":"%d hours","timeago_day":"a day","timeago_days":"%d days","timeago_month":"a month","timeago_months":"%d months","timeago_year":"a year","timeago_years":"%d years"}
{"commentics_url":"\/\/corvettestory.com\/commentics\/","auto_detect":false}
---