1989 Corvette C4:
New Six Speed Manual Transmission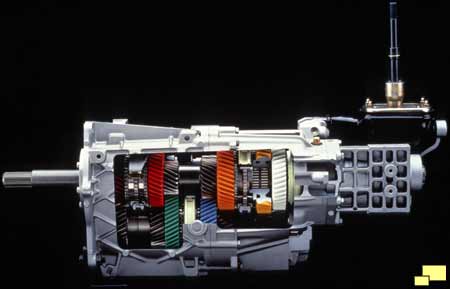 The big news for 1989 was the completely new six speed manual transmission. It was designed for the Corvette by Zahnradfabrik Friedrichshafen A.G. (ZF) a German transmission builder with an excellent background for producing bulletproof transmissions for high horsepower applications. It replaced the "4+3" manual plus overdrive Doug Nash unit that first appeared in 1984 Corvettes. It was a no-cost option (the four speed automatic was standard) with improved shifting characteristics as part of the bargain.
Similar in some ways to the overdrive function of the "4+3" manual, the new transmission featured a Computer Aided Gear Selection (CAGS) system. Under certain circumstances (engine warmed up, less than 35% throttle) shifting up from first caused fourth gear to be selected. Any other circumstances (in other words, spirited driving) caused the transmission to behave like a conventional six speed. The goal was improved fuel economy and the system resulted in an EPA rating of 16 mpg city / 25 mpg highway rating - and once again the Corvette was not subjected to the gas guzzler tax.
---
1989 Corvette For Sale

1989 Corvette
Price: $4,000
Exterior: Blue
Interior: Black
Miles: 123,000
Location: Jacksonville Florida

Click Here for more info

1989 Chevy Corvette Coupe L98 - 5.7 - 4 speed automatic transmission - color midnight blue - new interior (leather seats, dash top, LED gauges, carpet, door panels, center arm rest, ect (more)
---
Also new (and overshadowed by the introduction of the six speed) for 1989 was the Selective Ride System (RPO FX3; $1,695.00). It required the Performance Handling Package (RPO Z51; $575.00) which was was available only with manual transmission coupes so the price added up. It started a new trend in Corvettes: giving the driver the ability to control suspension settings. Three settings were available - Tour, Sport and Performance - controlled by a rotary switch just behind the shifter. Within each mode there were six different settings which varied depending on the speed. The settings were implemented via actuators located in the shock absorbers.

All C4 Corvettes proudly featured a Bowling Green KY assembly plant emblem under the hood.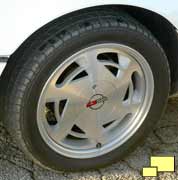 Right: The 17 inch wheels optional for 1988 were promoted to standard equipment in 1989.
The 1989 Corvette continued its mission as a showcase for GM technologies with the optional Low-Tire Pressure Warning Indicator (RPO UJ6; $325.00). This ingenious system consisted of a tire pressure sensor mounted inside the wheel which, via a built in self-powered radio transmitter, relayed tire pressure data to a receiver in the dashboard. On the other side of the wheel was a weight equal to the transmitter assembly so wheel balance was maintained. A dashboard mounted light warned the driver when tire pressure was low.
---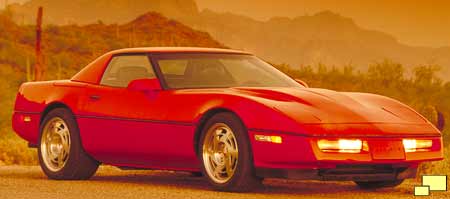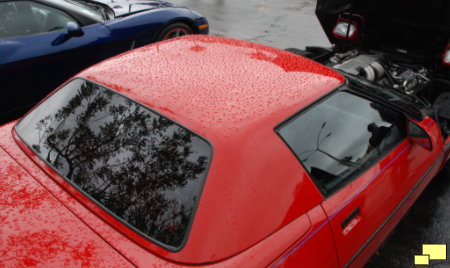 A factory sourced hardtop (RPO CC2; $1,995.00) became available in 1989 and there was a lot to back up the high price. Construction consisted of a composite panel of rigid urethane surrounded by fiberglass which was molded around a structurally sound steel and aluminum cage. A cloth headliner and a heated rear window was included. For 1989 quantity was 1,573 or 5.96% of the total production.

---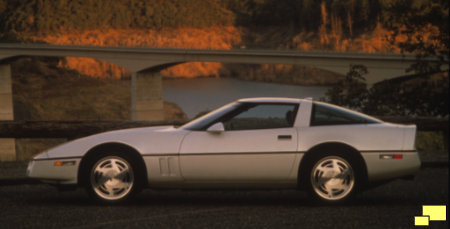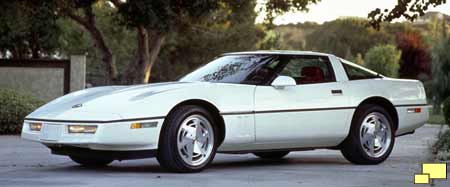 1989 Corvette: Official GM Photo.
---
1989 Corvette Options, Prices
RPO
Description
Production
Price
24S
Removable Roof Panel, blue tint (coupe)
8,748 (33.12%)
$615.00
64S
Removable Roof Panel, bronze tint (coupe)
4,042 (15.30%)
$615.00
AC1
Power Passenger Seat
20,578 (77.91%)
$240.00
AC3
Power Driver Seat
25,606 (96.95%)
$240.00
AQ9
Sports Seats, leather
1,777 (6.73%)
$1,025.00
AR9
Base Seats, leather
23,364 (88.46%)
$400.00
B2K
Callaway Twin Turbo; installed by Callaway, sold and warranted by GM.
67 (0.25%)
$25,895.00
B4P
Radiator Boost Fan
20,281 (76.79%)
$75.00
C2L
Dual Removable Roof Panels (coupe)
5,274 (19.97%)
$915.00
C68
Electronic Air Conditioning Control
24,675 (93.42%)
$150.00
CC2
Auxiliary Hardtop (convertible)
1,573 (5.96%)
$1,995.00
D74
Illuminated Driver Vanity Mirror
17,414 (65.93%)
$58.00
FX3
Selective Ride and Handling, electronic
1,573 (5.96%)
$1,695.00
G92
Performance Axle Ratio
10,211 (38.66%)
$22.00
K05
Engine Block Heater
2,182 (8.26%)
$20.00
KC4
Engine Oil Cooler
20,162 (76.34%)
$110.00
MN6
6-Speed Manual Transmission
4,113 (15.57%)
n/a
NN5
California Emission Requirements
4,501 (17.04%)
$100.00
UJ6
Low Tire Pressure Warning Indicator
6,976 (26.41%)
$325.00
UU8
Stereo System, Delco-Bose
24,145 (91.42%)
$773.00
V01
Heavy-Duty Radiator
20,888 (79.09%)
$40.00
V56
Luggage Rack (convertible)
616 (2.33%)
$140.00
Z51
Performance Handling Package (coupe)
2,224 (8.42%)
$575.00

Total Production: 26,412
Coupe: 16,663 (63.09%)
Convertible: 9,749 (36.91%)


Notes: Base Corvette Coupe with 350 cu. in. 245 hp engine and four speed automatic transmission: $31,545.00.
Base Corvette Convertible with 350 cu. in. 240 hp engine and four speed automatic transmission: $36,785.00.
Colors
Code
Exterior
Quantity
Interior
Soft Top
10
White
5,426 (20.54%)
Blue / Black / Gray / Red / Saddle
Black / Saddle / White
20
Medium Blue Metallic
1,428 (5.41%)
Blue / Black
Black / White
28
Dark Blue Metallic
1,931 (7.31%)
Black / Saddle
Black / Saddle / White
41
Black
4,855 (18.38%)
Blue / Black / Gray / Red / Saddle
Black / Saddle / White
68
Dark Blue Metallic
3,409 (12.91%)
Black / Saddle
Black / Saddle / White
81
Bright Red
7,663 (29.01%)
Black / Gray / Red / Saddle
Black / Saddle / White
90
Gray Metallic
225 (0.85%)
Black / Gray
Black / White
96
Charcoal Metallic
1,440 (5.45%)
Black / Gray / Saddle
Black / Saddle / White

Notes: Not all soft top / interior combinations were available.
---
Note: Clicking on an image with this symbol (

) will lead to a larger image.
---
Comments (2)
Topic:
1989 Corvette Part One
Admin
Corvette Story Webmaster
Hi Peter. What would you like to know?
Admin
Corvette Story Webmaster
You are correct, Brucey. Thank you for taking the time to write. The web site has been corrected.
Are you sure you want to report it?
Share a link to this comment
---