2019 Corvette ZR1:
The Return of the King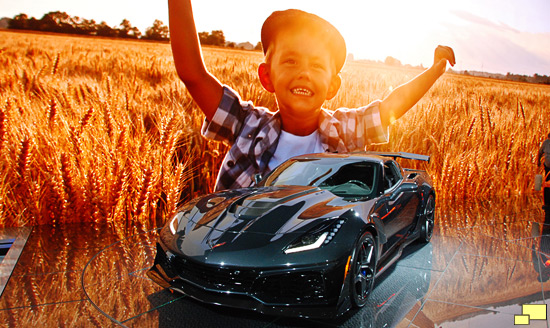 Chevrolet announced the 2019 Corvette ZR1 at the Dubai Auto Show on November 12, 2017.
As with the Corvette Z06, the ZR1 intentions were purely racetrack oriented. While capable of boulevard cruising or even grocery getting, the first priority for the ZR1 is track day dominance. The price is $119,995.00.
Rated at 755 horsepower @ 6300 rpm (SAE certified) the LT5 Engine was an advancement of the supercharging technology found in the Corvette Z06 which was introduced in 2015. Torque is 715 lb.- ft. @ 4400 rpm (SAE certified). This makes the 2019 ZR1 the most powerful Corvette ever. Displacement is 6.2 liters (376 cu. in. / 6162 cu. cc.), the same as the standard Stingray, Grand Sport and Z06 C7 Corvettes.

The horsepower gains came via 52% increased supercharger capacity over the LT4 Z06 installation; the 2019 LT5 supercharger displaces 2.65-liters. Also, when compared to the LT4 supercharger found in the Z06, the LT5 unit revs to 15,680 vs. 21,000 RPM; lower revs reduce heat problems and improve efficiency. The LT5 uses an 11 rib serpentine belt (as opposed to eight for the LT4) and it takes 110 horsepower just to turn the supercharger. Peak boost is 13.9 PSI. Sharp eyed observers have noted that a smaller pulley, which would increase boost and horsepower looks possible but GM is quick to point out the upgrade would void the warranty. The cylinder block, connecting rods, pistons and heads are the same as the Z06 but the crankshaft has been improved. The fuel system has significant upgrades with both (primary) direct and (supplemental) port injection. Eco mode, which is part of the Active Fuel Management via cylinder deactivation on LT1 engined Stingrays, is not included with the ZR1.
A very distinctive visual cue: The ZR1 hood has a "Shaker"; a popular '60s trick where the carburetor (or in this case, blower) cover appeared through a hole in the hood (left). The cover shake could be seen by the driver. This was more of a necessity than a gimmick as the increased blower size (2.9 inches higher than the Z06 blower) forced a significantly taller hood (below).

---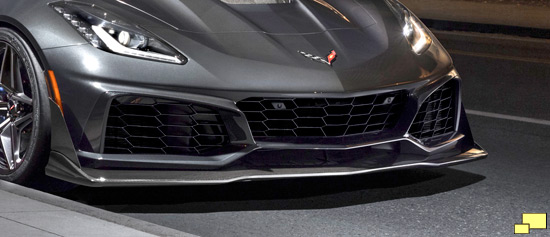 Cooling had been a problem on C7 Z06 Corvettes that had seen rigorous racetrack use. GM was sensitive to the issue and went to great lengths to solve the problem in the ZR1. The solution was larger front air intakes (above) and 13 radiators / heat exchangers on automatic ZR1s.
---
---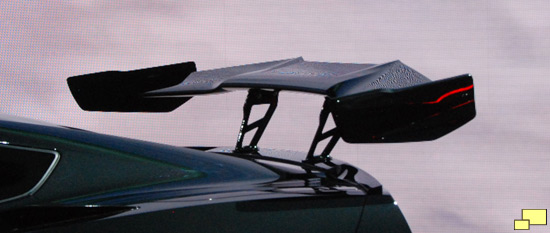 The "High Wing", part of the ~$3,000 ZTK Performance Package, which includes a front splitter with carbon-fiber end caps, Michelin Pilot Sport Cup 2 summer-only tires, and specific chassis and Magnetic Ride Control tuning for greater cornering grip. Designer Tom Peters told us the aerodynamic performance was the same if the wing was just a simple flat piece but the visual was boring, hence the swoopy shape.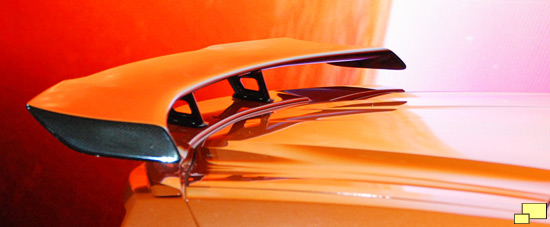 The standard flat wing, aka the "Low Wing".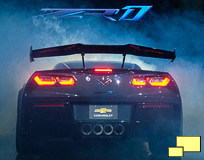 Above left, right: ZTK Performance Package wing and standard wing. The ZTK wing generates an astounding 950 lbs. of force, so much that it was found necessary to attach it directly to the frame. Had it been simply mounted on the body surface, as most wings are, the downforce would have busted up the bodywork for sure. Note the aggressive end plates.
One might assume that the ZTK wing (right) is the way to go, but not necessarily. The 950 lbs. generated is great for improving cornering speeds but it adds drag, slowing down top speed and quarter mile acceleration runs. It's one of those "take your pick" dilemmas facing ZR1 buyers, with road racers preferring the ZTK wing. Top speed is a SAE certified 212.48 mph and the quarter mile time is quoted by GM as being in the high 10 second range.
---
Left: The ZR1 front wheels gained ½ inch over the Z06 to 19 x 10.5 inches; the rear wheel remained the same at 20 inch x 12 inches. The bodywork forward of the A pillar is exclusive to the ZR1.
---
2019 Corvette ZR1 Specs
Body Specs

Wheelbase
106.7.00 inches / 2,710 mm.
Overall Length
176.9 inches / 4,493 mm.
Overall Width
77.4 inches / 1,965 mm.
Overall Height
48.6 inches / 1,234 mm.
Front Track
63.6 inches / 1,615 mm.
Rear Track
62.5 inches / 1,588 MM.

Interior Dimensions

Headroom
38 inches / 962 mm.
Legroom
43 inches / 1,092 mm.
Shoulder Room
55 inches / 1,397 mm.
Hip Room
54 inches / 1,371 mm.

Weight and Capacities

Curb Weight
3,524 lb. / 1,568 kg. (Coupe)
3,584 / 1,595 kg. (Convertible)
EPA Passenger Volume
52 Cubic Feet / 1,472 Liters
Cargo Volume
15 Cubic Feet / 425 Liters

Engine

Type
LT5 6.2L Supercharged V-8 with direct and port injection
Bore / Stroke
4.06 inches x 3.62 mm. / 103.25 inches x 92 mm.
Block Material
Cast Aluminum
Cylinder Head Material
Cast Aluminum
Valvetrain
Overhead valve, two valves per cylinder
Fuel Delivery
Direct Injection and Port Injection
Horsepower
755 Horsepower @ 6300 rpm (SAE certified)
Torque
715 lb.-ft. @ 4400 rpm (SAE certified)
Fuel Tank Capacity
18.5 gallons / 70 Liters

Wheels, Tires

Wheel Size
Front: 19 inch x 10.5 inch
Rear: 20 inch x 12 inch
Tire Size
Front: P285/30ZR19
Rear: P335/25ZR20
Tires
Michelin Pilot Super Sport run-flat (standard)
Michelin Pilot Sport Cup 2 (ZTK)

Brakes

Type
Front and rear power-assisted discs with two-piece carbon ceramic matrix rotors
Fixed six-piston aluminum front calipers
Fixed four-piston aluminum rear calipers
Brake Rotor Size
Front 15.5 inches / 394 mm.
Rear 15.3 inches / 388 mm.

Chassis

Front Suspension
Short/long arm (SLA) double wishbone
Cast aluminum upper and lower control arms
Transverse-mounted composite spring
Magnetic Selective Ride Control
Rear Suspension
Short/long arm (SLA) double wishbone
Cast aluminum upper and lower control arms
Transverse-mounted composite spring
Magnetic Selective Ride Control
Steering
Variable-ratio rack-and-pinion with electric power assist
Turning Circle
39.2 ft. / 11.6 m
Transmission
7-speed manual with Active Rev Match
or
8-speed paddle-shift automatic
Final Drive Ratio
3.42 (manual)
2.41 (automatic)
---
Note: Clicking on an image with this symbol (

) will lead to a larger image.
---
Comments
No comments yet. Be the first!
---