C This, C That
Corvette Generations Explained
C1
1953 - 1962
The first generation of Corvettes are affectionately known as "Straight Axle" Corvettes, in reference to their simple rear suspension arrangement. Although the chassis remained essentially the same, there were distinct body styles. The 1953 - '54 (left) had the rocket tail lights and the headlights set in the fender with a fashionable stone guard. The 1956 - '57 introduced the Cove as a styling element. The design was stepped up a notch with the quad headlight treatment in 1958 (above right). 1961 and 1962 were the transitional years, (right) in which the rear of the upcoming C2 convertible body was used.
---
C2
1963 - 1967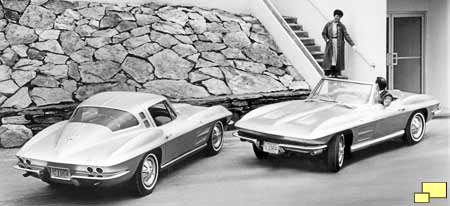 Also known as the "mid year" Corvettes, the C2 is probably the most sought after Corvette. They were the first to use an independent rear suspension (see
The Chassis
) and featured one of the most admired body styles in the history of performance automobiles.
---
---
C3
1968 - 1982

Although the C3 was a new body style, the chassis was inherited from the C2. The new body set the standard for Corvettes for many years to come. The subsequent generations of Corvette would have a strong resemblance to the C3, all the way to the C7 introduced in 2014.
---
C4
1983 - 1996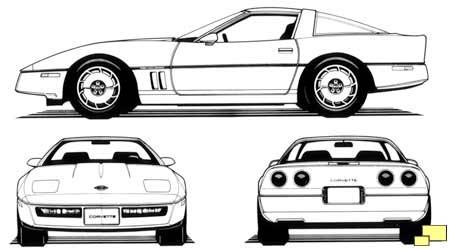 When introduced in 1983 as a 1984 model, the C4 Corvette was an all new body style and chassis. The front was given a styling update and the rear bumper was changed from concave to a convex shape in 1991.
---
---
C5
1997 - 2004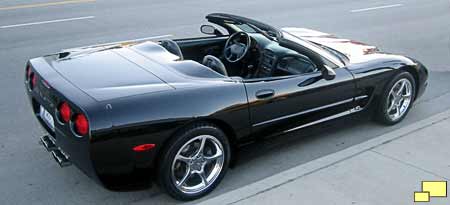 The C5 continued the styling theme introduced with the C3. It was the first Corvette that featured an all new body style, chassis and drivetrain.
---
C6
2005 - 2013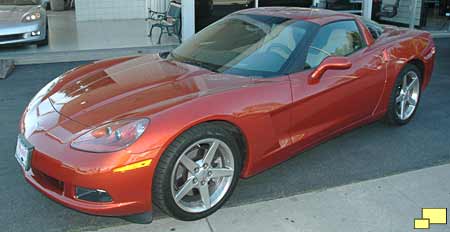 The C6 was not a major change especially when compared to the C5; some of the Corvette faithful thought that C5.5 would have been a more accurate designation.
---
C7
2014 - 2019
The C7 was a major upgrade; the body, chassis and engine were all new for 2014.
---
C8
2020 - ?
The C8 generation introduced the mid engine Corvette.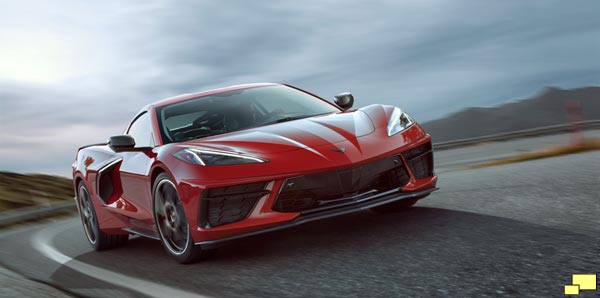 Note: Clicking on an image with this symbol (

) will lead to a larger image.
---
Add Comment
{"commentics_url":"\/\/corvettestory.com\/commentics\/","page_id":17,"enabled_country":true,"country_id":0,"enabled_state":true,"state_id":0,"enabled_upload":false,"maximum_upload_amount":3,"maximum_upload_size":5,"maximum_upload_total":5,"captcha":true,"captcha_url":"http:\/\/corvettestory.com\/commentics\/frontend\/index.php?route=main\/form\/captcha&page_id=17","cmtx_wait_for_comment":"cmtx_wait_for_comment","lang_error_file_num":"A maximum of %d files are allowed to be uploaded","lang_error_file_size":"Please upload files no bigger than %.1f MB in size","lang_error_file_total":"The total size of all files must be less than %.1f MB","lang_error_file_type":"Only image file types are allowed to be uploaded","lang_text_loading":"Loading ..","lang_placeholder_country":"Country","lang_placeholder_state":"State","lang_text_country_first":"Please select a country first","lang_button_submit":"Add Comment","lang_button_preview":"Preview","lang_button_remove":"Remove","lang_button_processing":"Please Wait.."}
Comments (5)
{"commentics_url":"\/\/corvettestory.com\/commentics\/","page_id":17,"is_permalink":false,"lang_text_view":"View","lang_text_reply":"reply","lang_text_replies":"replies","lang_text_replying_to":"You are replying to","lang_title_cancel_reply":"Cancel this reply","lang_link_cancel":"[Cancel]","lang_text_privacy":"Privacy","lang_text_terms":"Terms","lang_text_agree":"[1] \/ [2]","lang_text_not_replying":"You are not replying to anyone","lang_button_loading":"Loading..","lang_button_more":"More Comments","lang_button_edit":"Edit Comment","lang_button_reply":"Add Reply","lang_link_reply":"Switch to full reply","lang_link_refresh":"[Refresh]","date_auto":true,"show_pagination":true,"quick_reply":false,"pagination_type":"multiple","timeago_suffixAgo":"ago","timeago_inPast":"a moment","timeago_seconds":"less than a minute","timeago_minute":"a minute","timeago_minutes":"%d minutes","timeago_hour":"an hour","timeago_hours":"%d hours","timeago_day":"a day","timeago_days":"%d days","timeago_month":"a month","timeago_months":"%d months","timeago_year":"a year","timeago_years":"%d years"}
{"commentics_url":"\/\/corvettestory.com\/commentics\/","auto_detect":false}
---