1956 Chevrolet Corvette:
New Styling and a Future Classic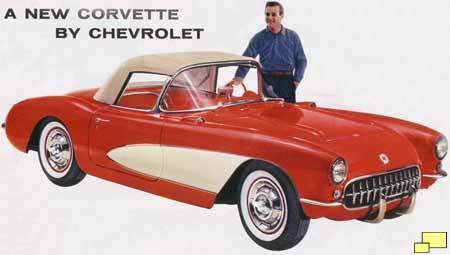 The Corvette received a new body style, authored by Bob Cadaret, in 1956. Strange as it may seem now, designing the '56 was not a sought after assignment by Chevrolet designers. Previous Corvettes had sold poorly and dealers hated it. The logic of the day is that working on a car that people would buy was the smarter move. History would disagree, as the 1956 Corvette styling is regarded as one of the best looking cars ever.
More importantly, its destiny as Americas premier competitive sports car would take shape.
Many of the problems that plagued the 1953-55 models were addressed. The new design featured outside door handles, roll-up windows and a factory sourced hardtop was available. Power windows and a power top were options. The interior remained the same.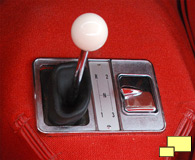 Right: Three speed manual transmission, first seen in a Corvette in 1955, was the standard transmission in 1956. It continued as the standard transmission until 1969. The two speed Powerglide Automatic Transmission (Code 313, $188.50) would be available until 1967.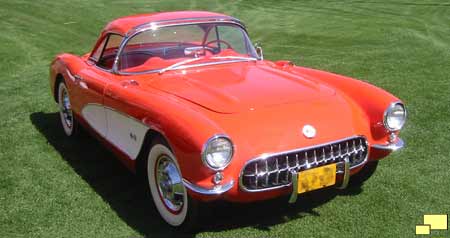 ---
Introducing the Coves

photo courtesy GM
The introduction of the 1956 brought a significant styling element known as the "coves". They first appeared on Cadillac's 1955 Motorama LaSalle II dream car. The horizontal scallop would continue in all the straight axle Corvettes (until 1962) and then reappear in later models.

Only about 36% of the 1956 Corvettes came with the Two Tone Paint Combination (RPO 440 $19.40) in which the coves were painted a contrasting color.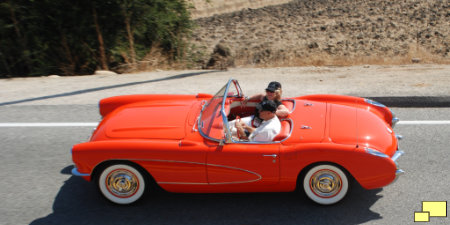 ---
photo courtesy GM
The grill area and much of the bumpers were unchanged between 1955 (left) and 1956 (right).
---
In December 1953, Corvette engineer Zora Arkos-Duntov wrote a memo that would have a large impact on the direction the Corvette would take. He made the case that the future of the Corvette would be best served by catering to the performance oriented youth market, a segment dominated by Ford at the time. The approach proposed involved making performance oriented parts to be made available to the public and be included on the options sheet presented to Corvette buyers. The results started to appear on the 1956 Corvette in the form of option 469, which added a second four barrel carburetor (left) to the engine, resulting in a 15 hp increase to 225 hp. Also available was a special high lift camshaft, known as the "Duntov Cam". Labeled option 449, it was only available with the 225 hp engine.
Chevrolet went racing with the latest Corvette and was rewarded with excellent success. It started in January 1956 when John Fitch set a production car record of 145 MPH at Daytona Speed Week. He then drove a stock 1956 Corvette at the NASCAR speed week Flying Mile event in Daytona, setting a speed record of 145.543 mph.
New suspension revisions by Zora Arkos-Duntov gave Chevrolet the confidence to enter four Corvettes in the Florida International 12-Hour Grand Prix of Endurance, at Sebring, Florida. One car, entered in the C/Modified class finished first in its class and ninth overall. A car entered in B/Production finishes sixth in class / 15th overall. Another retired after only 20 minutes with a broken axle shaft. The fourth car, also entered in B/Production, blew its engine one hour and 20 minutes into the race.
---
Chevrolet had a long list of improvements to crow about with their new Corvette, and the sales brochure handled the job nicely. Pass your mouse over the various panels to view a detailed image to the right.
---
1956 Corvette Options, Prices
RPO
Description
Production
Price
101
Heater
n/a
$123.65
102
AM Radio, Signal Seeking
2,717 (78.37%)
$198.90
107
Parking Brake Alarm
2,685 (77.44%)
$5.40
108
Courtesy Lights
2,775 (80.04%)
$8.65
109
Windshield Washers
2,815 (81.19%)
$11.85
290
Whitewall Tires, 6.70x15
n/a
$32.30
313
Powerglide Automatic Transmission
n/a
$188.50
419
Auxiliary Hardtop
2,076 (59.88%)
$215.20
426
Power Windows
547 (15.78%)
$64.60
440
Two-Tone Paint Combination
1,259 (36.31%)
$19.40
449
Special High-Lift Camshaft
111 (3.20%)
$188.30
469
265ci, 225hp Engine (2 4 bbl. carburetors)
3,080 (88.84%)
$172.20
471
Rear Axle, 3.27:1 ratio
n/a
n/a
473
Power Operated Folding Top
2,682 (77.36%)
$107.60

Total Production: 3,467
Convertible: 3,467 (100.00%)


Notes: Base Corvette with 265 cu. in. engine and three speed manual transmission: $3,120.00
Colors
Code
Exterior
Quantity
Interior
Soft Top
Wheels
Onyx Black
810 (23.36%)
Red
Black / White
Black
Aztec Copper
402 (11.60%)
Beige
Beige / White
Copper
Cascade Green
290 (8.36%)
Beige
Beige / White
Green
Arctic Blue
390 (11.25%)
Beige / Red
Beige / White
Blue
Venetian Red
1,040 (30.00%)
Red
Beige / White
Red
Polo White
532 (15.34%)
Red
Black / White
Red

Notes: Interior quantities: Beige: 887; Red: 2,580.
Note: Clicking on an image with this symbol (

) will lead to a larger image.
---
Comments
No comments yet. Be the first!
---