Purchasing a Classic Corvette
Step One: What floats your boat?
Recent Corvettes:
Dick Guldstrand, a veteran Corvette racer and tuner who should know, put it this way: "The best Corvettes are the recent Corvettes". Technological progress is hard to beat and all areas - ride, handling, performance, safety, reliability and build quality - get better as technology progresses.
For the most part, a Corvette five years old or younger will depreciate similar to other used cars. Keeping the price higher will be the fact that it is a Corvette and as such is a desirable car; car dealers use the term "salable". Pushing the price down: it is a Chevrolet and the marques most expensive model.
The C5 Generation: Introduced in 1997, the C5 was a major leap ahead. All aspects were improved over the C4, including performance, ride, packaging etc.

The C4 Generation:
These are the 1984 - 1996 Corvettes. The early ones (up to about '87) are the least desirable as they were early in the production with bugs and quality problems still being worked out. The suspensions are particularly hard and in some opinions a brutal way to obtain transportation. Around 1988 the problems were mostly sorted out and Corvettes of the time are better purchase candidates.
1990 Corvettes featured a new interior and dashboard layout that was much improved with a driver's side air bag as a bonus.
There was a styling upgrade for 1991 and although it wasn't major, the Corvette had a much more modern look to it. These C4 Corvettes are considered attractive to enthusiasts as they add a lot of improvements over the earlier generation yet the prices are very reasonable.
Around 1990 another trend appeared that helps make those and later Corvettes attractive. They became more likely to be "second cars", as opposed to primary cars. Since the owners were often moving up, Corvettes were more likely to be garaged, well maintained and not heavily driven.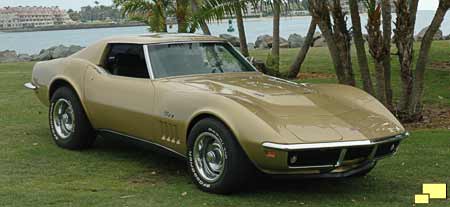 The C3: This was a new body style but the chassis dates back to 1963 and although it does include an independent rear suspension, it is still crude by modern standards. For many the body style is a strong attraction.
---
1968 - '72
These are the chrome bumper Corvettes and for this reason they are much more desirable as collector cars. They are also the last Corvettes not to be heavily burdened by emissions equipment, so drivability and performance is still good. 1968s tend to be cheaper as they are thought to have some quality issues, but others feel the problems are overblown and that they do make for good purchase candidates. Also if you are looking at early C3 Corvette ownership, make certain that you will be comfortable with the cockpit arrangements as the interior is tight.
1975 - '82 This is a low point in Corvette performance (and all other cars as well) since emissions laws had become very stringent and the technology was not able to deal with them adequately. The prices are low for these years so if you have a tight budget there are some interesting candidates as a "starter Corvette". We recommend that you ignore any cars that are not in top condition as the cost to correct any faults cannot be justified.
Note: Clicking on an image with this symbol (

) will lead to a larger image.
---
Add Comment
{"commentics_url":"\/\/corvettestory.com\/commentics\/","page_id":1141,"enabled_country":true,"country_id":0,"enabled_state":true,"state_id":0,"enabled_upload":false,"maximum_upload_amount":3,"maximum_upload_size":5,"maximum_upload_total":5,"captcha":true,"captcha_url":"http:\/\/corvettestory.com\/commentics\/frontend\/index.php?route=main\/form\/captcha&page_id=1141","cmtx_wait_for_comment":"cmtx_wait_for_comment","lang_error_file_num":"A maximum of %d files are allowed to be uploaded","lang_error_file_size":"Please upload files no bigger than %.1f MB in size","lang_error_file_total":"The total size of all files must be less than %.1f MB","lang_error_file_type":"Only image file types are allowed to be uploaded","lang_text_loading":"Loading ..","lang_placeholder_country":"Country","lang_placeholder_state":"State","lang_text_country_first":"Please select a country first","lang_button_submit":"Add Comment","lang_button_preview":"Preview","lang_button_remove":"Remove","lang_button_processing":"Please Wait.."}
Comments (2)
{"commentics_url":"\/\/corvettestory.com\/commentics\/","page_id":1141,"is_permalink":false,"lang_text_view":"View","lang_text_reply":"reply","lang_text_replies":"replies","lang_text_replying_to":"You are replying to","lang_title_cancel_reply":"Cancel this reply","lang_link_cancel":"[Cancel]","lang_text_privacy":"Privacy","lang_text_terms":"Terms","lang_text_agree":"[1] \/ [2]","lang_text_not_replying":"You are not replying to anyone","lang_button_loading":"Loading..","lang_button_more":"More Comments","lang_button_edit":"Edit Comment","lang_button_reply":"Add Reply","lang_link_reply":"Switch to full reply","lang_link_refresh":"[Refresh]","date_auto":true,"show_pagination":true,"quick_reply":false,"pagination_type":"multiple","timeago_suffixAgo":"ago","timeago_inPast":"a moment","timeago_seconds":"less than a minute","timeago_minute":"a minute","timeago_minutes":"%d minutes","timeago_hour":"an hour","timeago_hours":"%d hours","timeago_day":"a day","timeago_days":"%d days","timeago_month":"a month","timeago_months":"%d months","timeago_year":"a year","timeago_years":"%d years"}
{"commentics_url":"\/\/corvettestory.com\/commentics\/","auto_detect":false}
---