Corvette C8 Mid Engine
A Brave New Corvette World
The New Performance Standard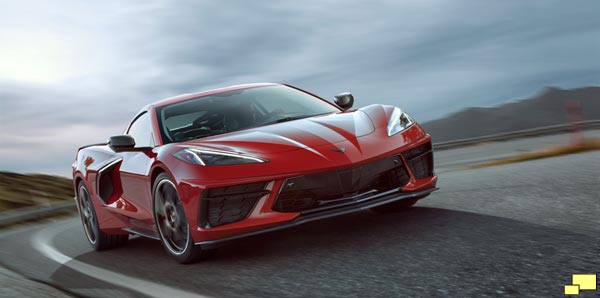 Introduced to the world on July 18, 2019, the introduction of the Corvette C8 represented the most revolutionary Corvette in the 68 year history of the Marque.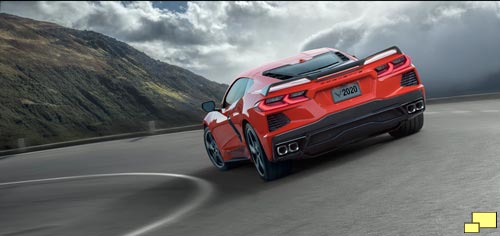 Ever since the mid 1950s, the Corvette was first and formost a performance car. It is a reputation that GM and Corvette owners take seriously.

The most important change to the C8 is the chassis configuration: What used to be a front engine car is now a mid engine car. The significance of the switch cannot be overstated.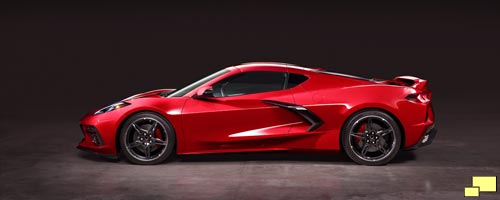 ---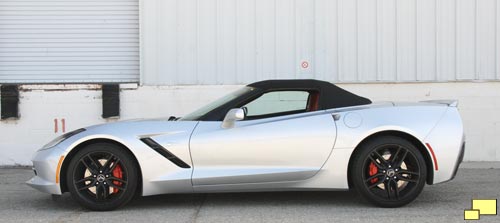 As first conceived by Bill Mitchell in the early 1950s, the Corvette was a front engine sports car featuring a short rear deck, minimal two seat passenger area and a long impressive hood.
That philosophy changed with the C8. Putting the engine behind the driver has changed the driving postion, moving it forward about 16 inches. From the driver's viewpoint, instead of looking at a hood, they now see the road. Forward visibility is much improved.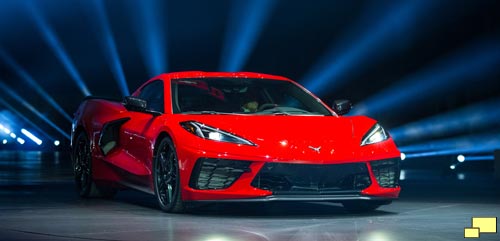 The justification for the change was simple. In order to advance and keep competitive the performance of the Corvette it was necessary to go mid engine. This was the route taken by race cars since the 1960s. In recent times, the Ford GT, Acura NSX, McLaren and most of the Italian exotics had adopted the configuration. Overall handling and better track times comes with the new layout.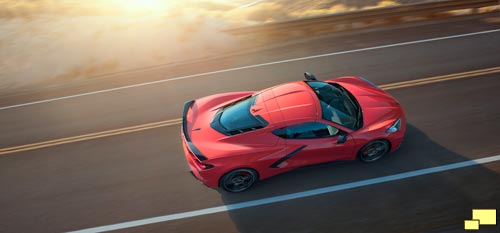 As with the C7, all C8 coupes feature a Targa roof.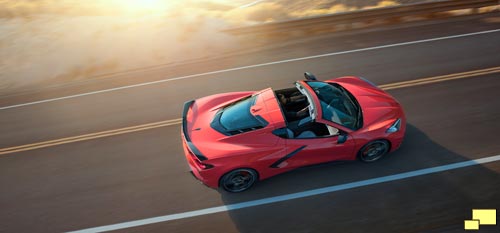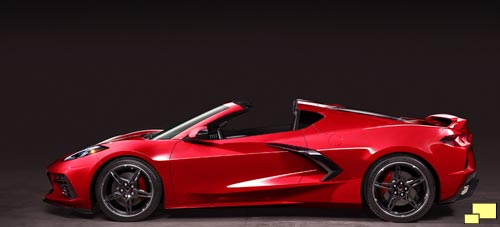 ---
Click here for Corvette C8 slideshow

---

2020 Corvette C8 on Display at the LA Auto Show. The Ceramic Matrix Gray Metallic is turning into one of the better color choices for the Corvette as it works well with the black highlights throughout the car. Other available colors include Arctic White, Black, Torch Red, Blade Silver Metallic, Elkhart Lake Blue Metallic, Shadow Gray Metallic and Zeus Bronze Metallic. Premium cost colors include Accelerate Yellow Metallic ($500), Rapid Blue ($500), Long Beach Red Metallic Tintcoat ($995) and Sebring Orange Tintcoat $995.

---

---

Note: Clicking on an image with this symbol (

) will lead to a larger image.

---

Add Comment

{"commentics_url":"\/\/corvettestory.com\/commentics\/","page_id":1765,"enabled_country":true,"country_id":0,"enabled_state":true,"state_id":0,"enabled_upload":false,"maximum_upload_amount":3,"maximum_upload_size":5,"maximum_upload_total":5,"captcha":true,"captcha_url":"http:\/\/corvettestory.com\/commentics\/frontend\/index.php?route=main\/form\/captcha&page_id=1765","cmtx_wait_for_comment":"cmtx_wait_for_comment","lang_error_file_num":"A maximum of %d files are allowed to be uploaded","lang_error_file_size":"Please upload files no bigger than %.1f MB in size","lang_error_file_total":"The total size of all files must be less than %.1f MB","lang_error_file_type":"Only image file types are allowed to be uploaded","lang_text_loading":"Loading ..","lang_placeholder_country":"Country","lang_placeholder_state":"State","lang_text_country_first":"Please select a country first","lang_button_submit":"Add Comment","lang_button_preview":"Preview","lang_button_remove":"Remove","lang_button_processing":"Please Wait.."}

Comments (2)

{"commentics_url":"\/\/corvettestory.com\/commentics\/","page_id":1765,"is_permalink":false,"lang_text_view":"View","lang_text_reply":"reply","lang_text_replies":"replies","lang_text_replying_to":"You are replying to","lang_title_cancel_reply":"Cancel this reply","lang_link_cancel":"[Cancel]","lang_text_privacy":"Privacy","lang_text_terms":"Terms","lang_text_agree":"[1] \/ [2]","lang_text_not_replying":"You are not replying to anyone","lang_button_loading":"Loading..","lang_button_more":"More Comments","lang_button_edit":"Edit Comment","lang_button_reply":"Add Reply","lang_link_reply":"Switch to full reply","lang_link_refresh":"[Refresh]","date_auto":true,"show_pagination":true,"quick_reply":false,"pagination_type":"multiple","timeago_suffixAgo":"ago","timeago_inPast":"a moment","timeago_seconds":"less than a minute","timeago_minute":"a minute","timeago_minutes":"%d minutes","timeago_hour":"an hour","timeago_hours":"%d hours","timeago_day":"a day","timeago_days":"%d days","timeago_month":"a month","timeago_months":"%d months","timeago_year":"a year","timeago_years":"%d years"}

{"commentics_url":"\/\/corvettestory.com\/commentics\/","auto_detect":false}

---

<!- Beginning of left side Nav. -->

Follow @corvettestory

Introducing the Vette Spotter app for the iPhone.

---

The Vette Spotter app can identify the year of any Corvette.

---

All years and generations are covered, from 1953 to 2014. Over 350 photographs and detailed text are included.

<!- End of left side Nav. -->