Corvette C8 Interior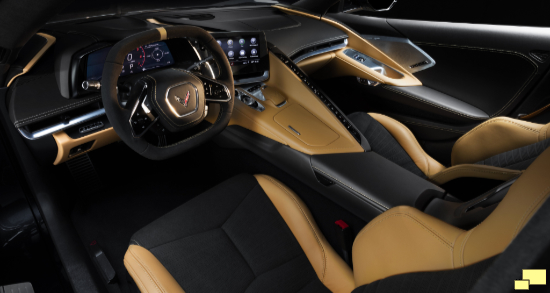 Anybody who has visited the cockpit of the Corvette C7 will immediately recognize the C8 interior.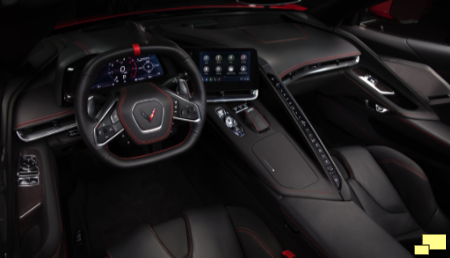 The C8 interior is decidedly driver centric; so much so that some who have sat in the passenger seat felt isolated. The interior is often described as plush with the switchgear having a high quality three dimensional feel. Most of the materials are high quality.
2020 Corvette steering wheel. Stitching throughout the interior has found a new emphasis. Note the "Z" button, which activates the Z mode, named in honor of Zora Arkus-Duntov, the father of the Corvette. It can be thought of as more aggressive than the sport but less aggressive than the track settings. New adjustments such as steering feel and throttle control are possible.
---
Click here for Corvette C8 slideshow

---

The P-R-N-D-M transmission controls. Previous Corvettes had a stick emanating from the console, but for the C8 three dimensional pull toggles switches (Reverse and Drive) and push buttons (for Park, Neutral and Low/Manual) are used. The result is that in a critical area of the interior, much space is freed up.

In front of the drive mode control knob is a set of three buttons. The left button can turn off the traction control, or, with a double tap, bring on more sophisticated traction and stability in the form of Chevrolet's Performance Traction Management. The center button summons the front end lift which raises the nose two inches. There's also a prompt on the screen that asks if you want the GPS to remember the location so it can automatically raise the front the next time it is in the area. Very slick! The far right button brings on the forward facing camera in case you need the extra visibility.

---

The climate controls for the Corvette C8 are a definite departure from just about anything automotive. The problem, according to designer Tom Peters, is that putting them in the usual place - under and around the navigation screen - would have forced the screen to be repositioned higher or made smaller.

The solution was found in jet fighter cockpits, which similarly have many committed buttons and limited space. Their problem is solved by placing them to the side of the pilot and a similar solution was decided on for the C8.

The buttons control fan speed, temperature, seat heating and cooling for driver and passenger along with windshield and rear window defogging.

---

The instrumentation on the C8 is 100% digital; its C7 predecesor had analog speedometer, fuel and oil pressure gauges. The 12 inch diagonal C8 instrument screen features three distinct themes.

---

2020 Corvette C8 steering wheel is "squareish", a reflection of it's performance roots as under aggressive driving situations the hands are always in the "three o'clock, nine o'clock" position. A flat bottom wheel first appeared in the 2015 C7 Z06 and was so popular it was included in all the subsequent C7s.

As with the C7, there are three interior options available. Above is the 3LT, which includes Custom Leather Wrapped Interior Package (Leather-wrapped upper instrument panel, door trim panels and console cover)

1LT Includes

8-Way Power GT1 Seats
GT1 Seats – Mulan Leather
Keyless Access with Push-Button Start
Driver Mode Selector and Valet Mode
Dual-Zone Electronic Climate Control
Bose 10-speaker Audio System
SiriusXM Satellite Radio® for Three Months
Bluetooth Phone Connection and Phone Projection
Steering Wheel-Mounted Controls
Power Windows Express-Up/-Down
Visors with Illuminated Vanity Mirrors
Power Tilt/Telescoping Steering Wheel
Android Auto / Apple Car Play

2LT Includes

(+$7,300)

Includes everything in 1LT, plus:
Head-Up Display
Power Lumbar and Wing Adjustment
Wireless Phone Charging†
Heated and Vented Seats
Heated Steering Wheel
Bose Performance Series 14-Speaker Audio System
Navigation with Traffic
Performance Data Recorder
SiriusXM Satellite Radio®† with 1-year Subscription
Universal Home Remote Sun Visor
Power-Folding Mirrors
Rear Camera Mirror – Coupe
Memory Package
Curb View Camera
Side Blind Zone Alert
Rear Cross Traffic Alert
Advanced Theft-Deterrent System

3LT Includes

(+$11,950)

Includes everything in 2LT, plus:
GT2 Seats with Napa Leather and Carbon-Fiber Trim
Custom Leather-Wrapped Interior
Suede-Wrapped Upper Interior Trim
Leather-Wrapped Lower Doors

---

Above: There are three seat options (C7 had two) for the C8 Corvette: GT1 (left) in Mulan leather only, GT2 (middle) with napa leather center insert and Sport Competition (right) with 100% napa leather. The 1LT trim only comes with the GT1 seat while the GT2 seat is standard on the 3LT trim. The Competition Sport seat, a $1,995 option, has more aggressive bolsters for track driving, with performance textile in high-wear areas.

---

Note: Clicking on an image with this symbol (

) will lead to a larger image.

---

Add Comment

{"commentics_url":"\/\/corvettestory.com\/commentics\/","page_id":1765,"enabled_country":true,"country_id":0,"enabled_state":true,"state_id":0,"enabled_upload":false,"maximum_upload_amount":3,"maximum_upload_size":5,"maximum_upload_total":5,"captcha":true,"captcha_url":"http:\/\/corvettestory.com\/commentics\/frontend\/index.php?route=main\/form\/captcha&page_id=1765","cmtx_wait_for_comment":"cmtx_wait_for_comment","lang_error_file_num":"A maximum of %d files are allowed to be uploaded","lang_error_file_size":"Please upload files no bigger than %.1f MB in size","lang_error_file_total":"The total size of all files must be less than %.1f MB","lang_error_file_type":"Only image file types are allowed to be uploaded","lang_text_loading":"Loading ..","lang_placeholder_country":"Country","lang_placeholder_state":"State","lang_text_country_first":"Please select a country first","lang_button_submit":"Add Comment","lang_button_preview":"Preview","lang_button_remove":"Remove","lang_button_processing":"Please Wait.."}

Comments (2)

{"commentics_url":"\/\/corvettestory.com\/commentics\/","page_id":1765,"is_permalink":false,"lang_text_view":"View","lang_text_reply":"reply","lang_text_replies":"replies","lang_text_replying_to":"You are replying to","lang_title_cancel_reply":"Cancel this reply","lang_link_cancel":"[Cancel]","lang_text_privacy":"Privacy","lang_text_terms":"Terms","lang_text_agree":"[1] \/ [2]","lang_text_not_replying":"You are not replying to anyone","lang_button_loading":"Loading..","lang_button_more":"More Comments","lang_button_edit":"Edit Comment","lang_button_reply":"Add Reply","lang_link_reply":"Switch to full reply","lang_link_refresh":"[Refresh]","date_auto":true,"show_pagination":true,"quick_reply":false,"pagination_type":"multiple","timeago_suffixAgo":"ago","timeago_inPast":"a moment","timeago_seconds":"less than a minute","timeago_minute":"a minute","timeago_minutes":"%d minutes","timeago_hour":"an hour","timeago_hours":"%d hours","timeago_day":"a day","timeago_days":"%d days","timeago_month":"a month","timeago_months":"%d months","timeago_year":"a year","timeago_years":"%d years"}

{"commentics_url":"\/\/corvettestory.com\/commentics\/","auto_detect":false}

---

<!- Beginning of left side Nav. -->

Follow @corvettestory

Introducing the Vette Spotter app for the iPhone.

---

The Vette Spotter app can identify the year of any Corvette.

---

All years and generations are covered, from 1953 to 2014. Over 350 photographs and detailed text are included.

<!- End of left side Nav. -->