Corvette Takes a Giant Step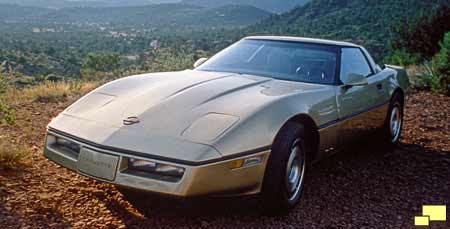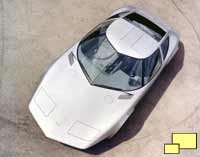 The C3 Corvette was an unqualified success. The public had accepted the new body style and responded by pushing sales volume to the 40,000 / year level in six of the last seven years of production. The Corvette had established itself as the technological flagship of the GM lineup. But the last significantly new Corvette chassis was introduced in 1963, more than 20 years earlier. To stay on top, a new generation Corvette was needed.
Chevrolet had been teasing car enthusiasts throughout the '80s with all sorts of exotic Corvette prototypes and show cars. Radical design features included rotary engines, mid-engine drivetrain layouts and even gullwing doors. The rotary engines had fuel economy woes and other technical issues and the mid-engine Corvettes presented storage space problems. David McLellan was the new Corvette Chief Engineer and he brought with him solid engineering sensibilities. The decisions regarding the new Corvette were his and when the new generation was finally introduced to the public, a conservative direction was taken. The C4 Corvette featured a front engine V8, the same layout since 1955.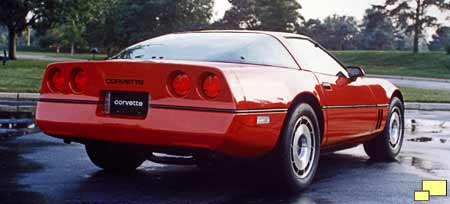 The new C4 was penned by Design Chief Jerry Palmer. The goal was to keep the Corvette identity, which they did. The new car was unmistakably a Corvette. The rear view actually was similar to the 1968 - 1973 models as opposed to the 1974 and later years when the federally mandated bumper protruded outward. Technology had advanced over the ten years the regulations were in effect and designers were in a better position to design what they wanted. The four round tail lights - a significant Corvette styling cue - were still prominent.
---
---
1984 Corvette For Sale

5.7 litre/ auto/3 sets rims&ti
Price: $6,500
Exterior: Black
Interior: Brown/Beige
Miles: 100,798
Location: Ohio U.S.A. 44230-9351

Click Here for more info

Diamond in the rough. Verl little left to do. Serious Dailey Driver Newer rebuilt tranny and powerplant Three sets tires and rims Car plus rims $6,500 (more)
---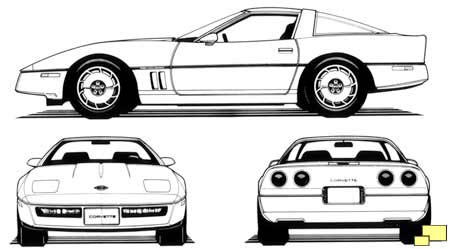 One styling cue that disappeared was the "Coke Bottle" effect of the C3 Corvettes. This refers to the pinched in passenger area, similar to the shape of the classic Coke bottle. It looked awesome but many complained of a too limited interior space. Smoothing the sides gave a whopping 6½ inches more shoulder room.
---
Much of the extra interior room went towards a larger center console. The area below the center tunnel was used to route exhaust plumbing, driveshaft, catalytic convertor, etc. This meant that the floor could be lowered by two inches. Ground clearance was 5¼ inches (¼ inch more than the C3) so the designers were able to incorporate more headroom along with lowering the roofline by about an inch, which improved aerodynamics. The overall length was 8½ inches less than the C3.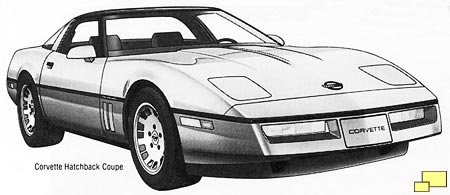 Newspaper Mat Service illustration from GM shows wheels that were never available on the C4 Corvette.
---
1984 Corvette Options, Prices
RPO
Description
Production
Price
AG9
Power Driver Seat
48,702 (94.48%)
$210.00
AQ9
Sports Seats, cloth
4,003 (7.77%)
$625.00
AR9
Base Seats , leather
40,568 (78.70%)
$400.00
AU3
Power Door Locks
49,545 (96.12%)
$165.00
CC3
Removable Transparent Roof Panel
15,767 (30.59%)
$595.00
D84
Two-Tone Paint
8,755 (16.98%)
$428.00
FG3
Delco-Bilstein Shock Absorbers
3,729 (7.23%)
$189.00
G92
Performance Axle Ratio
410 (0.80%)
$22.00
K34
Cruise Control
49,832 (96.67%)
$185.00
KC4
Engine Oil Cooler
4,295 (8.33%)
$158.00
MM4
4-Speed Manual Transmission
6,443 (12.50%)
$0.00
QZD
P255/50VR16 Tires / 16 inch Wheels
51,547 (100.00%)
$561.20
UL5
Radio Delete
104 (0.20%)
$-331.00
UM6
AM-FM Stereo Cassette
6,689 (12.98%)
$153.00
UN8
AM-FM Stereo, Citizens Band
178 (0.35%)
$215.00
UU8
Stereo System, Delco-Bose
43,607 (84.60%)
$895.00
V01
Heavy-Duty Radiator
12,008 (23.30%)
$57.00
YF5
California Emission Requirements
6,833 (13.26%)
$75.00
Z51
Performance Handling Package
25,995 (50.43%)
$600.20
Z6A
Rear Window + Side Mirror Defoggers
47,680 (92.50%)
$160.00

Total Production: 51,547
Coupe: 51,547 (100.00%)


Notes: Base Corvette Coupe with 350 cu. in. 205 hp engine with automatic transmission: $21,800.00.
Colors
Code
Exterior
Quantity
Interior
Wheels
10
White
6,416 (12.45%)
Carmine / Bronze / Graphite / Medium Blue / Medium Grey / Saddle
Alloy
16
Bright Silver Metallic
3,109 (6.03%)
Graphite / Medium Gray
Alloy
16 / 18
Silver / Medium Gray
3,629 (7.04%)
Graphite / Medium Gray
Alloy
18
Medium Gray Metallic
3,147 (6.11%)
Graphite / Medium Gray
Alloy
19
Black
7,906 (15.34%)
Carmine / Graphite / Medium Gray / Saddle
Alloy
20
Light Blue Metallic
1,196 (2.32%)
Medium Blue
Alloy
20 / 23
Light Blue / Medium Blue
1,433 (2.78%)
Medium Blue
Alloy
23
Medium Blue Metallic
1,822 (3.53%)
Medium Blue
Alloy
35
Yellow
1 (0.00%)
Graphite
Alloy
53
Gold Metallic
2,430 (4.71%)
Saddle
Alloy
63
Light Bronze Metallic
2,452 (4.76%)
Bronze
Alloy
63 / 66
Light Bronze / Dark Bronz
3,693 (7.16%)
Bronze
Alloy
66
Dark Bronze Metallic
1,371 (2.66%)
Bronze
Alloy
72
Bright Red
12,942 (25.11%)
Graphite / Saddle
Alloy
---
Note: Clicking on an image with this symbol (

) will lead to a larger image.
---
Add Comment
{"commentics_url":"\/\/corvettestory.com\/commentics\/","page_id":6,"enabled_country":true,"country_id":0,"enabled_state":true,"state_id":0,"enabled_upload":false,"maximum_upload_amount":3,"maximum_upload_size":5,"maximum_upload_total":5,"captcha":true,"captcha_url":"http:\/\/corvettestory.com\/commentics\/frontend\/index.php?route=main\/form\/captcha&page_id=6","cmtx_wait_for_comment":"cmtx_wait_for_comment","lang_error_file_num":"A maximum of %d files are allowed to be uploaded","lang_error_file_size":"Please upload files no bigger than %.1f MB in size","lang_error_file_total":"The total size of all files must be less than %.1f MB","lang_error_file_type":"Only image file types are allowed to be uploaded","lang_text_loading":"Loading ..","lang_placeholder_country":"Country","lang_placeholder_state":"State","lang_text_country_first":"Please select a country first","lang_button_submit":"Add Comment","lang_button_preview":"Preview","lang_button_remove":"Remove","lang_button_processing":"Please Wait.."}
Comments (1)
{"commentics_url":"\/\/corvettestory.com\/commentics\/","page_id":6,"is_permalink":false,"lang_text_view":"View","lang_text_reply":"reply","lang_text_replies":"replies","lang_text_replying_to":"You are replying to","lang_title_cancel_reply":"Cancel this reply","lang_link_cancel":"[Cancel]","lang_text_privacy":"Privacy","lang_text_terms":"Terms","lang_text_agree":"[1] \/ [2]","lang_text_not_replying":"You are not replying to anyone","lang_button_loading":"Loading..","lang_button_more":"More Comments","lang_button_edit":"Edit Comment","lang_button_reply":"Add Reply","lang_link_reply":"Switch to full reply","lang_link_refresh":"[Refresh]","date_auto":true,"show_pagination":true,"quick_reply":false,"pagination_type":"multiple","timeago_suffixAgo":"ago","timeago_inPast":"a moment","timeago_seconds":"less than a minute","timeago_minute":"a minute","timeago_minutes":"%d minutes","timeago_hour":"an hour","timeago_hours":"%d hours","timeago_day":"a day","timeago_days":"%d days","timeago_month":"a month","timeago_months":"%d months","timeago_year":"a year","timeago_years":"%d years"}
{"commentics_url":"\/\/corvettestory.com\/commentics\/","auto_detect":false}
---