1984 Corvette Job One: Handling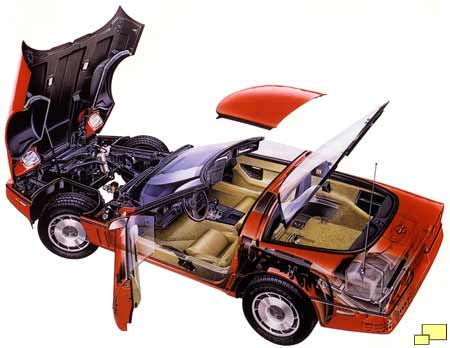 Handling was one of the primary goals during the development of the C4. Corvette engineers were obsessed with it. All the usual methods for making the Corvette the best handling car available were tried and a few new ones were developed.
Selecting the right tire is very important if the best handling is desired. Goodyear stepped up to the plate with a special tire designed just for the Corvette. The specifications were tough: reasonably quiet, good in wet weather, safe at a top speed of 145 mph, crisp handling feel and a life span of at least 10,000 miles even with enthusiastic driving. Goodyear used knowledge gained from Formula One racing to meet and even exceed these demands with the VR50 "Gatorback" tires. They were mounted on special 16 inch rims, also a Corvette exclusive. The RPO Z51 equipped cars featured 8.5 inch wide wheels in front and 9.5 inch wheels in the rear. Both the tires and wheels were directional meaning that they were designed to roll in only one direction. Since the front and rear wheels were of different size, a given wheel could only be mounted on one corner of the car. Modular wheels were popular at the time especially on European sourced cars. But they had an aerodynamic disadvantage with their surface close to the brake, so a design that was flush to the body surface was chosen.

One common technique for improving handling is to specify very stiff springs and/or shock absorbers. This was done on the standard Corvette and the optional Performance Handling Package (RPO Z51; $600.20) was equipped with even stiffer springs and German made Bilstein shock absorbers. As is often the case, there can be too much of a good thing and the 1984 Corvette is an excellent example. The Corvette had outstanding handling but a steep price was paid in the form of reduced ride quality. Terms such as "teeth rattling" "bone jarring" and "brain scrambling" were often used by passengers and drivers alike, many of which were not used to performance suspensions.
---
1984 Corvette Body and Uniframe General Arrangement drawing from GM. Most people, although they know that the Corvette body was made of Glass Reinforced Plastic (Fiberglass), are not aware of the considerable amount of steel (and aluminum) that made up the Corvette chassis, which is illustrated here in red.

---
---
1984 Corvette For Sale

good
Price: $9,500 obo (Trades Considered)
Exterior: Blue
Interior: Black
Miles: 75,000
Location: Miami

Click Here for more info

A/C AM/Fm CD Mags New Paint New Seats (more)
---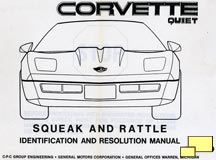 Besides tormenting its occupants, the very stiff suspension also tortured the new Corvette body. Squeaks and rattles throughout the structure became common and so did complaints to the quality people at Chevrolet.
Right: The problem was severe enough that GM issued a 133 page "Squeak and Rattle Identification and Resolution Manual" to aid troubleshooting. Owners at the time reported that while there were many teething issues with the first C4 Corvettes, GM went to great lengths to resolve the problems.
One of the problems was with the Z51 suspension and the fact that many who ordered it did not know what they were getting in to. Despite its high price, nearly half of the 1984 production was Z51 equipped. Although it was a good idea for racetracks (which are typically billiard-table smooth) it had no place in the real world of potholes and speed bumps.


Note: Clicking on an image with this symbol (

) will lead to a larger image.
---
Add Comment
{"commentics_url":"\/\/corvettestory.com\/commentics\/","page_id":6,"enabled_country":true,"country_id":0,"enabled_state":true,"state_id":0,"enabled_upload":false,"maximum_upload_amount":3,"maximum_upload_size":5,"maximum_upload_total":5,"captcha":true,"captcha_url":"http:\/\/corvettestory.com\/commentics\/frontend\/index.php?route=main\/form\/captcha&page_id=6","cmtx_wait_for_comment":"cmtx_wait_for_comment","lang_error_file_num":"A maximum of %d files are allowed to be uploaded","lang_error_file_size":"Please upload files no bigger than %.1f MB in size","lang_error_file_total":"The total size of all files must be less than %.1f MB","lang_error_file_type":"Only image file types are allowed to be uploaded","lang_text_loading":"Loading ..","lang_placeholder_country":"Country","lang_placeholder_state":"State","lang_text_country_first":"Please select a country first","lang_button_submit":"Add Comment","lang_button_preview":"Preview","lang_button_remove":"Remove","lang_button_processing":"Please Wait.."}
Comments (1)
{"commentics_url":"\/\/corvettestory.com\/commentics\/","page_id":6,"is_permalink":false,"lang_text_view":"View","lang_text_reply":"reply","lang_text_replies":"replies","lang_text_replying_to":"You are replying to","lang_title_cancel_reply":"Cancel this reply","lang_link_cancel":"[Cancel]","lang_text_privacy":"Privacy","lang_text_terms":"Terms","lang_text_agree":"[1] \/ [2]","lang_text_not_replying":"You are not replying to anyone","lang_button_loading":"Loading..","lang_button_more":"More Comments","lang_button_edit":"Edit Comment","lang_button_reply":"Add Reply","lang_link_reply":"Switch to full reply","lang_link_refresh":"[Refresh]","date_auto":true,"show_pagination":true,"quick_reply":false,"pagination_type":"multiple","timeago_suffixAgo":"ago","timeago_inPast":"a moment","timeago_seconds":"less than a minute","timeago_minute":"a minute","timeago_minutes":"%d minutes","timeago_hour":"an hour","timeago_hours":"%d hours","timeago_day":"a day","timeago_days":"%d days","timeago_month":"a month","timeago_months":"%d months","timeago_year":"a year","timeago_years":"%d years"}
{"commentics_url":"\/\/corvettestory.com\/commentics\/","auto_detect":false}
---