One Giant Leap for Corvette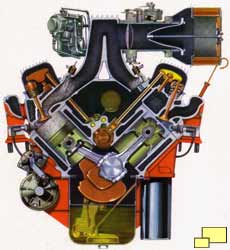 ---
---
1957 and subsequent Corvettes proudly wore their new technological identities on the front fenders (above) and trunk lids (below).
---
---
Above is a very special fuel injected 1957 Corvette with an airbox intake. It is RPO 579E and only 43 were made. As a racing option, it cost a whopping $726.30 or $242.10 more than the standard fuel injection system.
---
Notice the small wheel covers in this 1957 fuelie? It's RPO 276 and was a 15" x 5.5" wheel; stock wheels were 5.0".
---
---
1957 Corvette Options, Prices
RPO
Description
Production
Price
101
Heater
5,373 (84.76%)
$118.40
102
AM Radio, Signal Seeking
3,635 (57.34%)
$199.10
107
Parking Brake Alarm
1,873 (29.55%)
$5.40
108
Courtesy Lights
2,489 (39.26%)
$8.65
109
Windshield Washers
2,555 (40.31%)
$11.85
276
Wheels, 15x5.5 (5)
51 (0.80%)
$15.10
290
Whitewall Tires, 6.70x15
5,019 (79.18%)
$31.60
303
3-Speed Manual Transmission
4,282 (67.55%)
n/a
313
Powerglide Automatic Transmission
1,393 (21.98%)
$188.30
419
Auxiliary Hardtop
4,055 (63.97%)
$215.20
426
Power Windows
379 (5.98%)
$59.20
440
Two-Tone Paint Combination
2,794 (44.08%)
$19.40
469A
283 cu. in. 245hp Engine two 4 bbl. carburetors
2,045 (32.26%)
$150.65
469C
283 cu. in. 270 hp Engine two 4 bbl. carburetors
1,621 (25.57%)
$182.95
473
Power Operated Folding Top
1,336 (21.08%)
$139.90
579A
283 cu. in. 250 hp fuel injected Engine
182 (2.87%)
$484.20
579B
283 cu. in. 283.hp fuel injected Engine
713 (11.25%)
$484.20
579C
283 cu. in. 250 hp fuel injected Engine
102 (1.61%)
$484.20
579E
283 cu. in. 283 hp fuel injected Engine
43 (0.68%)
$726.30
677
Positraction Rear Axle, 3.70:1
327 (5.16%)
$48.45
678
Positraction Rear Axle, 411:1
1,772 (27.95%)
$48.45
679
Positraction Rear Axle, 4.56:1
n/a
$48.45
684
Heavy Duty Racing Suspension
51 (0.80%)
$780.10
685
4-Speed Manual Transmission
664 (10.47%)
$188.30

Total Production: 6,339
Convertible: 6,339 (100.00%)


Notes: Base Corvette with 283 cu. in. 220 hp engine and three speed manual transmission: $3,176.32
Colors
Code
Exterior
Quantity
Interior
Soft Top
Wheels
Onyx Black
2,189 (34.53%)
Beige / Red
Beige / Black / White
Black
Aztec Copper
452 (7.13%)
Beige
Beige / White
Copper
Cascade Green
550 (8.68%)
Beige
Beige / Black / White
Green
Arctic Blue
487 (7.68%)
Beige / Red
Beige / Black / White
Blue
Venetian Red
1,320 (20.82%)
Beige / Red
Beige / Black / White
Red
Polo White
1,273 (20.08%)
Beige / Red
Beige / Black / White
Red / Silver
Inca Silver
65 (1.03%)
Beige / Red
Black / White
Silver
---
---