Corvette C8 Mid Engine Part Two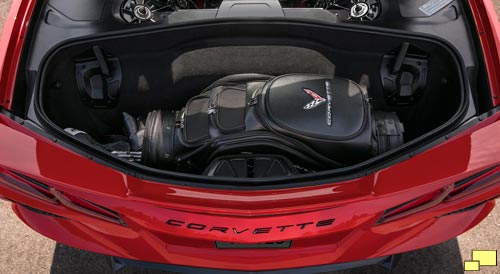 Apparently a necessity for some Corvette owners, the 2020 C8 will accommodate two golf bags.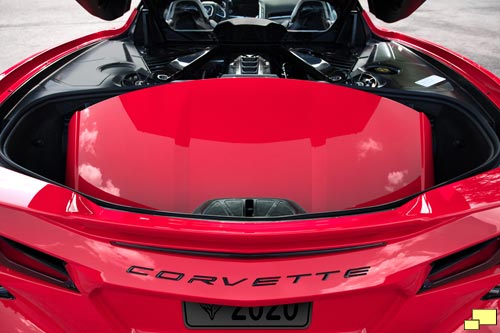 Targa roof storage is more vertical on the C8, compared to the horizontal storage on previous Corvettes.
---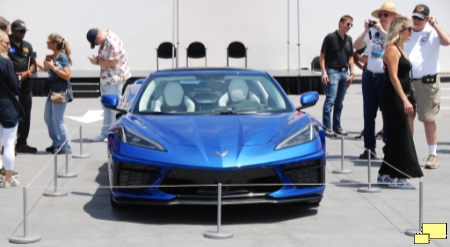 2020 Corvette C8 in Elkhart Lake Blue Metallic as seen at the Petersen Museum reveal on July 27, 2019.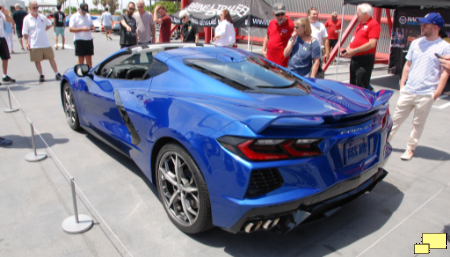 ---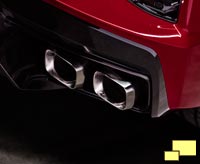 Having been center mounted in the C7, Corvette tail pipes returned to the left and right for the 2020 C8.
---
If it looks good, then show it off! Continuing the fine tradition of the
C6 ZR1
, the 2020 C8 Corvette engine is visible for all to admire.
---
Click here for Corvette C8 slideshow

---

Dual-element LED taillamps include animated turn signals.

---

Wheel size:
Front: 19-inch x 8.5-inch (w/5 x 120mm bolt pattern)
Rear: 20-inch x 11-inch (w/5 x 120mm bolt pattern)

---

A convertible has been a part of the Corvette story since the first generation; you'll recall that the C1 Corvettes were all convertibles. That noble tradition continues with the C8.

Like the radical changes seen throughout the C8, the convertible was revolutionary and for the first time it is not a ragtop design. In many ways it is close to the Targa roof on the coupe with the distinct difference that the Targa roof removal is a manual operation.

The convertible C8 Corvette is a $7,300 premium. There is also ~80 lbs. weight gain, mostly due to the six electric motors required to perform the complex top opening and closing functions.

---

Easter Egg Anyone?

You'll need to look carefully, but etched into the headlights is a C8 Corvette logo. It isn't obvious, but it is tiny. Happy searching!

Note: Clicking on an image with this symbol (

) will lead to a larger image.

---

Add Comment

{"commentics_url":"\/\/corvettestory.com\/commentics\/","page_id":1765,"enabled_country":true,"country_id":0,"enabled_state":true,"state_id":0,"enabled_upload":false,"maximum_upload_amount":3,"maximum_upload_size":5,"maximum_upload_total":5,"captcha":true,"captcha_url":"http:\/\/corvettestory.com\/commentics\/frontend\/index.php?route=main\/form\/captcha&page_id=1765","cmtx_wait_for_comment":"cmtx_wait_for_comment","lang_error_file_num":"A maximum of %d files are allowed to be uploaded","lang_error_file_size":"Please upload files no bigger than %.1f MB in size","lang_error_file_total":"The total size of all files must be less than %.1f MB","lang_error_file_type":"Only image file types are allowed to be uploaded","lang_text_loading":"Loading ..","lang_placeholder_country":"Country","lang_placeholder_state":"State","lang_text_country_first":"Please select a country first","lang_button_submit":"Add Comment","lang_button_preview":"Preview","lang_button_remove":"Remove","lang_button_processing":"Please Wait.."}

Comments (2)

{"commentics_url":"\/\/corvettestory.com\/commentics\/","page_id":1765,"is_permalink":false,"lang_text_view":"View","lang_text_reply":"reply","lang_text_replies":"replies","lang_text_replying_to":"You are replying to","lang_title_cancel_reply":"Cancel this reply","lang_link_cancel":"[Cancel]","lang_text_privacy":"Privacy","lang_text_terms":"Terms","lang_text_agree":"[1] \/ [2]","lang_text_not_replying":"You are not replying to anyone","lang_button_loading":"Loading..","lang_button_more":"More Comments","lang_button_edit":"Edit Comment","lang_button_reply":"Add Reply","lang_link_reply":"Switch to full reply","lang_link_refresh":"[Refresh]","date_auto":true,"show_pagination":true,"quick_reply":false,"pagination_type":"multiple","timeago_suffixAgo":"ago","timeago_inPast":"a moment","timeago_seconds":"less than a minute","timeago_minute":"a minute","timeago_minutes":"%d minutes","timeago_hour":"an hour","timeago_hours":"%d hours","timeago_day":"a day","timeago_days":"%d days","timeago_month":"a month","timeago_months":"%d months","timeago_year":"a year","timeago_years":"%d years"}

{"commentics_url":"\/\/corvettestory.com\/commentics\/","auto_detect":false}

---

<!- Beginning of left side Nav. -->

Follow @corvettestory

Introducing the Vette Spotter app for the iPhone.

---

The Vette Spotter app can identify the year of any Corvette.

---

All years and generations are covered, from 1953 to 2014. Over 350 photographs and detailed text are included.

<!- End of left side Nav. -->