Corvette C8 Engine, Transmission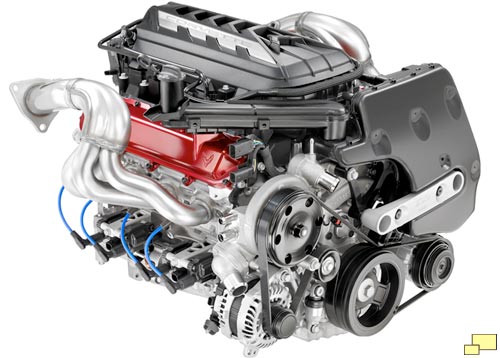 A new engine - designated LT2 - accompanied the new engine position. It's SAE-certified to 495 hp / 369 kW @ 6,450 rpm with the performance exhaust. Torque is SAE-certified to 470 lb.-ft. / 637 Nm @ 5,150 rpm with the performance exhaust.
Dry sump lubrication is standard on the new LT2. It had been available on the C6 (with the Z06 and ZR1) and had been part of the Z51 package on the C7. What is exceptional regarding the C8 is that at the $60,000 starting price, dry sump is included, which is unheard of in a performance car. It was necessary to include the system to lower the engine in order to mate it properly with the transmission and to lower the center of gravity. The system includes three scavenge pumps. Below right: An inside look at the dry sump system.
Below and above left: The exhaust manifolds (stainless steel) use four into one equal-length runners which both work and look good.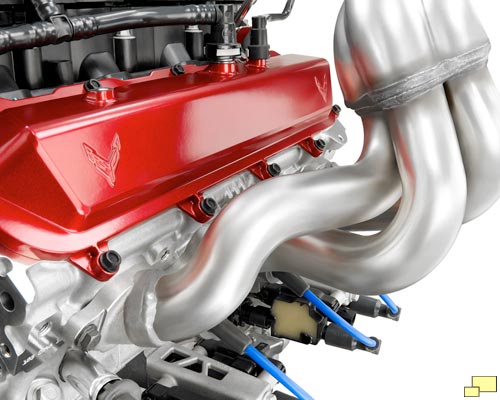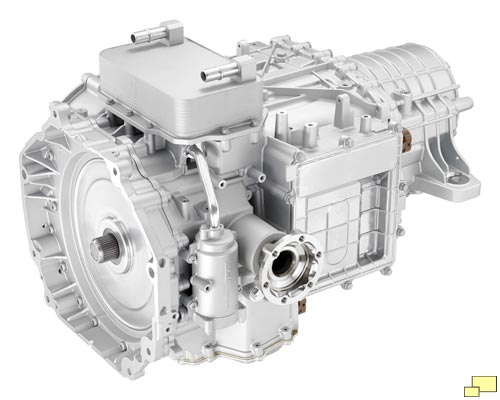 Designated M1L, the 2020 Corvette C8 features an 8-speed dual clutch automatic transmission and is an entirely new design. Advantages include extremely fast shift times of under 100 msec., the ability to maintain torque to the rear wheels even during a shift and better reliability.
Stick Shift?
Manual transmission popularity has been on the decline, mostly because the performance advantages had disappeared to the point where automatic transmissions had significantly better numbers. As of 2018, the manual transmission had only 22% of the Corvette market compared to 90% in 1967.
Considering the expense of developing a C8 manual transmission, accessing three pedals by the driver is in the Corvette past.
---
Click here for Corvette C8 slideshow

---

The Corvette C8 LT2 engine displaces 6.2 Liters (374.92 cubic inches). Additional engine specifications can be found here.

The LT2 engine in the 2020 Corvette C8 is a cousin of the 265 cubic inch V8 first installed in the 1955 Corvette. The 1955 mill was known and loved as the small block Chevrolet or "SBC". Over 100,000,000 have been produced over the years. Although much has changed (the original was cast iron, the current LT2 is aluminum) many of the basic parameters, such as camshaft location, is the same. Features such as low cost and compact design has enabled the basic design to endure.

---

The 2020 Corvette C8 transmission is a M1L 8-speed DCT unit developed with Tremec. DCT stands for Dual Clutch Transmission which refers to the two clutches - one for odd gears, the other for even gears. There is no torque convertor.

The 2020 Corvette C8 has been able to claim some truly impressive acceleration times: 2.9 seconds 0 - 60 mph and 11.2 seconds to cover the ¼ mile (GM supplied stats). This is almost a second quicker than the previous C7 was able to achieve although the C7 had slightly fewer ponies to work with. Some of the other difference can be attributed to the gears; the C7 (both manual and automatic) had decidedly taller ratios, an attempt to achieve good fuel economy.

The other advantage for the 2020 8-speed DCT involves shift times which are under 100 milliseconds. There is no way even a trained performance driver can beat these times and the state of the art is now such that even tiny bits count. We've come a long way since celebrating the introduction of the four speed manual in the 1957 Corvette.

---

Note: Clicking on an image with this symbol (

) will lead to a larger image.

---

Add Comment

{"commentics_url":"\/\/corvettestory.com\/commentics\/","page_id":1765,"enabled_country":true,"country_id":0,"enabled_state":true,"state_id":0,"enabled_upload":false,"maximum_upload_amount":3,"maximum_upload_size":5,"maximum_upload_total":5,"captcha":true,"captcha_url":"http:\/\/corvettestory.com\/commentics\/frontend\/index.php?route=main\/form\/captcha&page_id=1765","cmtx_wait_for_comment":"cmtx_wait_for_comment","lang_error_file_num":"A maximum of %d files are allowed to be uploaded","lang_error_file_size":"Please upload files no bigger than %.1f MB in size","lang_error_file_total":"The total size of all files must be less than %.1f MB","lang_error_file_type":"Only image file types are allowed to be uploaded","lang_text_loading":"Loading ..","lang_placeholder_country":"Country","lang_placeholder_state":"State","lang_text_country_first":"Please select a country first","lang_button_submit":"Add Comment","lang_button_preview":"Preview","lang_button_remove":"Remove","lang_button_processing":"Please Wait.."}

Comments (2)

{"commentics_url":"\/\/corvettestory.com\/commentics\/","page_id":1765,"is_permalink":false,"lang_text_view":"View","lang_text_reply":"reply","lang_text_replies":"replies","lang_text_replying_to":"You are replying to","lang_title_cancel_reply":"Cancel this reply","lang_link_cancel":"[Cancel]","lang_text_privacy":"Privacy","lang_text_terms":"Terms","lang_text_agree":"[1] \/ [2]","lang_text_not_replying":"You are not replying to anyone","lang_button_loading":"Loading..","lang_button_more":"More Comments","lang_button_edit":"Edit Comment","lang_button_reply":"Add Reply","lang_link_reply":"Switch to full reply","lang_link_refresh":"[Refresh]","date_auto":true,"show_pagination":true,"quick_reply":false,"pagination_type":"multiple","timeago_suffixAgo":"ago","timeago_inPast":"a moment","timeago_seconds":"less than a minute","timeago_minute":"a minute","timeago_minutes":"%d minutes","timeago_hour":"an hour","timeago_hours":"%d hours","timeago_day":"a day","timeago_days":"%d days","timeago_month":"a month","timeago_months":"%d months","timeago_year":"a year","timeago_years":"%d years"}

{"commentics_url":"\/\/corvettestory.com\/commentics\/","auto_detect":false}

---

<!- Beginning of left side Nav. -->

Follow @corvettestory

Introducing the Vette Spotter app for the iPhone.

---

The Vette Spotter app can identify the year of any Corvette.

---

All years and generations are covered, from 1953 to 2014. Over 350 photographs and detailed text are included.

<!- End of left side Nav. -->