1997 Corvette Styling:
Something Old, Something New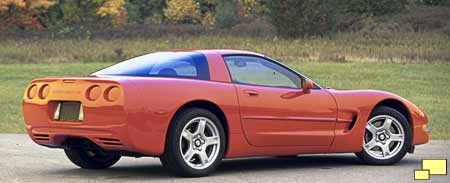 Although the styling was all new, many of the old themes were still present and there was no risk that anyone would mistake the new shape for anything other than a Corvette. Four tail lights, a Corvette staple since 1961 were prominent as was the long thin coke bottle shape reminiscent of the C3 introduced in 1968. When asked, Corvette owners made it clear that tradition was important to them and they got what they wanted.
---
1997 Corvette For Sale

go anywhere
Price: $25,000
Exterior: black
Interior: black
Miles: 130,000
Location: texas

Click Here for more info

this car has many performance upgrades as well as sound system modifications. The motor is a MTI 347 Forged with 12,000 miles and 368 WHP (have dyno sheet) (more)
---
---
Return of Corvette Coves!

The Coves are Back! Well, sort of. The wonderful styling element last seen in the late 50s and early 60s made a subdued return in 1997.
---
Designer renderings reveal the thinking behind the C5 Corvette. Here we see fluid shapes that, although different from the production car that found its way into Chevrolet dealerships, did strongly influence the final outcome.
---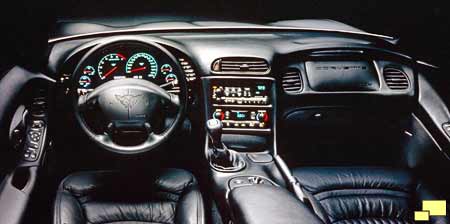 The dash was also all new for the C5. It was more of a dual cockpit motif and hints of the C2 interior were present; note the grab bar for the passenger (right) which would be familiar to the passengers in C1 and C2 Corvettes.
More room in the footwell area was a welcome improvement; there was even room for a "dead pedal" on the far left so drivers could brace themselves during hard cornering. Entry and exit was easier due to a almost 4" lower door sill area and larger doors.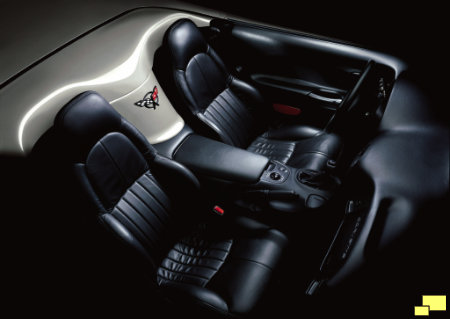 ---
Note: Clicking on an image with this symbol (

) will lead to a larger image.
---
Comments
No comments yet. Be the first!
---