1953 Corvette Part 2
Sharp eyed Corvette fans will recognize that the GM brochure images (above) are of prototype Corvettes. The big give-aways include the "Corvette" script on the front below the badge, the downward pointing spear on the fender behind the front tire and the air intake scoops on top of the fender. None of these items appeared on 1953 Corvettes, although the air intake scoops did show up on future models.
Left: Corvette headlights featured a stoneguard (or "fencing mask") treatment, part of the "sports car" target image. They were often seen on race prepared cars as a way to prevent broken headlights from debris and rocks. The engineers and stylists both wanted glass covers, similar to what was used on the license plate (right) but the current laws forbid the practice.
---
All 1953 Corvettes came with red interiors. Left: Image from a 1953 brochure. Right: A "waterfall" effect was found between the seats as a body piece extended into the interior. This gave a very open feeling to the car. Later generations would pay homage to this technique and incorporate the same design traits in the convertible models. Pressing the button released the convertible top cover.

The Corvette reputation as a performance car would have to wait until 1955 when a V8 became available. When equipped with the "Blue Flame" six cylinder, the zero to 60 time was around 11 seconds with 1/4 mile times of about 18 seconds. It's hard to say which was more at fault; the six cylinder motor or the two speed automatic transmission.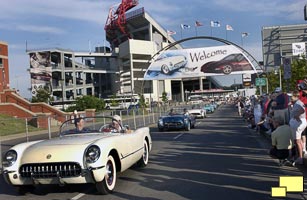 Photo Courtesy GM
The 1953 Corvette is probably better appreciated today than when it was new. There are two basic reasons why it will remain a desirable model amongst collectors: 1) 1953 was the first year of production, a strong point in collector car circles. 2) Limited production. At only 300 units it is by far the rarest Corvette model year.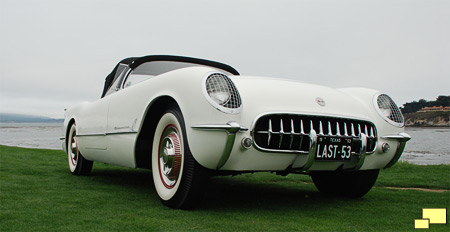 Note: Clicking on an image with this symbol (

) will lead to a larger image.
---
Add Comment
{"commentics_url":"\/\/corvettestory.com\/commentics\/","page_id":15,"enabled_country":true,"country_id":0,"enabled_state":true,"state_id":0,"enabled_upload":false,"maximum_upload_amount":3,"maximum_upload_size":5,"maximum_upload_total":5,"captcha":true,"captcha_url":"http:\/\/corvettestory.com\/commentics\/frontend\/index.php?route=main\/form\/captcha&page_id=15","cmtx_wait_for_comment":"cmtx_wait_for_comment","lang_error_file_num":"A maximum of %d files are allowed to be uploaded","lang_error_file_size":"Please upload files no bigger than %.1f MB in size","lang_error_file_total":"The total size of all files must be less than %.1f MB","lang_error_file_type":"Only image file types are allowed to be uploaded","lang_text_loading":"Loading ..","lang_placeholder_country":"Country","lang_placeholder_state":"State","lang_text_country_first":"Please select a country first","lang_button_submit":"Add Comment","lang_button_preview":"Preview","lang_button_remove":"Remove","lang_button_processing":"Please Wait.."}
Comments (3)
{"commentics_url":"\/\/corvettestory.com\/commentics\/","page_id":15,"is_permalink":false,"lang_text_view":"View","lang_text_reply":"reply","lang_text_replies":"replies","lang_text_replying_to":"You are replying to","lang_title_cancel_reply":"Cancel this reply","lang_link_cancel":"[Cancel]","lang_text_privacy":"Privacy","lang_text_terms":"Terms","lang_text_agree":"[1] \/ [2]","lang_text_not_replying":"You are not replying to anyone","lang_button_loading":"Loading..","lang_button_more":"More Comments","lang_button_edit":"Edit Comment","lang_button_reply":"Add Reply","lang_link_reply":"Switch to full reply","lang_link_refresh":"[Refresh]","date_auto":true,"show_pagination":true,"quick_reply":false,"pagination_type":"multiple","timeago_suffixAgo":"ago","timeago_inPast":"a moment","timeago_seconds":"less than a minute","timeago_minute":"a minute","timeago_minutes":"%d minutes","timeago_hour":"an hour","timeago_hours":"%d hours","timeago_day":"a day","timeago_days":"%d days","timeago_month":"a month","timeago_months":"%d months","timeago_year":"a year","timeago_years":"%d years"}
{"commentics_url":"\/\/corvettestory.com\/commentics\/","auto_detect":false}
---