1959 Chevrolet Corvette Part 2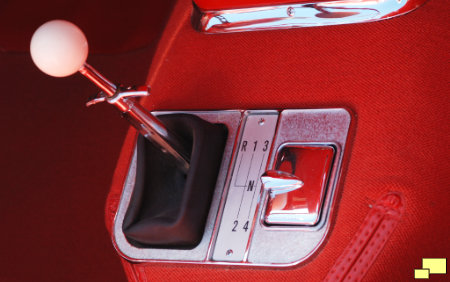 Above: T-handle manual shifter and below: Brochure description. To engage reverse, the handle had to be pulled up; this prevented accidental reverse selection. The feature was new for 1959 four speeds and would continue through the C2 and into the C3 Corvette generations.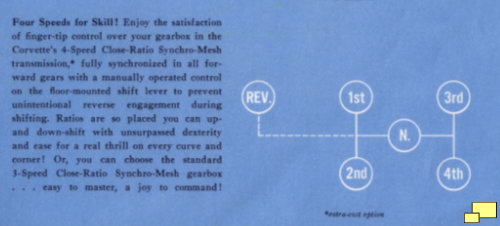 ---
Below: Interior, in person (left) and per the brochure (right). 1959 was the first year a black interior was available in the Corvette. The door panel was redesigned for more elbow room. Note the transverse (door panel to door panel) seat stitching. This is one of the ways to differentiate the 1959 and 1960 Corvettes; another is that 1960 Corvettes featured body colored wheels. The '60 vettes had front to back seat stitching.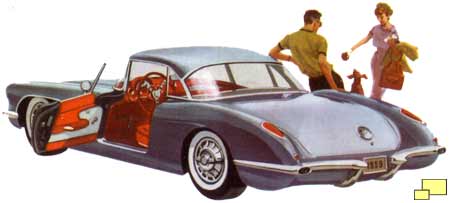 ---
Note: Clicking on an image with this symbol (

) will lead to a larger image.
---
Comments (3)
Topic:
1959 Corvette Part Two
Admin
Corvette Story Webmaster
About 8% of the 1959 Corvettes had no heater (otherwise known as "Heater Delete"), is it is a bit rare, but not very rare. You should see a boost in the value when it is sold, but not a lot. I would say 5% or so.
New
randy dimmig
I remember back in 1972,I had a 59 vette with no heater,I see that by this chart it was an option.I wonder how much this affects the value today?
New
Cheap Writing Service
Great site and a great topic as well I really get amazed to read this. It's really good. I like viewing web sites which comprehend the price of delivering the excellent useful resource free of charge.
Are you sure you want to report it?
Share a link to this comment
---