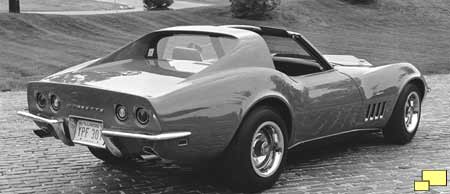 1969 Corvette: Official GM Photo.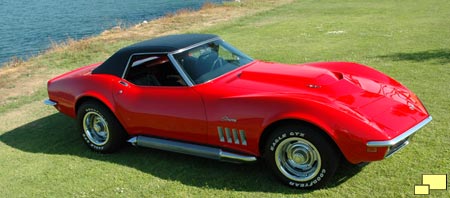 1969 Corvette convertible with vinyl covered (RPO C08; $57.95) hardtop (RPO C07; $252.80).
---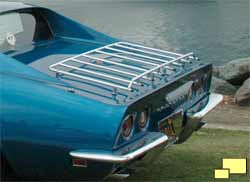 Aspiring musicians who were used to carrying their gear with the mid years Corvette coupes were in for a shock when the C3 generation appeared. Cargo volume did a nose dive; an area where nice sized amplifiers once occupied was now suitable for not much more than a tambourine. The solution for many owners was a aftermarket luggage rack. While it may not have done much for the aesthetics or aerodynamics of the Corvette, it made sense for road trips.
---
---
1969 Corvette Stingray For Sale

1969 Roadster, 427/435hp, 4 sp
Price: $69,990
Exterior: Torch Red
Interior: Black Leather
Miles: 98,000
Location: Menifee, California

Click Here for more info

SOLD-SOLD-SOLD---1969 Corvette Roadster, 427/435hp, M21 4 speed, N14 side pipes, both tops (black vinyl hardtop), electronic ignition, and power windows (more)
---

The side exhaust, which had been an integral part of the Corvette "bad boy" image since 1965, went on hiatus for 1968 but returned in 1969 (RPO N14; $147.45).

Back up lights were integrated into the tail lights in 1969.
---
---

Apollo 12 astronauts (L-R) Charles 'Pete' Conrad Jr., Richard Francis Gordon Jr., and Alan LaVern Bean with their identical 1969 Corvette Stingray coupes. The coupes featured a 390 horsepower, 427 L36 V8 engines and black-accented Riverside Gold color scheme designed by Bean. Location: Cocoa Beach, Florida September 23, 1969.
---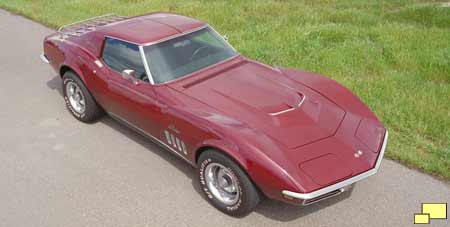 Note: Clicking on an image with this symbol (

) will lead to a larger image.
---
Add Comment
{"commentics_url":"\/\/corvettestory.com\/commentics\/","page_id":35,"enabled_country":true,"country_id":0,"enabled_state":true,"state_id":0,"enabled_upload":false,"maximum_upload_amount":3,"maximum_upload_size":5,"maximum_upload_total":5,"captcha":true,"captcha_url":"http:\/\/corvettestory.com\/commentics\/frontend\/index.php?route=main\/form\/captcha&page_id=35","cmtx_wait_for_comment":"cmtx_wait_for_comment","lang_error_file_num":"A maximum of %d files are allowed to be uploaded","lang_error_file_size":"Please upload files no bigger than %.1f MB in size","lang_error_file_total":"The total size of all files must be less than %.1f MB","lang_error_file_type":"Only image file types are allowed to be uploaded","lang_text_loading":"Loading ..","lang_placeholder_country":"Country","lang_placeholder_state":"State","lang_text_country_first":"Please select a country first","lang_button_submit":"Add Comment","lang_button_preview":"Preview","lang_button_remove":"Remove","lang_button_processing":"Please Wait.."}
Comments (1)
{"commentics_url":"\/\/corvettestory.com\/commentics\/","page_id":35,"is_permalink":false,"lang_text_view":"View","lang_text_reply":"reply","lang_text_replies":"replies","lang_text_replying_to":"You are replying to","lang_title_cancel_reply":"Cancel this reply","lang_link_cancel":"[Cancel]","lang_text_privacy":"Privacy","lang_text_terms":"Terms","lang_text_agree":"[1] \/ [2]","lang_text_not_replying":"You are not replying to anyone","lang_button_loading":"Loading..","lang_button_more":"More Comments","lang_button_edit":"Edit Comment","lang_button_reply":"Add Reply","lang_link_reply":"Switch to full reply","lang_link_refresh":"[Refresh]","date_auto":true,"show_pagination":true,"quick_reply":false,"pagination_type":"multiple","timeago_suffixAgo":"ago","timeago_inPast":"a moment","timeago_seconds":"less than a minute","timeago_minute":"a minute","timeago_minutes":"%d minutes","timeago_hour":"an hour","timeago_hours":"%d hours","timeago_day":"a day","timeago_days":"%d days","timeago_month":"a month","timeago_months":"%d months","timeago_year":"a year","timeago_years":"%d years"}
{"commentics_url":"\/\/corvettestory.com\/commentics\/","auto_detect":false}
---