1982 Corvette: Collector Edition Celebrates the Last of the C3s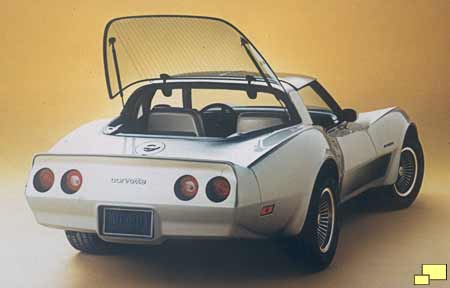 It was well known that a new generation of Corvettes was in the works and that 1982 would be the last of the C3s. The occasion was commemorated by a special "Collector Edition" Corvette. Exclusive to the Collector Edition was a frameless hatchback supported by gas struts making access to the storage area much easier.
---
1982 Corvette For Sale

1982 Corvette Limited Edition
Price: $7,700 obo
Exterior: Silver Blue, Charcoal
Interior: Silver, Gray
Miles: 66,600
Location: Sacramento

Click Here for more info

This a great car for cruising. Runs perfectly. Features: -350 cubic inch engine -two-toned exterior paint scheme (silver-blue and charcoal) -silver-gray interior -cross-fire-injection -T-top -working A/C -upgraded CD player with MP3 auxiliary port -adult owned car, well maintained Please call Phillip with any questions at 916-638-1911 (more)
---

A distinctive two tone silver-beige paint was also part of the Collector Edition with a gradient or "fading shadow" motif on the side (above) and hood (below). A clear lacquer top coat added gloss and depth. Distinctive cloisonnè emblems completed the package. The look was unique and years later is still positively embraced.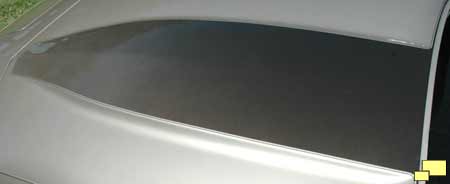 The Collector Edition did get a distinctive (but not sequential) VIN but was not a limited production quantity. 6,759 were sold. The Collector Edition broke new Corvette ground with a price over $20,000; $22,537.59 to be exact. A generous list of options was included. Other details: a leather wrapped steering wheel, distinctive door trim, special bronze tinting on the glass roof panels and a leather covered horn button.
Left: Distinctive wheels were included. They were similar to the 1967 optional cast aluminum wheels; both cars were the last of their generation. Right: Commemorative badges were found on the fuel filler lid and just above the front bumper.
---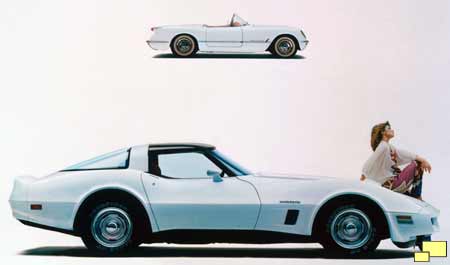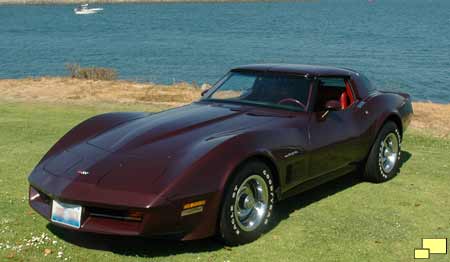 ---
---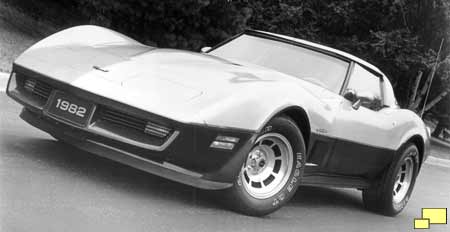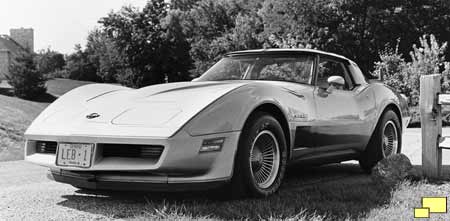 1982 Corvette: Official GM Photo.
---
Note: Clicking on an image with this symbol (

) will lead to a larger image.
---
---