LT6: The New Performance Benchmark
Part Two
Left: One of the three plenum valves. Some things just look good and shouldn't be hidden! Right: The LT6 is fed by dual 87 mm. single bore throttle bodies, electronically controlled.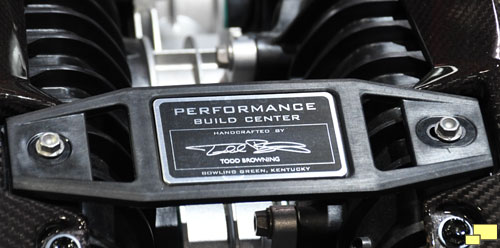 A plaque mounted between the plenums identifies the engine builder. It's signed by the person who built the entire engine.
More good news: The Corvette Engine build experience, first available in 2011, (RPO PBC, Quantity: 16 (0.12%), $5,800.00) will be available on the Z06.
---
LT6 engine oil filter. During the development of the LT6, the vibrations - a consequence of the flat plane crankshaft - were so bad that a conventional oil filter unscrewed itself on a test stand. A bolted on cartridge filter was the solution.
The oil system is a dry sump, similar to the C8 Stingray. The lower portion of the block has four bays so each crank journal has a sealed bay (reducing windage) with oil scavenged from each bay and the two cylinder heads. Each piston has an oil squirter for cooling.
---
Left: C8 Stingray transmission and (right) C8 Z06 transmission. Vibration issues caused the Z06 transmission case to get beefed up. The Z06 rendition also featured a shorter 5.56:1 final drive ratio; the Z51 equipped Stingray has a 5.2:1 ratio.
---
The Z06 engineering team went to great lengths to optimize the sound from the LT6 engine: this included what is heard both outside and inside the car. An innovative solution was found to deliver a superb aural sensation to the occupants. The two outer exhaust outlets actually house a set of bezels that function as "reverse trumpets" which reflect sound back into the cabin.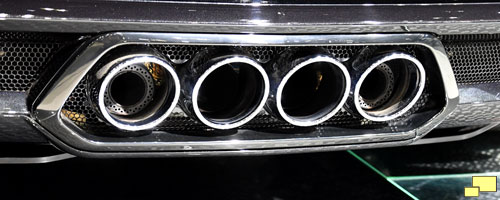 ---
The LT6 in the C8 Z06 was not the first time that double overhead camshafts and four valves per cylinder was available in a Corvette. The LT5 engine in the 1990 Corvette ZR-1 also featured the same configuration and was rated at 375 horsepower; subsequent updates enabled an output of 405 horsepower. Unlike the C8 LT6, the C4 LT5 was designed by Group Lotus and built by Mercury Marine in Stillwater OK.
Below is the 1990 Corvette ZR-1. In addition to the double overhead cams and four valves engine configuration, like the C8 Z06 it also featured a wider rear body. Unfortunately it was not all that visually distinctive from the standard Corvettes at the time which lead to poor sales. It was last sold as a 1995 model.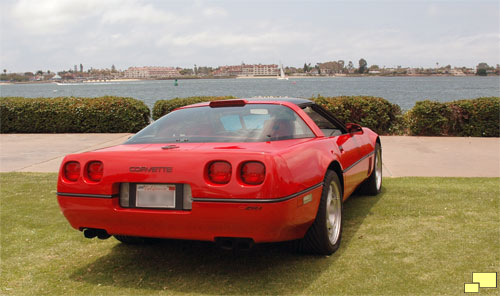 ---
Note: Clicking on an image with this symbol (

) will lead to a larger image.
---
Comments
No comments yet. Be the first!
---