2004 Corvette
Z06 Carbon Fiber Hood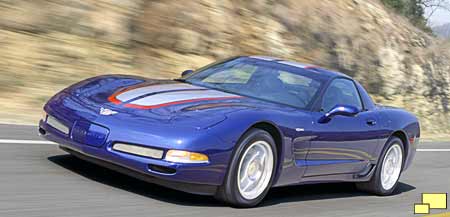 The hood for the Z06 Commemorative Edition was carbon fiber. It was the first use of the exotic material for a painted exterior panel on a car built in North America and was an experiment of sorts for GM. The carbon fiber advantage of high strength with less weight was realized with a 10.6 pounds weight saving. The inside hood panel is a hybrid of carbon fiber and Sheet Molded Compound (SMC).
Specifically developed for the Corvette, the Commemorative Edition Z06 hood achieves a higher level of exterior finish quality than previous automotive applications of carbon fiber. On most carbon fiber parts, the woven pattern of the material is easily seen beneath the exterior finish. To diminish that effect and preserve the rich LeMans Blue paint finish, on the Commemorative Edition Z06 the carbon fibers are aligned in a single direction.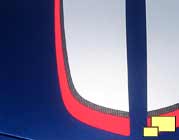 The only visual cue that the hood is made from carbon fiber is in the red border surrounding the silver graphic on the car, which is arranged in a woven pattern signifying the material that lies underneath. The overall result is a finish consistent with the rest of the car that gives just a slight hint at the carbon fiber construction.
---
Corvette Paces the 2004 Indianapolis 500

For the sixth time a Corvette was chosen to pace the Indy 500, with actor Morgan Freeman assigned the driving honors at the start of the race. Joie Chitwood, III drove during the caution periods. GM did not produce any replica pace cars for sale but that didn't prevent some enthusiasts from creating their own.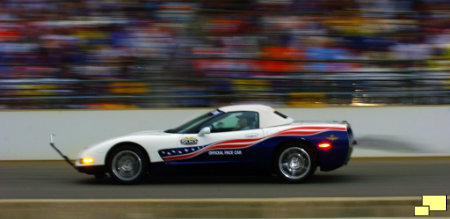 ---
---
2004 Corvette For Sale

One owner - Only 33000 miles
Price: $27,900 obo
Exterior: White
Interior: Red
Miles: 33,000
Location: Moneta, VA

Click Here for more info

Immaculate condition. Always garage kept. Fully loaded. White Exterior Red Interior. 2004 Chevy Corvette Convertible (more)
---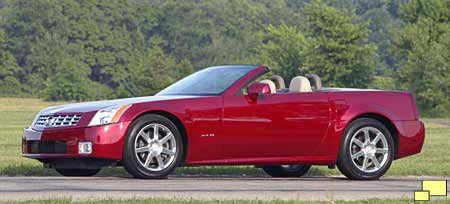 A new Cadillac, the XLR, was introduced in 2004 and was built alongside Corvettes in the Bowling Green KY assembly plant. A new era would begin as the fortunes of both the Cadillac and Corvette would be connected. The XLR ended production after the 2009 model year. Total production: 15,460.
---
The C5 would be a tough act to follow. The technology advances, such as the Magnetic Selective Ride Control and the "drive by wire" throttle, had been extraordinary. New ground was also broken with the Z06, a high performance model that effectively revived the dual purpose race track / street sports car concept. But the competition had also been making progress, and it had never been part of the Corvette's DNA to back away from a challenge. Things were getting interesting.
---
Note: Clicking on an image with this symbol (

) will lead to a larger image.
---
Add Comment
{"commentics_url":"\/\/corvettestory.com\/commentics\/","page_id":69,"enabled_country":true,"country_id":0,"enabled_state":true,"state_id":0,"enabled_upload":false,"maximum_upload_amount":3,"maximum_upload_size":5,"maximum_upload_total":5,"captcha":true,"captcha_url":"http:\/\/corvettestory.com\/commentics\/frontend\/index.php?route=main\/form\/captcha&page_id=69","cmtx_wait_for_comment":"cmtx_wait_for_comment","lang_error_file_num":"A maximum of %d files are allowed to be uploaded","lang_error_file_size":"Please upload files no bigger than %.1f MB in size","lang_error_file_total":"The total size of all files must be less than %.1f MB","lang_error_file_type":"Only image file types are allowed to be uploaded","lang_text_loading":"Loading ..","lang_placeholder_country":"Country","lang_placeholder_state":"State","lang_text_country_first":"Please select a country first","lang_button_submit":"Add Comment","lang_button_preview":"Preview","lang_button_remove":"Remove","lang_button_processing":"Please Wait.."}
Comments (1)
{"commentics_url":"\/\/corvettestory.com\/commentics\/","page_id":69,"is_permalink":false,"lang_text_view":"View","lang_text_reply":"reply","lang_text_replies":"replies","lang_text_replying_to":"You are replying to","lang_title_cancel_reply":"Cancel this reply","lang_link_cancel":"[Cancel]","lang_text_privacy":"Privacy","lang_text_terms":"Terms","lang_text_agree":"[1] \/ [2]","lang_text_not_replying":"You are not replying to anyone","lang_button_loading":"Loading..","lang_button_more":"More Comments","lang_button_edit":"Edit Comment","lang_button_reply":"Add Reply","lang_link_reply":"Switch to full reply","lang_link_refresh":"[Refresh]","date_auto":true,"show_pagination":true,"quick_reply":false,"pagination_type":"multiple","timeago_suffixAgo":"ago","timeago_inPast":"a moment","timeago_seconds":"less than a minute","timeago_minute":"a minute","timeago_minutes":"%d minutes","timeago_hour":"an hour","timeago_hours":"%d hours","timeago_day":"a day","timeago_days":"%d days","timeago_month":"a month","timeago_months":"%d months","timeago_year":"a year","timeago_years":"%d years"}
{"commentics_url":"\/\/corvettestory.com\/commentics\/","auto_detect":false}
---