Corvette Z06 LS7 Engine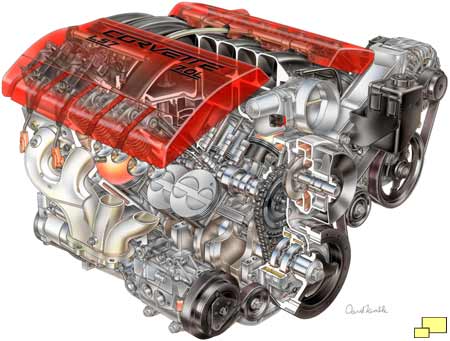 As the photos demonstrate, the LS7 engine looks great disassembled. It is still part of the small block family, a relative of the 265 cu. in. motor introduced in the 1955 Corvette. The only thing the two motors had in common was the bore centers, (the distance between the pistons) which had been unchanged at 4.40", the OHV layout and the camshaft location. Engine output is 505 hp at 6,300 RPM with 470 lb.-ft. of torque at 4800 RPM. Engine RPM is limited to 7,000 RPM. The EPA estimated fuel economy was 16 mpg city and 26 mph on the highway. As with all previous Corvettes, the 2006 Z06 did not require buyers to pay a gas guzzler tax. Very impressive.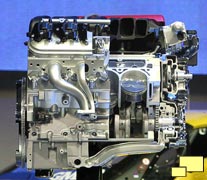 Initially the 2006 Z06 hp was rated at 500 hp as indicated by the above press image. SAE (Society of Automotive Engineers) certified testing upped the power to 505 hp which became the official specification. Interestingly, the Z06 LS7 engine was the first to be tested under a new "SAE Certified Power" program. Certification requirements included a ISO9000/9002 certified facility and in person approval of the testing by an SAE approved party.
---
2006 Corvette For Sale

2006 Chevrolet Corvette Conv
Price: $34,986 (Trades Considered)
Exterior: Monterey Red
Interior: Cashmere Leather
Miles: 9,875
Location: 1040 Seminole Blvd Largo, Fl 33770

Click Here for more info

L◉◉K! 2006 Corvette Conv ***$11.50 per day*** Expect to be impressed by this 2006 Corvette Convertible (more)
---
---
Left: Titanium connecting rods weight of 480 grams (16.93 ounces) is 30% less than on the LS2. Middle and Right: Piston and connecting rod assembly. Note the valve clearance notches.
---
Left: The piston's view of the cylinder head combustion chamber, with CNC machining. The 2.20" intake valve is on the left and the 1.61" exhaust valve on the right. Middle: LS7 pushrod. Right: Intake and exhaust valves.
---
Left and Middle: Intake valve and spring assembly. Right: The piston's view of the cylinder head combustion chamber, without valves.
---
Left: port view of the intake valve; Middle: port view of the exhaust valve and Right: Intake manifold combustion chamber.
Photos courtesy GM
Note: Clicking on an image with this symbol (

) will lead to a larger image.
---
Add Comment
{"commentics_url":"\/\/corvettestory.com\/commentics\/","page_id":80,"enabled_country":true,"country_id":0,"enabled_state":true,"state_id":0,"enabled_upload":false,"maximum_upload_amount":3,"maximum_upload_size":5,"maximum_upload_total":5,"captcha":true,"captcha_url":"http:\/\/corvettestory.com\/commentics\/frontend\/index.php?route=main\/form\/captcha&page_id=80","cmtx_wait_for_comment":"cmtx_wait_for_comment","lang_error_file_num":"A maximum of %d files are allowed to be uploaded","lang_error_file_size":"Please upload files no bigger than %.1f MB in size","lang_error_file_total":"The total size of all files must be less than %.1f MB","lang_error_file_type":"Only image file types are allowed to be uploaded","lang_text_loading":"Loading ..","lang_placeholder_country":"Country","lang_placeholder_state":"State","lang_text_country_first":"Please select a country first","lang_button_submit":"Add Comment","lang_button_preview":"Preview","lang_button_remove":"Remove","lang_button_processing":"Please Wait.."}
Comments (1)
{"commentics_url":"\/\/corvettestory.com\/commentics\/","page_id":80,"is_permalink":false,"lang_text_view":"View","lang_text_reply":"reply","lang_text_replies":"replies","lang_text_replying_to":"You are replying to","lang_title_cancel_reply":"Cancel this reply","lang_link_cancel":"[Cancel]","lang_text_privacy":"Privacy","lang_text_terms":"Terms","lang_text_agree":"[1] \/ [2]","lang_text_not_replying":"You are not replying to anyone","lang_button_loading":"Loading..","lang_button_more":"More Comments","lang_button_edit":"Edit Comment","lang_button_reply":"Add Reply","lang_link_reply":"Switch to full reply","lang_link_refresh":"[Refresh]","date_auto":true,"show_pagination":true,"quick_reply":false,"pagination_type":"multiple","timeago_suffixAgo":"ago","timeago_inPast":"a moment","timeago_seconds":"less than a minute","timeago_minute":"a minute","timeago_minutes":"%d minutes","timeago_hour":"an hour","timeago_hours":"%d hours","timeago_day":"a day","timeago_days":"%d days","timeago_month":"a month","timeago_months":"%d months","timeago_year":"a year","timeago_years":"%d years"}
{"commentics_url":"\/\/corvettestory.com\/commentics\/","auto_detect":false}
---