Classic Corvette Purchasing Tips
Part Four
About "Numbers Matching" . . .
If you have done even a minimal amount of shopping for a classic Corvette, you have come across the term "Matching Numbers". What this means, in the strictest sense, is that the major components that were on the car the day it left the factory are still on the car. All Corvettes had at least some parts numbered, and these include the body (VIN), engine, bellhousing, transmission, differential, alternator or generator, water pump, radiator, distributor, window glass, carburetor, early fuel injection and cylinder heads. Not all these items are relevant to all years.
A Corvette that is "numbers matching" will have the correct numbers on all applicable components as listed on the build sheet.
Since many classic Corvettes are 40 or more years old, there is a problem. Most of these parts required servicing over the years and they were usually replaced rather than rebuilt as that would be fastest and cheapest. Remember that "matching numbers" is only a recent concept; back when a mid-years Corvette was first owned and maintained the ideology wasn't a priority and most owners were not aware of it. Also keep in mind that "matching numbers" Corvettes command higher prices than those that do not have matching numbers.
So how is it that these days there are so many "matching numbers" Corvettes? It is because of a magic process called "renumbering". The tools to accomplish this are easy to come by.
This brings up some interesting questions. Consider the following scenario:
An engine block on a given Corvette is replaced with a new or remanufactured block.
The engine block removed from the Corvette (commonly known as a "core") is rebuilt, sold and installed in another car.
Years later, a subsequent owner of the Corvette "renumbers" the new engine block so that their car is "numbers matching".
Does this mean that it is possible that there are two cars out there with engine blocks that have the same number? The answer is yes.
You can see where the controversy is. This is also why many seasoned Corvette fans are a bit wary of the "numbers matching" claim. Despite all this, the marketplace does put an emphasis on the concept.
Our advice is to keep these realities in mind when your are shopping for a classic Corvette. And don't let a few digits on a water pump, be they correct or not, prevent you from enjoying the ride.
---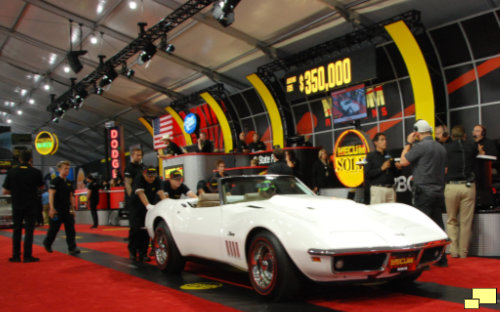 1969 Corvette C3 L88 at the August 2019 Mecum Monterey Auction; bid went to $335,000 but it did not sell.
Corvette Shopping at an auction
As
Mecum Auctions
' John Kraman points out that there's a lot to be said for purchasing a Corvette at an auction. Mecum sells ~20,000 cars a year and with that sort of volume, they've become good at it.
When working with an auction company, both the buyer and seller, as John points out, "are under the Mecum umbrella". For example, the financial aspect of the transaction is handled by Mecum. This is important as the amount of money changing hands is significant and since many buyers and sellers do not do this on a regular basis the process can be daunting. Mecum can also assist with details such as transportation, insurance and financing.
Mecum and the other auction companies do vet the cars prior to them hitting the auction block. This includes a thorough paperwork check so there are no issues with bad titles or VINs. They also do some basic checks of the vehicles and their observations are publicly available.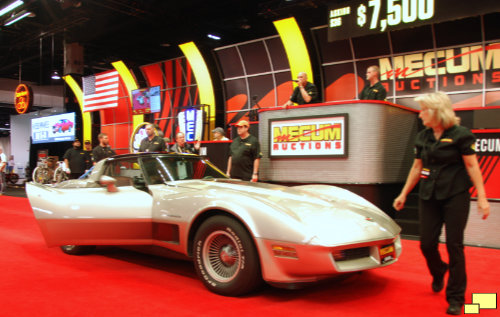 1982 Corvette C3 at the November 2015 Mecum Anaheim Auction; bid went to $7,500 but it did not sell.
While Mecum and the other auction companies do a good job of clearing the cars, the buyer needs to understand that they are sold without warranty. Classic Corvettes are wonderful cars but they do not come with the same assurances that a new car does. No matter what venue you buy a classic Corvette, be it auction, private party or dealer, you can count on it needing some after purchase work which is your responsibility.
Although a PPI (pre-purchase inspection) can be done, and you'll often see buyers going over a car in detail with flashlights, etc, there are limitations. Only Mecum employees are allowed to drive or even start up the engines; you cannot. But you'll often see prospective buyers observing the car as it is driven from its storage position to the auction block, asking the driver questions. Mecum can put buyers and sellers in touch with each other via Mecum, which allows the buyer to ask about specific details of the car.
Mecum charges the buyer a 10% fee; that's how they pay the bills and put on the awesome show that is a modern day auction. As a buyer you'll need to keep this in mind as you bid. It's easy to forget in the excitement of the moment. There is also a buyers fee that varies depending on the hammer price of the car. A contract is involved and as with any significant transaction, both the buyer and seller needs to be aware of the terms of that contract.
Corvette Specialty Dealers
Corvette Specialty dealers, such as Mike Vietro, aka
Corvette Mike
, can be an excellent way to buy a Corvette. If you are looking for a particular Corvette - say a certain year, color, options etc., they have the resources and connections to find exactly what you are looking for.
The dealers also often have shop facilities staffed with experienced mechanics that can handle necessary repairs and maintenance. This is important when it comes to classic Corvettes or any other car, as they all have "needs".
The Corvette buyer needs to remember that dealers need to make a profit on the transaction. For this reason, the prices can seem high compared to private party purchases. But the services they provide, including their ability to find the exact Corvette you are looking for, can make it worth the cost.
---
Note: Clicking on an image with this symbol (

) will lead to a larger image.
---
Comments
No comments yet. Be the first!
---