Supercharged Technology:
2009 Corvette ZR1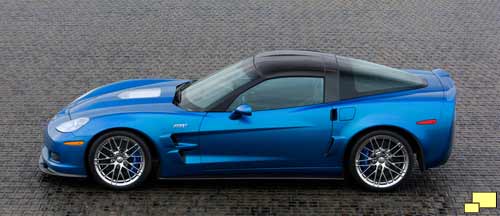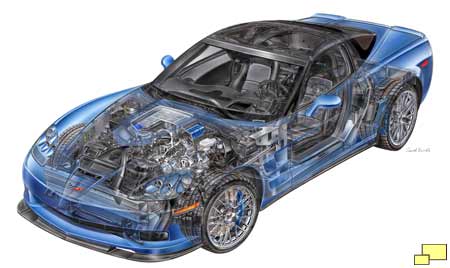 Above: ZR1 Supercharger, without (left) and with (right) the Behr
air-water
dual brick intercooler.
Below: Bottom view of the intercooler (left) and 11 rib supercharger drive belt (right). A toothed belt design was tested but deemed too noisy for production.
A fair amount of new technology went into the supercharger, starting with the packaging effort. Especially with V8 engines, finding room to locate a supercharger can be tough. Hiding it is often just not possible, which is why they are sometimes seen towering through a hole in the hood. That was not an option for GM, so a special low profile sixth generation unit with a case specifically designed for the ZR1 was employed. The engine is mounted an inch lower and a hood with a power bulge one inch higher allowed it all to fit.
---
---
Left: Four lobed supercharger rotors is a more efficient, quieter design that was developed specifically for the ZR1. Right: Close up of the mated lobes has a nice "arty" look. GM says that we can expect to see more supercharged small block engines in the future. When the engine is at the maximum 6,600 rpm, the blower, with a 2.3:1 pulley ratio, is spinning at 15,300 rpm! Boost maxes out at 10.5 psi.
Left: The ZR1 motor, which carries the LS9 designation, has seen 6,800 hours of dyno testing and has been validated to 150,000 miles. EPA fuel economy figures: 14 MPG Highway and 20 MPG City. The ZR1 is the first Corvette to be subjected to a gas guzzler tax: $1700.
Right: Official GM torque and power curve for the LS9, the most powerful engine ever from GM.
---
It's Official!
Chevrolet, on April 25, 2008, announced that they have completed SAE certification for the power rating of the ZR1's supercharged LS9 V-8 engine.
The results: 638 horsepower (476 kW) and 604 lb.-ft. of torque (819 Nm). This calculates out to 1.69 horsepower / cubic inch of displacement, a very impressive number that exceeded expectations.
---
Official Specifications:
LS9 6.2L SUPERCHARGED V-8

Displacement (cu in / cc):
376 / 6162
Bore & stroke (in / mm):
4.06 x 3.62 / 103.25 x 92
Block material:
cast aluminum
Cylinder head material:
A356-T6 rotocast aluminum
Valvetrain:
overhead valve, 2 valves per cylinder
Fuel delivery:
SFI (sequential fuel injection)
Compression ratio:
9.1:1
Horsepower / kW:
638 / 476 @ 6500 rpm
Torque (lb-ft / Nm):
604 / 819 @ 3800 rpm
Fuel shut-off (rpm):
6600
Recommended fuel:
premium required
Exhaust manifolds:
stainless steel
Main bearing caps:
forged steel
Crankshaft:
forged steel
Camshaft:
hollow steel; 0.555-in (14.1 mm) lift
Connecting rods:
forged titanium
Intake valves:
titanium
Exhaust valves:
hollow steel
Valve lifters:
hydraulic roller
Supercharger:
R2300, four-lobe "Roots" type (2.3L)
Additional features:
piston oil-spray cooling; direct-mount ignition coils; 11-rib accessory drive

---

Performance

(Official GM specs)

0 - 60 MPH:
3.4 seconds
0 - 100:
7.0 seconds
0 - 1/4 mile:
11.3 seconds (131 MPH)

---

Pricing

MSRP, including destination:
$130,300
Gas Guzzler Tax:
$1700
Option Package*:
$10,000
Chrome Wheels:
$2,000
* Includes: Power-adjustable, heated and leather-trimmed sport seats (embroidered with the ZR1 logo); side air bags; Bose premium audio system; navigation system; Bluetooth connectivity; power telescoping steering column; custom leather-wrapped interior available in four colors and more. The Chrome wheels are the only other available option on the ZR1.
Comparison between the Z06 (left) and the ZR1 instrument panel (right): The top right gauge, a voltmeter on the Z06, is a boost gauge on the ZR1. This is significant as forced induction, by either turbocharger or supercharger, has never been a feature of a factory produced Corvette. GM has built prototypes with turbocharging, which was a candidate for the C4 Corvette. Note that the Z06 has a 7,000 rpm redline, compared to the 6,500 rpm redline of the ZR1. Also the ZR1s speedometer extends to 220 mph, 20 mph over the Z06.

All Photographs Courtesy GM
Note: Clicking on an image with this symbol (

) will lead to a larger image.
---
Comments
No comments yet. Be the first!
---