Corvette ZR1 at Nürburgring
On June 27, 2008 Corvette development engineer (nice work, if you can get it) Jim Mero drove a bone stock, including ordinary pump fuel and Michelin Pilot Sport 2 tires, Corvette ZR1 around the Nürburgring race track in 7 minutes and 26.4 seconds for an average speed of 104.2 MPH. Safety equipment, including a roll cage and competition seats, were added.
Nürburgring, or "the 'Ring", as it is known to race car fans worldwide, is a race track in Nürburg, Germany. The Nordschleife configuration, which was where the ZR1 was timed, is 12.93 miles (22.81 km.) long with 73 turns.
Video, courtesy of gmnext.com, is a real treat. Top speed is 179 MPH and 5,300 RPM. Shifts maxed at 6,500 RPM.
---
---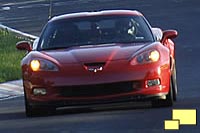 All Photographs Courtesy GM
Note: Clicking on an image with this symbol (

) will lead to a larger image.
---
---