2016 Corvette C7 Review and Road Test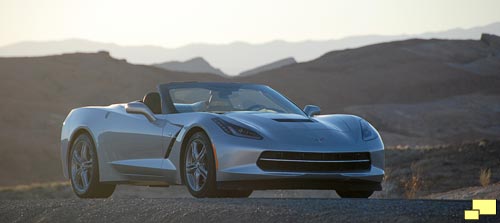 So here's a question for you philosophy majors. Is a car with, at the most, only a few minor faults a perfect car?
More on the subject later. We will start with styling, area number one where the C7 Corvette knocks it out of the park and across the river. There is, quite honestly, not a bad line on the car. Looking at it from any angle, from about waist high to say 10 feet and from all vantage points, the car cannot be faulted. Everybody has gotten over the "looks like a Camaro" tail lights verbage and now appreciates the trapezoidal design for the innovative genius that it is.

And it stil looks like a Corvette. That's important to the Corvette faithful. While that group has been famous for their loyalty, Corvette fandom had been slowly drifting away from the mainstream automobile enthusiast community. The C7, a styling and technological success from the start, has put the Corvette back on their radar.
---
---
Seventh Heaven?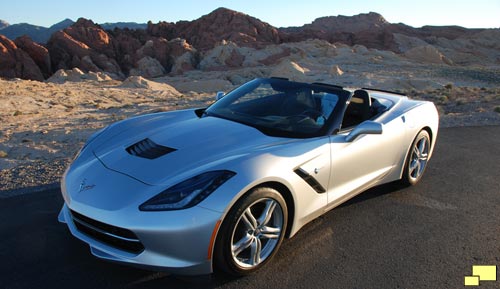 So what is it like to own, not just test drive, a 2016 Corvette C7 convertible? Superlative (defined as of the highest kind, quality, or order; surpassing all else or others; supreme; extreme:) is a good description. All aspects of the C7 Corvette - how it drives, looks, feels and makes you the driver feel are of the highest order. The styling has more than grown on us; after getting used to it for almost three years it could be the best looking Corvette yet. Other styling Corvette benchmarks such as the 1960 or the mid years (1963 thru '67) Corvettes are amazing to look at but the C7 convertible is up there with them. Similar praise applies to the interior. The seats are exemplary both in terms of comfort and assisting the performance oriented driver. Everything looks, feels and, dare we say, is right.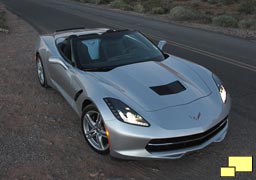 How good it looks is matched by its competency as a driving machine. The suspension is more performance than luxury oriented which is how we like it. The ride is firm but could not be described as harsh. Cornering is flat with less lean than most other performance oriented cars. Our experience with the C7 on the race track is that it is amazingly easy to go fast and this confidence extends to street driving. Much credit goes to the electric power steering which dials in the right amount of boost for all conditions. Criticisms of the steering being "GMish" are gone and we don't miss them.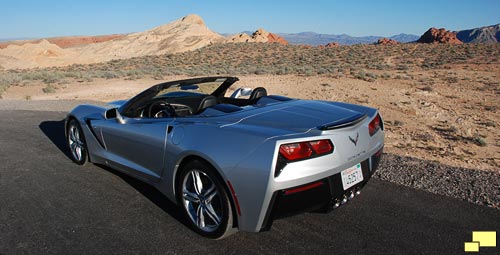 ---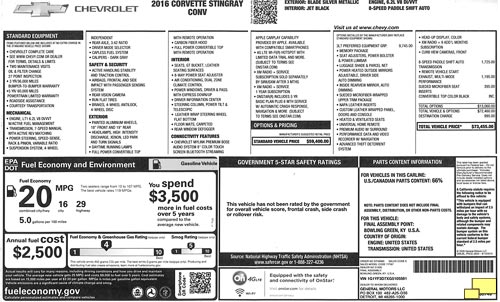 The window sticker for our test car. As a convertible it is more of a boulevard cruiser than a race track competitor with the automatic transmission and lacking the performance oriented Z51 package. Base price was $59,400.00; options included the 3LT Preferred Equipment Group ($9,745.00), Eight Speed Auto Transmission ($1,725.00), Multi-Mode Performance Exhaust ($1,195.00) and Sueded Microfiber Seat Inserts ($395.00) totaling $13,060.00. Destination charge is $995; the total MSRP: $73,445.00.
---
Note: Clicking on an image with this symbol (

) will lead to a larger image.
---
Follow @corvettestory