1953 Chevrolet Corvette EX-122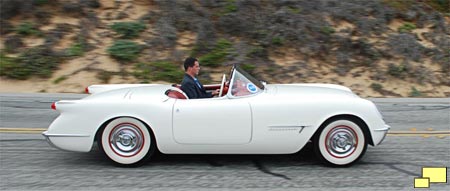 "What was the first?" is a question that applies to many things. For Corvettes, the closest to "the first" would have to be the EX-122.
The first Corvette would be difficult to pinpoint as there were a number of prototypes, some with sporty bodies, others just chassis that were used for development and evaluation. The EX-122 can however legitimately claim to be the oldest Corvette still in existence.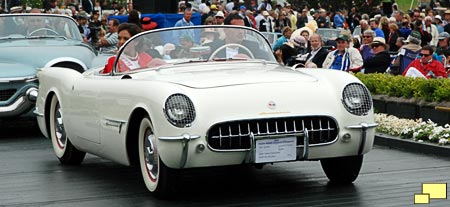 EX-122 was on display at the 2008
Pebble Beach Concours d'Elegance
as part of the GM
Motorama exhibit
. EX-122 was the serial number that denotes an experimentally built car. It was also the first Corvette that the automotive enthusiast world fell in love with, as it was the Corvette displayed at the famous Waldorf Astoria Motorama in New York City on Saturday, January 17th, 1953. Although initially conceived as a show car, the public reaction was such that GM had no choice but to put it into production.
---
Click here for Special Corvettes slideshow

---

Left: The EX-122 served to introduce the world to the Corvette on January 17, 1953 at the Waldorf-Astoria hotel in New York City. Right: Publicity photo is signed by famed GM designer Chuck Jordan: "For $3,500 its yours!".

---

Above: The special provenance of EX-122. Left: The funky "Corvette" script between the badge and the front grill. No other Corvette was similarly equipped. Middle: The downward accent of the spear on the side of the fender; all other '53 Corvettes had the accent pointed up. Right: The air intake on the top of the fender. Although 1956 and '57 Corvettes had a similar non-functional vent, they were not part of Corvette production until then.

---

Complementing the EX-122 is the last 1953 Corvette. It is owned by Jim and Evelyn Fasnacht of Houston Texas.

---

---

---

---

<!- Beginning of left side Nav. -->

Follow @corvettestory

Introducing the Vette Spotter app for the iPhone.

---

The Vette Spotter app can identify the year of any Corvette.

---

All years and generations are covered, from 1953 to 2014. Over 350 photographs and detailed text are included.

<!- End of left side Nav. -->