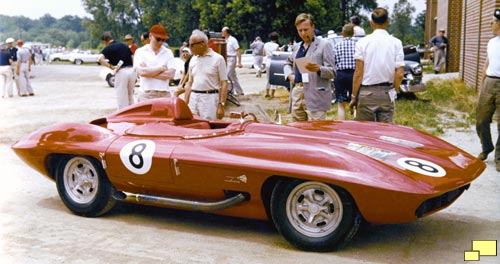 1959 Sting Ray Racer at Elkhart Lake racetrack, June 1959. Photo: GM Archives
The 1959 Sting Ray Racer was Bill Mitchell's (GM Vice President and head of Design Staff from 1958 to 1976) brainchild. During a 1957 visit to the Turin Auto Show, his keen eye was drawn to a low, aggressively streamlined form draped over a miniature racing car. It was a Fiat, heavily worked on by famed tuner Abarth and styled by coachbuilder Pininfarina. It had a very low wind cheating shape known as the "streamliner" theme with four distinctive blips above each wheel which allowed the rest of the body surface to be very low.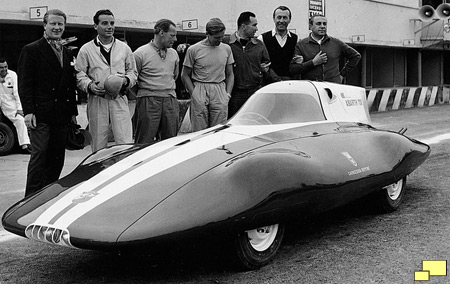 That mercurial moment - centered on the blips above the wheels - would lead to the creation of the Sting Ray Racer and forever change Corvette history.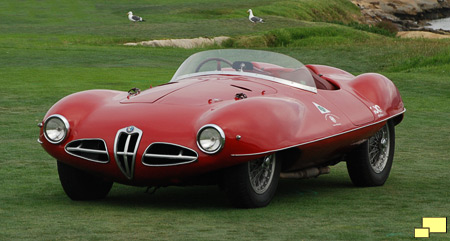 Above: 1952 Alfa Romeo Disco Volante, which Bill Mitchell also admired. Notice the belt line around the entire car separating the lower and upper halfs which would become an important styling element of the 1959 Sting Ray Racer and the C2 Corvette.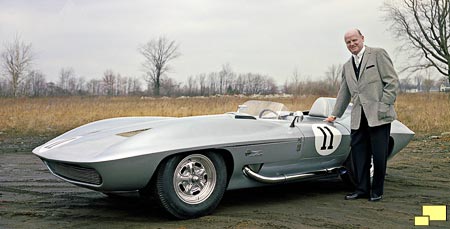 In 1957 the AMA (Automobile Manufacturer's Association) instituted a ban on everything related to "performance" which included all competition activities and extended to advertising in which all references to power or speed were forbidden. While under the guise of "public safety" the real issue was economics as the bean counters felt spiraling competition costs were too much of a drag on the bottom line. The new rule was strictly enforced, with punishment possibilities including losing your job. Still there were many brave and dedicated people who devised end runs around the ban, including Bill Mitchell and members of his staff.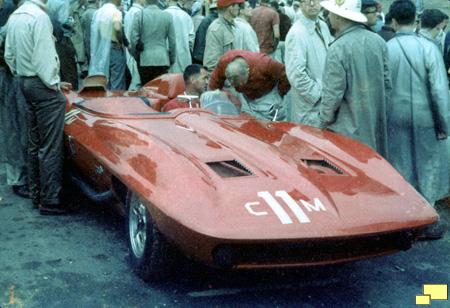 Dr. Dick Thompson, aka "The Flying Dentist" in the 1959 Stingray Racer at Marlboro Motor Raceway, c. June 1959.
---
Click here for Special Corvettes slideshow

---

To get around an industry wide racing ban, Bill Mitchell (above, with the Sting Ray Racer and his 1961 Corvette Mako Shark) purchased a mule (industry term for a prototype used for testing and development) chassis and proceeded with a private racing endeavor. A small crew of designers that was part of Research Studio B which was under the radar of the higher level GM executives was responsible for transforming Mitchell's ideas into reality. Since the car was owned by Bill, it carried no GM, Chevrolet or Corvette labels until it was purchased by GM.

The wheelbase for the Sting Ray Racer was 92 inches, 10 inches shorter than the standard 1959 Corvette. Overall body length was 175 inches, only a bit shorter than the 177.5 inch '59 Corvette. Weight was around 2,100 lbs., about 1,000 lbs. less than the 1959 Corvette. The frame was not related to the stock Corvette and consisted of steel tubing. The front suspension was a short / long arm and the rear was a deDion design, which can be thought of as halfway between a straight axle (as seen on 1953 to '62 Corvettes) and an independent arrangement, as on 1963 and later 'vettes. The differential was a quick change Halibrand unit. Originally the braking was via finned drums which proved themselves a serious competition disadvantage. Four wheel disk brakes were eventually fitted. The suspension featured coil springs on all four corners.

The body skin was made of comparatively thin fiberglass backed up with aluminum reinforcement which was eventually replaced with balsa wood. The engine compartment featured a mechanical fuel injected small block with aluminum radiator and high compression cylinder heads.

As originally built by Bill Mitchell, the 1959 Sting Ray Racer did not carry any GM, Chevrolet or Corvette identification. After it was purchased by GM, it was painted silver and featured at the 1961 Chicago Auto Show. A passenger windshield was also added. The insignia, the same as used on 1963 Corvettes, was added in 1961.

---

The evolution of the 1959 Sting Ray Racer to the 1963 Chevrolet Corvette Sting Ray (below) is evident.

---

---

Note: Clicking on an image with this symbol (

) will lead to a larger image.

---

Comments

No comments yet. Be the first!

---

<!- Beginning of left side Nav. -->

Follow @corvettestory

Introducing the Vette Spotter app for the iPhone.

---

The Vette Spotter app can identify the year of any Corvette.

---

All years and generations are covered, from 1953 to 2014. Over 350 photographs and detailed text are included.

<!- End of left side Nav. -->