1959 Sting Ray Racer Part 2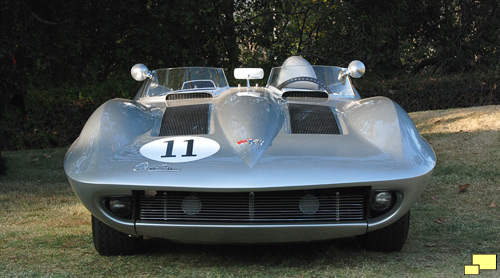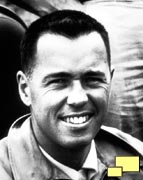 The Sting Ray Racer did more than just look great; it also had a very successful racing career. It finished fourth in its first race. Driven mostly by Dr. Dick Thompson ("The Flying Dentist", right) it dominated the Sports Car Club of America C-Modified class in 1960. The Sting Ray Racer had the championship wrapped up only half way through the season. In ten races, Dr. Thompson had more than twice the points of the nearest competitor.
Following it's show circuit career, Bill Mitchell then used it as his personal car, which was his typical way of doing business. It also had a cameo roll in the Elvis Presley movie, "Viva Las Vegas".
Details are special throughout the Sting Ray Racer. Below right, wheels are cast magnesium.
---
Click here for Special Corvettes slideshow

---

Above: Early publicity for the 1959 Sting Ray Racer, which was sometimes known as XP-87.

1959 Sting Ray Racer at the Petersen Museum, part of a Precious Metals exhibit in 2016.

Hood vents also appeared on the 1963 Corvette. While they were functional on the 1959 Sting Ray Racer, they were for style only on the stock 1963 Corvette (right).

---

---

Bill Mitchell discusses his 1959 Sting Ray Racer with Italian designer Battista Pinin Farina, founder of the Pininfarina coachbuilding company.

---

---

Archival photographs from "back in the day" are courtesy of the Chuck Jordan Archives. The Sting Ray Racer evolved constantly during its early career, first painted red and then silver. Engines and chassis items (such as brakes) also changed. Note for example the more minimal hood louvers.

The 1959 Sting Ray Racer continues to attract fans as seen at the 2013 Rolex Monterey Motorsports Reunion. The car has been used extensively by GM as a promotional vehicle, a task for which it is eminently qualified.

---

---

---

<!- Beginning of left side Nav. -->

Follow @corvettestory

Introducing the Vette Spotter app for the iPhone.

---

The Vette Spotter app can identify the year of any Corvette.

---

All years and generations are covered, from 1953 to 2014. Over 350 photographs and detailed text are included.

<!- End of left side Nav. -->