Getting Better
2005 Corvette C6 Interior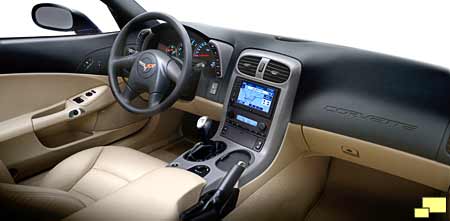 Interior updates addressed complaints that the C5 cockpit was too dark ("Looks like a cave" commented one observer) and monotone which resulted in an induced case of claustrophobia. The interior was lightened up some and real aluminum accents were added to the inside door opener button (below, middle) and the shifter (below right). The result was more user friendly controls and a more open feeling, even though the passenger area was the same volume. The four spoke steering wheel was for 2005 only; 2006 and later C6 Corvettes got three spoke steering wheels.
---
Right: Electronics took a giant leap in the C6 as a DVD based navigation system, OnStar and XM satellite radio became available as factory installed options.
Middle: A Corvette first: heated seats were available as an option.
Right: The engine start button. Keys as they usually function were eliminated in the 2005 Corvette. A Keyless Access system required only that one had possession of the access transmitter to open a locked door and start the car. The doors were opened from the outside by pressing a switch located behind the door handle or from the inside by pressing another button on the inside door panel. A small conventional key was included for glovebox and center console entry as well as emergency access. A similar system was used in the Cadillac XLR.
---
2005 Corvette For Sale

2005 Chevy Corvette C6 (navi)
Price: $27,000 obo
Exterior: Black
Interior: Black
Miles: 69,000
Location: Fairfax, VA (Washington DC)

Click Here for more info

2005 Chevrolet Corvette This is the new body style C6 - Black on Black with 400 HP. This car is 100% stock and has every option offered by the dealership that year (more)
---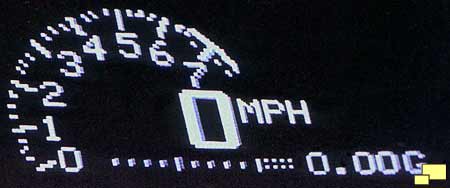 The HUD (Heads Up Display) was part of the 1SB Preferred Equipment Group and included a nice feature: lateral G-forces were now displayed, just the thing to evaluate new tires and suspension settings.
---
Corvette C6 Targa Roof: The Practical Convertible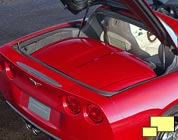 The ever popular targa roof was part of the C6 Corvette and was 14.7% larger than with the C5. Removal and storage was a reasonable effort for one person although it does reduce luggage space.
---
Note: Clicking on an image with this symbol (

) will lead to a larger image.
---
Comments
No comments yet. Be the first!
---