2005 Corvette C6
LS2 Engine Horsepower Upgrades
2005 Corvette C6 Engine Specs

The engine evolved, with displacement up by 18 cu in. to 364 cu. in. (6.0 liters) via a bore increase. Other engine changes, besides the designation update to LS2, included a compression ratio of 10.9:1 (was 10.1:1), more cam lift, better breathing on both the intake and exhaust and a redline (right) of 6,500 RPM - 500 RPM more than last years' C5 LS1. Output was 400 horsepower and 400 lb.-ft. of torque - both nice, evenly matched round numbers achieved without subjecting buyers to a gas guzzler tax.
---
---
2005 Corvette For Sale

Triple Black Corvette C'Vtble
Price: $32,995 obo
Exterior: Black
Interior: Black
Miles: 28,500
Location: Marietta, Georgia

Click Here for more info

TRIPLE BLACK CONVERTIBLE!! The woods are NOT just full of this particular combination--the term "gorgeous" is really an underkill!!! The 2005 year was the first of the C6 design and the first time Corvette had departed from the "hidden" headlamp look (more)
---
---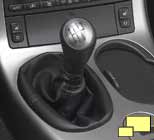 The shifting characteristics were improved on the Tremec T-56 six speed manual transmission. The throws on the shifter are shorter (6.56" / 166.68 mm.) and had an excellent direct feel to them. The clutch effort is reasonable, especially for a high horsepower engine.
The skip shift economy mode, a "tradition" dating back to the first C4 manual tranny was part of the C6 six speed. When driven moderately, shifting out of first caused fourth to be selected rather than second. Aggressive driving resulted in normal gear selection. The EPA ratings were MPG 18 mpg city, 28 mpg highway and 21 mpg combined.
---
Note: Clicking on an image with this symbol (

) will lead to a larger image.
---
Comments
No comments yet. Be the first!
---