1963 Corvette Stingray Z06


The AMA (Automobile Manufacturers Association) had a corporate racing ban in effect in 1963. Corvette engineers made an end run around the ban by offering the Z06 option. Although technically available to anyone, in reality it was intended for racers. The option included:
Fuel injected 327 cubic inch motor
Heavy duty suspension, including competition shock absorbers, stiffer springs, and thicker (.94") front roll bar
Aluminum knock-off wheels
Special brakes with upgraded cooling
36.5 gallon fiberglass fuel tank
Positraction differential
A total of 199 1963 Corvettes featured the Z06 option. Initially all were coupes, which were better suited for racing. Indications are that only one Z06 convertible was made which did not include the 36 gallon fuel tank. The price of $1814.45 was high - almost half the price of the entire Corvette. Changes in the option occurred during the production run. At one time the larger fuel tank and knock-off wheels were dropped, lowering the price to $1293.95 and accommodating buyers who wanted to use the car on the street and did not want to sacrifice luggage space.
---
---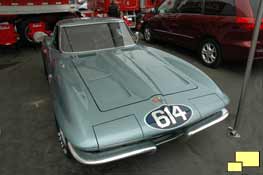 #614 was one of the first Corvettes sold with the Z06 option. It was delivered from the St. Louis factory on a Monday and with 2500 miles on the clock and only one day of preparation, was racing the next Saturday at Riverside CA. It ran in the SCCA Xp and A Production classes in 1963. In 1964 it was raced in the C Modified class. It also saw success in the Southern California Timing Association events and was clocked at 200 mph at Bonneville. It was restored by Vic Edelbrock in 1987 and currently enjoys a retirement competing in vintage racing events.
---
1963 Corvette StingRay For Sale

1963 Corvette Convertible 4spd
Price: $0 obo (Trades Considered)
Exterior: red
Interior: black
Miles: 0
Location: Martinsburg

Click Here for more info

1963 Red Corvette This 1963 Corvette has had a full frame off restoration. The car comes with pictures of the restoration, the car is in need of a few minor things to finish the restoration (more)
---

Note: Clicking on an image with this symbol (

) will lead to a larger image.
---
Add Comment
{"commentics_url":"\/\/corvettestory.com\/commentics\/","page_id":2,"enabled_country":true,"country_id":0,"enabled_state":true,"state_id":0,"enabled_upload":false,"maximum_upload_amount":3,"maximum_upload_size":5,"maximum_upload_total":5,"captcha":true,"captcha_url":"http:\/\/corvettestory.com\/commentics\/frontend\/index.php?route=main\/form\/captcha&page_id=2","cmtx_wait_for_comment":"cmtx_wait_for_comment","lang_error_file_num":"A maximum of %d files are allowed to be uploaded","lang_error_file_size":"Please upload files no bigger than %.1f MB in size","lang_error_file_total":"The total size of all files must be less than %.1f MB","lang_error_file_type":"Only image file types are allowed to be uploaded","lang_text_loading":"Loading ..","lang_placeholder_country":"Country","lang_placeholder_state":"State","lang_text_country_first":"Please select a country first","lang_button_submit":"Add Comment","lang_button_preview":"Preview","lang_button_remove":"Remove","lang_button_processing":"Please Wait.."}
Comments (3)
{"commentics_url":"\/\/corvettestory.com\/commentics\/","page_id":2,"is_permalink":false,"lang_text_view":"View","lang_text_reply":"reply","lang_text_replies":"replies","lang_text_replying_to":"You are replying to","lang_title_cancel_reply":"Cancel this reply","lang_link_cancel":"[Cancel]","lang_text_privacy":"Privacy","lang_text_terms":"Terms","lang_text_agree":"[1] \/ [2]","lang_text_not_replying":"You are not replying to anyone","lang_button_loading":"Loading..","lang_button_more":"More Comments","lang_button_edit":"Edit Comment","lang_button_reply":"Add Reply","lang_link_reply":"Switch to full reply","lang_link_refresh":"[Refresh]","date_auto":true,"show_pagination":true,"quick_reply":false,"pagination_type":"multiple","timeago_suffixAgo":"ago","timeago_inPast":"a moment","timeago_seconds":"less than a minute","timeago_minute":"a minute","timeago_minutes":"%d minutes","timeago_hour":"an hour","timeago_hours":"%d hours","timeago_day":"a day","timeago_days":"%d days","timeago_month":"a month","timeago_months":"%d months","timeago_year":"a year","timeago_years":"%d years"}
{"commentics_url":"\/\/corvettestory.com\/commentics\/","auto_detect":false}
---