The Early Days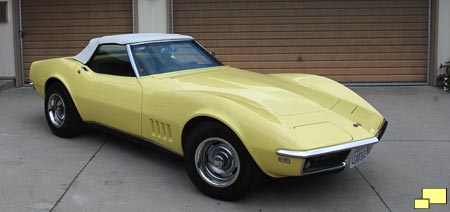 For the next two months "Safari" (its new nickname) became my daily driver. I have a 40 minute commute to work in Valencia which usually did not involve traffic. This was a getting to know each other phase.
The new (for me) position of the ignition key took some getting used to. It is located on the dash to the upper right of the tachometer. I was constantly going to the steering column and then having to remind myself that no, this car is different and the difference made it special. The steering column ignition mounting on modern cars was a federal requirement designed to reduce auto theft. That's a noble effort which is hard to argue with but it is nice to know that I was starting my car the way the designers wanted it to be started, not the way some insurance lobbyist thought was best.
Shifting was a new experience. The five speed manuals that I had been used to for the last 36 years became more of a habit than I had realized. Sometimes while enthusiastically running through the Corvette's four gears, while getting on a freeway for example, I would try to shift it into a non-existent fifth gear.
The manual steering was not the big deal I thought it might be. I had been driving a manual steered 1990 Mazda Miata for the last 21 years, which probably helped.
Driving a car as distinctive as a 1968 Corvette is different. People, mostly male, (unfortunately) have two questions: "What year is it?" and "What's the engine?". You also soon realize that if you plan on doing something you're not supposed to do, do not do it in a vintage Corvette. Acquaintances are always mentioning "I saw you at the corner of X and Y on Tuesday afternoon".
It took me about two weeks to become comfortable with the car. Comfortable as in a new pair of shoes, which, when first owned, take some getting used to. During that time I was wondering what surprises there might be. I was lucky in that respect; no breakdowns occurred and there wasn't an "OH NO!" moment. All proceeded as well as could be expected. I had purchased the right car.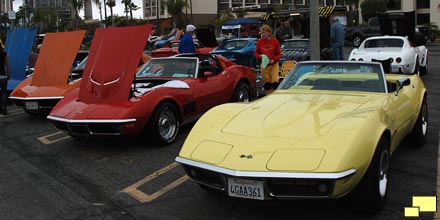 The first car show for "Safari" was June 11, 2011 at Rosies Diner, Redondo Beach CA. It was sponsored by
The Vette Set
club. This was something new: participating in a Corvette show as an owner, not a spectator.

Appearance at
Super Car Sunday
, a regular Sunday morning gathering in Woodland Hills CA. Surrounded by the blue oval competition, Safari was confident.
Note: Clicking on an image with this symbol (

) will lead to a larger image.
---
Add Comment
{"commentics_url":"\/\/corvettestory.com\/commentics\/","page_id":538,"enabled_country":true,"country_id":0,"enabled_state":true,"state_id":0,"enabled_upload":false,"maximum_upload_amount":3,"maximum_upload_size":5,"maximum_upload_total":5,"captcha":true,"captcha_url":"http:\/\/corvettestory.com\/commentics\/frontend\/index.php?route=main\/form\/captcha&page_id=538","cmtx_wait_for_comment":"cmtx_wait_for_comment","lang_error_file_num":"A maximum of %d files are allowed to be uploaded","lang_error_file_size":"Please upload files no bigger than %.1f MB in size","lang_error_file_total":"The total size of all files must be less than %.1f MB","lang_error_file_type":"Only image file types are allowed to be uploaded","lang_text_loading":"Loading ..","lang_placeholder_country":"Country","lang_placeholder_state":"State","lang_text_country_first":"Please select a country first","lang_button_submit":"Add Comment","lang_button_preview":"Preview","lang_button_remove":"Remove","lang_button_processing":"Please Wait.."}
Comments (3)
{"commentics_url":"\/\/corvettestory.com\/commentics\/","page_id":538,"is_permalink":false,"lang_text_view":"View","lang_text_reply":"reply","lang_text_replies":"replies","lang_text_replying_to":"You are replying to","lang_title_cancel_reply":"Cancel this reply","lang_link_cancel":"[Cancel]","lang_text_privacy":"Privacy","lang_text_terms":"Terms","lang_text_agree":"[1] \/ [2]","lang_text_not_replying":"You are not replying to anyone","lang_button_loading":"Loading..","lang_button_more":"More Comments","lang_button_edit":"Edit Comment","lang_button_reply":"Add Reply","lang_link_reply":"Switch to full reply","lang_link_refresh":"[Refresh]","date_auto":true,"show_pagination":true,"quick_reply":false,"pagination_type":"multiple","timeago_suffixAgo":"ago","timeago_inPast":"a moment","timeago_seconds":"less than a minute","timeago_minute":"a minute","timeago_minutes":"%d minutes","timeago_hour":"an hour","timeago_hours":"%d hours","timeago_day":"a day","timeago_days":"%d days","timeago_month":"a month","timeago_months":"%d months","timeago_year":"a year","timeago_years":"%d years"}
{"commentics_url":"\/\/corvettestory.com\/commentics\/","auto_detect":false}
---