---
Some That Got Away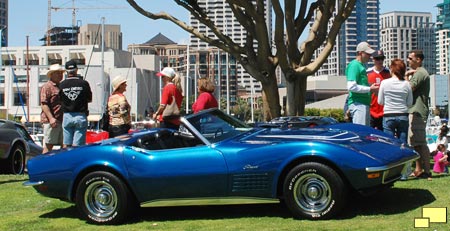 I saw this candidate at the Plastic Fantastic Corvette show in San Diego. It was a 1970 Mulsanne Blue with the very desirable LT-1 engine, a solid lifter version of the small block that revved higher (to 6,500 RPM) and made more horsepower. It was a driver and in rough condition here and there with numerous scratches, etc. The speedometer had been stuck at 60,000 miles since before the current owner purchased it six years ago and there was no previous documentation. It was in good enough condition for me to consider it and it did have that wonderful LT-1 engine. There was no for sale sign but I asked the owner if it was available. He said that since he had a daughter going to college, he was thinking of selling it. He had another Corvette so it wouldn't be like he was giving up 'vette ownership.
We discussed the car in some detail and when we parted I gave him my contact info and he agreed to get in touch should he decide to sell. I never did hear from him; probably just as well as the price may have been just out of my reach.
---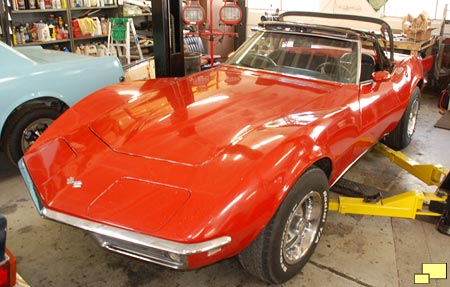 This 1968 convertible was advertised by a Los Angeles dealer as needing a paint job and some TLC for only $16,500, including a hardtop. Upon visiting, I discovered it needed a paint job and a lot more than some TLC. This was your basic unloved and neglected Corvette, always a sad thing to see. It was put on eBay and bid to $11,500, which, if you ask me, the owner could have accepted without regrets.
---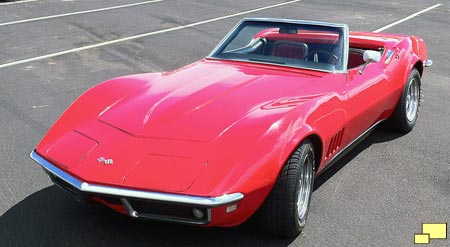 This candidate, also a 1968, had a very strong motor, much faster than others I had tested. Although the correct engine was not installed, it did come with the car. But the price ($26,000) was high considering the rough condition of the body and interior.
Note: Clicking on an image with this symbol (

) will lead to a larger image.
---
Add Comment
{"commentics_url":"\/\/corvettestory.com\/commentics\/","page_id":54,"enabled_country":true,"country_id":0,"enabled_state":true,"state_id":0,"enabled_upload":false,"maximum_upload_amount":3,"maximum_upload_size":5,"maximum_upload_total":5,"captcha":true,"captcha_url":"http:\/\/corvettestory.com\/commentics\/frontend\/index.php?route=main\/form\/captcha&page_id=54","cmtx_wait_for_comment":"cmtx_wait_for_comment","lang_error_file_num":"A maximum of %d files are allowed to be uploaded","lang_error_file_size":"Please upload files no bigger than %.1f MB in size","lang_error_file_total":"The total size of all files must be less than %.1f MB","lang_error_file_type":"Only image file types are allowed to be uploaded","lang_text_loading":"Loading ..","lang_placeholder_country":"Country","lang_placeholder_state":"State","lang_text_country_first":"Please select a country first","lang_button_submit":"Add Comment","lang_button_preview":"Preview","lang_button_remove":"Remove","lang_button_processing":"Please Wait.."}
Comments (3)
{"commentics_url":"\/\/corvettestory.com\/commentics\/","page_id":54,"is_permalink":false,"lang_text_view":"View","lang_text_reply":"reply","lang_text_replies":"replies","lang_text_replying_to":"You are replying to","lang_title_cancel_reply":"Cancel this reply","lang_link_cancel":"[Cancel]","lang_text_privacy":"Privacy","lang_text_terms":"Terms","lang_text_agree":"[1] \/ [2]","lang_text_not_replying":"You are not replying to anyone","lang_button_loading":"Loading..","lang_button_more":"More Comments","lang_button_edit":"Edit Comment","lang_button_reply":"Add Reply","lang_link_reply":"Switch to full reply","lang_link_refresh":"[Refresh]","date_auto":true,"show_pagination":true,"quick_reply":false,"pagination_type":"multiple","timeago_suffixAgo":"ago","timeago_inPast":"a moment","timeago_seconds":"less than a minute","timeago_minute":"a minute","timeago_minutes":"%d minutes","timeago_hour":"an hour","timeago_hours":"%d hours","timeago_day":"a day","timeago_days":"%d days","timeago_month":"a month","timeago_months":"%d months","timeago_year":"a year","timeago_years":"%d years"}
{"commentics_url":"\/\/corvettestory.com\/commentics\/","auto_detect":false}
---