Mechanic's Review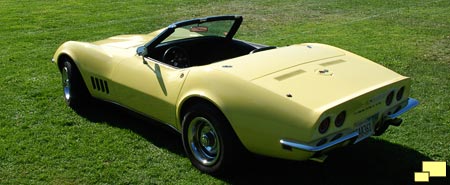 About a week after the purchase, I had a PPI performed. PPI normally is short for "Pre Purchase Inspection" but in this case it stands for "Post Purchase Inspection". The original plan would be to have a knowledgeable Corvette Mechanic look it over before money was exchanged. I elected to bypass this normally important procedure in favor of securing what I could tell was a good deal. I did not want to snooze and lose.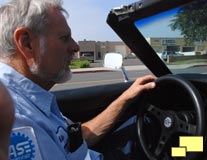 I took it to Mike Bradley of Mike Bradley Automotive, who had been recommended by another satisfied 1968 Corvette customer. I asked him to take it for a test drive and then to look it over carefully and see what could / should be done.
Mike test drove it and confirmed what I had suspected: This was a good Corvette for a fair price. He thought it ran well with the carburetion and ignition in good working order.
A top priority was to get the odometer repaired, so I would be able to track the fuel economy. Some "while your at it" reasoning resulted in having the tachometer, which is like the speedometer in that both are mechanical, rebuilt. The light switch was also replaced because the instrument panel dimmer was not working properly.
---
Above left: Mike Bradley reported that the carburetor was not original, as evidenced by the EGR port which was not found on the 1968 Quadrajet carbs. Above right: Mike said that to him, the surface rust indicated that this Corvette had spent some time outside California. Fortunately the areas that mattered, such as the frame rails, birdcage and radiator support areas, were rust free.
The brakes did not feel right, so the decision was made to replace the rear calipers, which looked to be original, with rebuilt units. The front calipers had been recently replaced. Mike also noticed a carburetor leak. This was confirmed later when I hadn't driven the car for a few days. Starting required about 20 seconds of engine cranking because the carburetor fuel bowl was emptied due to the leak.
Note: Clicking on an image with this symbol (

) will lead to a larger image.
---
Add Comment
{"commentics_url":"\/\/corvettestory.com\/commentics\/","page_id":538,"enabled_country":true,"country_id":0,"enabled_state":true,"state_id":0,"enabled_upload":false,"maximum_upload_amount":3,"maximum_upload_size":5,"maximum_upload_total":5,"captcha":true,"captcha_url":"http:\/\/corvettestory.com\/commentics\/frontend\/index.php?route=main\/form\/captcha&page_id=538","cmtx_wait_for_comment":"cmtx_wait_for_comment","lang_error_file_num":"A maximum of %d files are allowed to be uploaded","lang_error_file_size":"Please upload files no bigger than %.1f MB in size","lang_error_file_total":"The total size of all files must be less than %.1f MB","lang_error_file_type":"Only image file types are allowed to be uploaded","lang_text_loading":"Loading ..","lang_placeholder_country":"Country","lang_placeholder_state":"State","lang_text_country_first":"Please select a country first","lang_button_submit":"Add Comment","lang_button_preview":"Preview","lang_button_remove":"Remove","lang_button_processing":"Please Wait.."}
Comments (3)
{"commentics_url":"\/\/corvettestory.com\/commentics\/","page_id":538,"is_permalink":false,"lang_text_view":"View","lang_text_reply":"reply","lang_text_replies":"replies","lang_text_replying_to":"You are replying to","lang_title_cancel_reply":"Cancel this reply","lang_link_cancel":"[Cancel]","lang_text_privacy":"Privacy","lang_text_terms":"Terms","lang_text_agree":"[1] \/ [2]","lang_text_not_replying":"You are not replying to anyone","lang_button_loading":"Loading..","lang_button_more":"More Comments","lang_button_edit":"Edit Comment","lang_button_reply":"Add Reply","lang_link_reply":"Switch to full reply","lang_link_refresh":"[Refresh]","date_auto":true,"show_pagination":true,"quick_reply":false,"pagination_type":"multiple","timeago_suffixAgo":"ago","timeago_inPast":"a moment","timeago_seconds":"less than a minute","timeago_minute":"a minute","timeago_minutes":"%d minutes","timeago_hour":"an hour","timeago_hours":"%d hours","timeago_day":"a day","timeago_days":"%d days","timeago_month":"a month","timeago_months":"%d months","timeago_year":"a year","timeago_years":"%d years"}
{"commentics_url":"\/\/corvettestory.com\/commentics\/","auto_detect":false}
---