Corvette C7 Z51 Suspension
For the C7 generation, the Corvette performance "must have" option can be summed up in one word: Z51.
The Z51 option story began in 1984 when it was first available for $600.20. At that time it included upgraded springs front and rear, sway bars, shock absorbers, bushings, a quicker steering ratio and wider rear wheels.
While the 1984 rendition of the Z51 package had its merits, they were best suited for the race track. At the time Chevrolet was intent on being able to claim high g-force cornering statistics and to achieve it they equipped the Z51 with heavy duty components that resulted in a ride too harsh for regular street driving.
As the Corvette years went on, the Z51 option was refined to offer better road manners. It was not available for the 1991 thru 1995 and 2010 thru 2013 model years.
For 2014 RPO Z51 is available on all trim level Corvettes with automatic or manual transmissions.
Included in the Z51 package:
45mm piston Bilstein shock absorbers
eLSD (electronic Limited Slip Differential)
Larger Brembo brakes with slotted rotors
Dry sump oil system
One inch diameter larger 19 x 8.5-inch front and 20 x 10-inch rear forged aluminum wheels
Differential and transmission oil coolers.
Unique rear spoiler
Additional air deflectors
Z51 adds $2,800 to the price of a 2014 Corvette, making it the performance bargain of the century. The option was very popular amongst early purchasers of the Corvette C7; word was that if you wanted your Corvette to be Z51 equipped, the waiting list got even longer. Makes one wonder: did GM leave some money on the table?
Update: Apparently GM has been "leaving some money on the table" with regards to Z51 pricing. In March 2014 the RPO Z51 price was raised to $4,000, a $1,200 increase. By all accounts demand for the option was still high.
---
---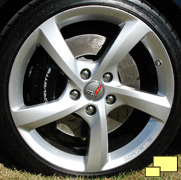 Identifying a Z51 equipped 2014 Corvette is easy as the wheels are a distinctive 10 spoke design. Above left is the Z51 wheel in black, middle is silver. Above right is the standard (non Z51) wheel; note the lack of slots in the rotor which are exclusive to the Z51 brakes. Right: The Z51 convertible gets its own wheel design. Z51 wheels are 19 inch diamater (front) and 20 inch diameter (rear) forged aluminum; non Z51 wheels are one inch smaller.
---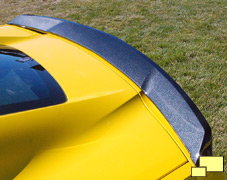 The Z51 option also features a full width rear spoiler for more rear downforce at high speeds.
---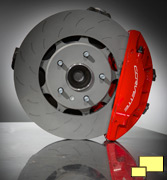 The Z51 offers upgraded Brembo brakes, slightly larger in the front with a 15.6 inch rotor vs a 12.6 inch rotor. Also for the Z51 brakes: a slotted Sanluis Rassini two piece rotor with a ductile iron hat and gray iron brake plates which offers a critical unsprung mass reduction. Red caliper shown is optional; yellow is also available with black standard.
---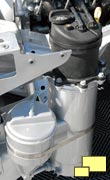 Leading the case for the Z51 option as an amazing bargain is the Z52 dry sump system. The purpose of a dry sump is to prevent oil starvation during sustained high speed cornering where a wet sump may not be able to pick up oil, resulting in engine failure. It is standard faire in race cars but in the street car category is typically only found in high priced exotics.
---
---
Note: Clicking on an image with this symbol (

) will lead to a larger image.
---
Comments
No comments yet. Be the first!
---