Corvette C7 Performance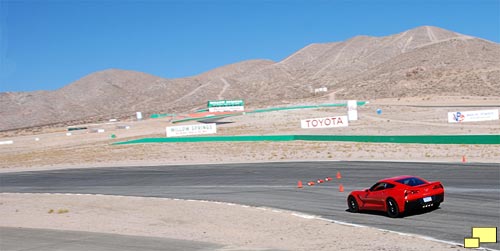 Going fast is what a Corvette is all about. It's always been that way and if the Corvette faithful have anything to say about it, it always will be.
Automotive technology continues to find ways to add more speed; street legal and fresh from the dealer cars are now setting lap times at race courses that not long ago were achievable only with purpose built race cars.
Most noticeable about the C7 on a racetrack is how easy it is to drive it fast. This is not to say that the C6 was difficult - it wasn't. Getting that certain line right is possible with little drama, as if just thinking about it is all you need to do. Credit the new electrical power steering and its ability to deliver just the right amount of boost under varying conditions, not a compromise as standard power steering is forced to do.

The effect is almost as if you are driving a much smaller and lighter car. If we didn't know better, we could have been easily convinced that we were driving a 2500 pound car instead of one weighing 3,400 pounds. There seems to be no end to the grip available, so any concern that the more narrow tires are a mistake is soon forgotten.
---
---
Tire size, P245/40R18 front and P285/35R19 rear (P245/35R19 front and P285/30R20 rear for RPO Z51) was greeted with some skepticism from the performance minded Corvette faithful. The 2013 Grand Sport offered larger tires with 275/35-18 front and 325/30-19 on the rear. GMs own cornering acceleration had the two cars basically equal with the 2013 Z06 generating 1.04g and the 2014 C7 garnering 1.03g. As is often the case, tire size and g-force statistics do not tell the entire story. The C7 feels more nimble than the 2013 model; steering response is much quicker with the narrower tires. In all cases the C7 has been able to achieve superior lap times over its younger cousin. Another case where less (tire size) is more (faster).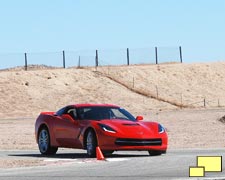 Corvette C7 development engineer and track junkie Jim Mero says that the C7 chassis was tuned for just a tiny amount of understeer, which is how virtually all production cars are set up - many offer lots of understeer. As Jim points out, getting the C7 to go into oversteer mode is easy. Our Streets of Willow Springs track time caused us to rate it as neutral.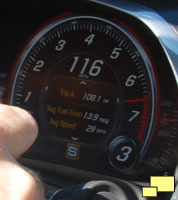 Corvette C7 at redline (6500 RPM) in third gear, seven speed manual transmission. Speeds in other gears at redline: 1st: 51 MPH; second: 73 MPH; fourth: 151 MPH; fifth: 185 MPH. 185 MPH in gear five is the top speed for the 2014 Corvette; gears six and seven are for fuel economy and relaxed high speed cruising.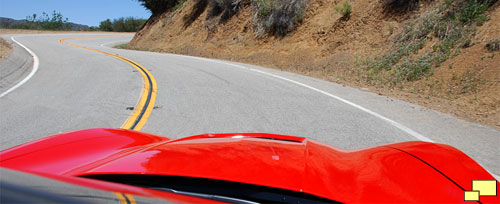 Driving the 2014 Corvette through "the twisties" is one of life's great automotive pleasures. The overall handling, especially the steering, gives you the feel and confidence usually found in much lighter cars. To quote Ferris Bueller: "It is so choice. If you have the means, I highly recommend picking one up".
Corvette C7: Performance Statistics
Model: Coupe
¼ mile: 12.5 seconds @ 116 MPH
0 to 60 MPH: 4 seconds
Weight: 3,460 lbs.
Price: $68,375
Source: Car and Driver, November 2013

---
Model: Coupe
¼ mile: 12.4 seconds @ 113.7 MPH
0 to 60 MPH: 4.3 seconds
Weight: 3,443 lbs.
Price: $69,375
Options: Z51
Fuel consumption: 15.9 MPG
Source: edmunds.com

---
Model: Coupe
¼ mile: 12 seconds @ 119 MPH
0 to 60 MPH: 3.8 seconds
Weight: 3,298 lbs.
Price: $56,950
Options: Z51, Performance Traction Control, Magnetic Ride Control
Fuel consumption: 17 city / 29 hwy (EPA) MPG
Source: GM

---
Model: Coupe
¼ mile: 12.2 seconds @ 117 MPH
0 to 60 MPH: 3.8 seconds
Weight: 3,444 lbs.
Price: $67,915
Options: Z51
Source: Road and Track, September 2013

---
Model: Coupe
¼ mile: 12.2 seconds @ 117.3 MPH
0 to 60 MPH: 3.9 seconds
Weight: 3,444 lbs.
Price: $68,775
Options: Z51
Source: Motor Trend, September 2013

---
Note: Clicking on an image with this symbol (

) will lead to a larger image.
---
Comments
No comments yet. Be the first!
---