---

1977
Minimal changes for 1977 include a revised tilt / telescopic steering column for option RPO N37 with the steering wheel two inches further away from the driver resulting in more of a "extended arms" driving position. 1977 Corvettes without RPO N37 (a minority, as almost 95% of 1977s were equipped with the option) suffered with the 1976 steering wheel which was shared with the Chevrolet Vega.
Other interior changes included a revised hand brake location and a one inch longer manual transmission shift lever; this was done to eliminate occasional hand banging collisions with the hand brake during hard shifting.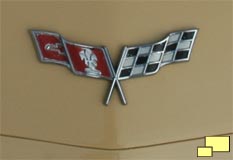 The interior rear view mirror was relocated from the windshield frame to the windshield to lessen vibration in the mirror.
Right: The crossed flags hood emblem made its debut in 1977.
---
1978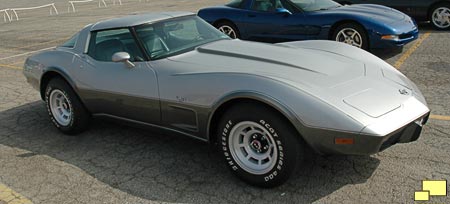 As part of the 25 year anniversary, a special 1978 only two tone paint job (RPO B2Z; $399.00) was available. Quantities were not limited and 15,283 were sold.

Very distinctive and for 1978 only: a special edition pace car was available. Approximately 6,502 were sold.
Left: The graphics came with the car but were not installed (right), leaving the owner with that important decision.
Right: 25th anniversary hood emblem was exclusive for 1978.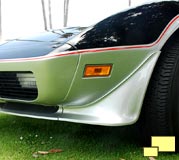 Above, left: The big change for 1978 was the fastback body style. This would continue for the balance of the C3's career, until 1982. Above right: a rear spoiler and (right) front air dam was introduced.
Note: Clicking on an image with this symbol (

) will lead to a larger image.
---
Add Comment
{"commentics_url":"\/\/corvettestory.com\/commentics\/","page_id":2175,"enabled_country":true,"country_id":0,"enabled_state":true,"state_id":0,"enabled_upload":false,"maximum_upload_amount":3,"maximum_upload_size":5,"maximum_upload_total":5,"captcha":true,"captcha_url":"http:\/\/corvettestory.com\/commentics\/frontend\/index.php?route=main\/form\/captcha&page_id=2175","cmtx_wait_for_comment":"cmtx_wait_for_comment","lang_error_file_num":"A maximum of %d files are allowed to be uploaded","lang_error_file_size":"Please upload files no bigger than %.1f MB in size","lang_error_file_total":"The total size of all files must be less than %.1f MB","lang_error_file_type":"Only image file types are allowed to be uploaded","lang_text_loading":"Loading ..","lang_placeholder_country":"Country","lang_placeholder_state":"State","lang_text_country_first":"Please select a country first","lang_button_submit":"Add Comment","lang_button_preview":"Preview","lang_button_remove":"Remove","lang_button_processing":"Please Wait.."}
Comments (1)
{"commentics_url":"\/\/corvettestory.com\/commentics\/","page_id":2175,"is_permalink":false,"lang_text_view":"View","lang_text_reply":"reply","lang_text_replies":"replies","lang_text_replying_to":"You are replying to","lang_title_cancel_reply":"Cancel this reply","lang_link_cancel":"[Cancel]","lang_text_privacy":"Privacy","lang_text_terms":"Terms","lang_text_agree":"[1] \/ [2]","lang_text_not_replying":"You are not replying to anyone","lang_button_loading":"Loading..","lang_button_more":"More Comments","lang_button_edit":"Edit Comment","lang_button_reply":"Add Reply","lang_link_reply":"Switch to full reply","lang_link_refresh":"[Refresh]","date_auto":true,"show_pagination":true,"quick_reply":false,"pagination_type":"multiple","timeago_suffixAgo":"ago","timeago_inPast":"a moment","timeago_seconds":"less than a minute","timeago_minute":"a minute","timeago_minutes":"%d minutes","timeago_hour":"an hour","timeago_hours":"%d hours","timeago_day":"a day","timeago_days":"%d days","timeago_month":"a month","timeago_months":"%d months","timeago_year":"a year","timeago_years":"%d years"}
{"commentics_url":"\/\/corvettestory.com\/commentics\/","auto_detect":false}
---