---

1959, 1960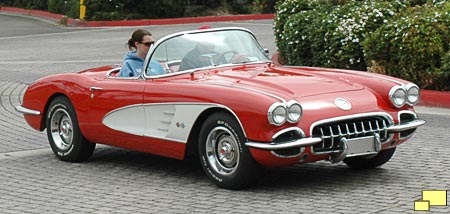 Differentiating 1959 (above) and 1960 (below) Corvettes is not easy as they are basically the same. Both years featured four open headlights and a tail light integrated into the nicely subdued tail fin. They did not have the trunk spears or the hood louvers of the 1958 edition.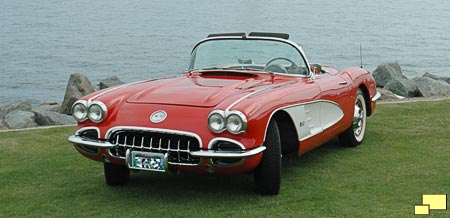 Although not visible from the outside, the interior does provide one distinguishing characteristic. The 1959 seats (below left) have the surface seams lined door to door while the 1960 seats (below right) are lined front to rear.
---
1961, 1962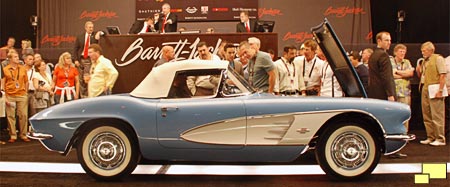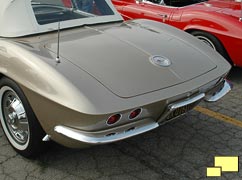 1961 (above) and 1962 (below) are known as "transitional" years in which the rear styling of the upcoming C2 Corvettes was incorporated into the 'quad open headlight and coves' 1958 through 1960 'vettes. What soon would become a Corvette trademark - the four round tail lights - replaced the '56 to '60 tail lights that were blended into the tail fin.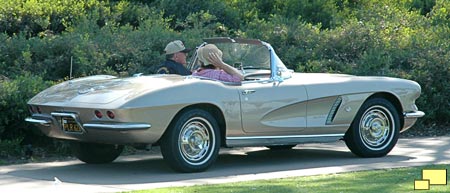 The coves, which were unchanged from 1958 through 1961 (above) were updated in 1962 (below). The chrome strip that outlined the cove area was gone and so were coves painted in contrasting colors. The three horizontal spears from '58 to '61 were replaced by a vertical trim piece.

Note: Clicking on an image with this symbol (

) will lead to a larger image.
---
Comments
No comments yet. Be the first!
---